Cloud Hosting
,
Data Center
,
Data Security
,
Hosted ERP
,
IaaS
Smart Dedicated Server for Hosting Business ERP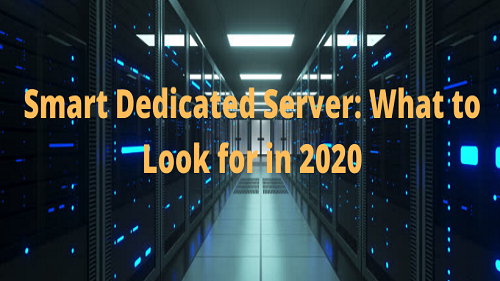 Sandeep Yadav
| Modified: February 24th, 2022 ~ 4 Minutes Reading
Learn the importance and why there is a need for a smart dedicated server to host a business on.
Whether you are a small, or an enterprise who wants to host ERP (Enterprise resource planning), you should know what to look for in your dedicated server. There are wide server options for different needs, so you can find the server that's the best for you.
Amongst all, the Dedicated Servers are worth to consider for hosting business ERP. It resolves all the business concerns such as; Increasing IT Expenses, Flexibility, Scalability Challenges, Remote Management, Work Continuity. Therefore you need to be smart and get the best server for your ERP or website hosting.
So keep reading to find out why a smart server is right for you and from where you can get it.
Why Choose Smart Dedicated Server Hosting for Business?
Dedicated server is not just a server, it is a complete package that a small, mid or enterprise businesses want to maximize and optimize the hosting experience for yourself. All the necessary features are included, from the hosting control panel down to the application installer.
It is a physical server that provides users full control over remote servers. These servers are deployed for corporate or individual purposes. The user has complete access to the server via panels and SSH.
It is ideally suited for handling a large number of websites, huge traffic, heavily used databases and applications, and mission-critical business systems like ERP.
At NetForChoice, we have developed a smart dedicated server for you, especially for ERP to handle a huge workload. Being a Tier-4 data center company, you will get a seamless and hassle-free experience as well as lots of advantages of our IT managed service.
Below the points are illustrated that explains to you why NFC dedicated servers are the best for the businesses to host applications or any website.
State-of-the-art Infrastructure
We are the authentic Tier 4 data center company and not a system integrator. Our server is located at multiple locations in India; Noida, Bangalore, Hyderabad, Mumbai along with global footprints.
As well as you will get geographic redundancy in multiple Disaster Neutral regions. Dedicated server exclusively dedicated to you. Hence there is no resource sharing which results in high speed.
One to One Support by Smart Dedicate Servers
Our dedicated servers are hosted on state-of-the-art, Tier 4 data center. Manned 24/7/365 with an on-site support staff that is stacked with highly trained data center engineers, network engineers, and trained technicians. For our customers, our team is always available. You can easily connect with us via phone, live chat, mail, and ticket system.
Safety and Security
We ensure that your smart dedicated server is secure behind our enterprise-class firewall. Being a Tier 4 data center, we provide 8 Zone security to the physical server as well as strong network security which is monitored continuously by our experienced staff.
No Maintenance Stress
All the server maintenance takes care by the NetForChoice team. So you are free from the burden of maintaining server and equipment, you may focus your efforts on strategic areas of your business. With us, you can get the advantage of continuous, uninterrupted access to your internet-based services.
Colocation in Smart Dedicated Server
We provide optimal conditions of the operation of the servers by maintaining constant levels of temperature and humidity. As well as employing systems of dust filtering and removal to make our server free from any external factors.
Flexible Payment Mode
Another advantage of our service is the pricing model. You only need to pay for the resources you have used. You can also subscribe for the monthly, quarterly, or yearly payment.
99.995 % Uptime
You will never face any server downtime issue as we provide guaranteed 99.995 % Uptime. This is the main thing that every company looking for. Because no one wants an uninterrupted workflow because of server down.
Step Up & Upgrade
Upgrade to NetforChoice smart dedicated server where the first big consideration to take when it comes to hosting business ERP is which company dedicated server you will take. While that debate always dominated by NetForChoice, which tends to come on much more affordable dedicated servers.
To know more about this, just connect with our team and have a direct conversation – +91-9887280808 / 0120-4164442 or fill this Form with your requirements.