Cloud Hosting
,
IaaS
,
Informative
Top Azure Managed Server By NetForChoice For Businesses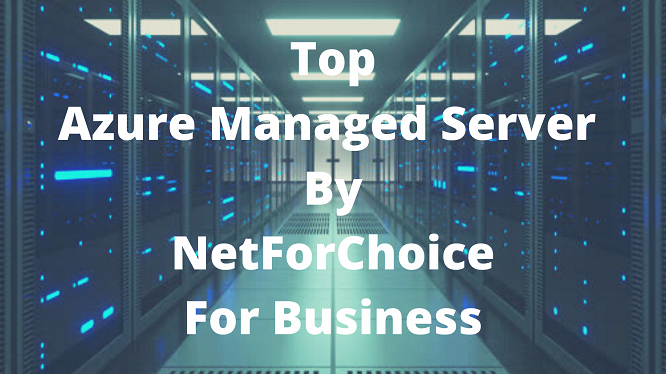 Sandeep Yadav
| Modified: September 2nd, 2021 ~ 3 Minutes Reading
Microsoft Azure……
Microsoft Azure, also known as Windows Azure, is a cloud computing platform and an online portal to access and manage resources and services provided by Microsoft. Users can develop and scale new applications by choosing from these services. It is a large collection of cloud-services that include analytics, mobile, networking, storage, computing, database, and web services.
How is Microsoft Azure Cloud Server Helpful for Small or Large Business?
Microsoft Azure provides a few advantages for cloud services that are mentioned below:
Ability to use the latest technology
You have 99.995% availability
Protection from Cyber attacks
Ensures complete control
Range of hybrid connections like VPN, CDNs, etc
Offers robust plans for disaster recovery management.
Easily managed data storage.
Highly performing websites and web apps
Pay-as-you-go payment plan
No worries for maintenance and cost
Great Managed Azure Server Hosting by NetForChoice
NetForChoice, data center service and hosting company, provides the advantages like no limitations upon user while providing Azure IaaS Hosting service. Resources can be scaled according the user's requirements. Microsoft Azure Infrastructure as a Service hosting provides scalable on-demand computing as your business requires.
If you are looking for Azure Server Hosting for your work, then click on the link to know more about this from our cloud technology experts.
It allows developers to focus on business logic, operational and infrastructure obstacles, creating interesting apps. Cost of maintaining server is reduces because significant resources are not needed to build and manage the infrastructure.
What Ways does NetForChoice Azure ServerHelp?
The following are various reasons as to how NFC Azure Server helps:
Pay–as-you-go plan: You only have to pay for the services that you have used for setting up Windows or Linux servers on a virtual machine.
Available zones and Regions: Since, Azure has a large reach to its users through its Data Centers divided in multiple regions; NetForChoice has collaborated with multiple data centers to provide services to its users.
Robust Security: The identity of an organization and the privacy of data is kept safe due to the robust security that NFC provides. Service-Level Agreement (SLA) is provided to every user by Azure and NFC respect all the agreements between the service provider and the service user.
SSD Based Storage: All the storage is build in SSD to provide faster accessibility and running applications in a seamless environment. It supports a very quick input/output process that helps user to meet their performance requirements.
Managed Support – Our approach of Plan, Design, Implement, Operate, and Optimize is a continuous process that begins with your requirements, your goals, and then understanding what success looks like for your business. Our skilled and experienced Microsoft Certified experts' crafts the best of our services that exactly matched with your business succeed.
Final Say
Want to know more about Azure IaaS services? We will be happy to stay in touch. NetForChoice understands the pin points and all the critical decisions needed to be taken by an organization. To help you understand this better and assist you in every situation, our team of experts is always available. You can connect with us to get a better understand or to know more about this.