Microsoft Dynamic NAV (Navision) On Cloud
Improve business efficiency by managing all operations such as Financial reporting of Sales & Marketing, Supply Chain Management and much more with Dynamics NAV Software.
Microsoft Dynamics NAV originates from NAVISION, is a comprehensive Enterprise Resource Planning (ERP) Software as a Service solution. It is designed to meet the needs of each client & integrate with other business solutions. Navision ERP helps small to mid-sized businesses who want to organize service resources and connects their sales, purchasing, operations, accounting, and inventory management to achieve optimum efficiency. Dynamics NAV ERP is available in different languages which increases its global reach across business management solutions. Due to which, it becomes the world's most flexible Enterprise Resource Planning solution from Microsoft.
To increase its accessibility, the Microsoft Dynamics NAV ERP software deploy on the cloud. The Navision cloud version includes wide-ranging capabilities and team collaboration as it can easily use by any remote location.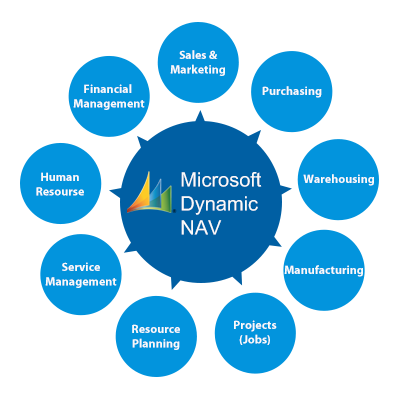 What are you waiting for? Make your service more efficient & profitable with NetForChoice Navision Cloud Solution
Navision On Cloud is the preferred resource management software for growing businesses across the globe. NetForChoice, India's leading cloud solution provider, facilitates Microsoft Dynamics NAV software hosting on the virtual space with a desired configured machine.
What's More - NetForChoice provide cost-effective, comprehensive Navision ERP software solution tailored according to client requirements. With our service, you can perform better management of resources, increase efficiency and enhance the profit number.
With us, there is no need to purchase the entire Navision ERP and invest money on the servers, hardware, and storage. NetForChoice helps you in all aspects from software to complete infrastructure. So, you can focus on your business instead of taking care of other things.
You only need to pay for Dynamics NAV docker on Hourly, Monthly, and Yearly basis as per the requirement. The configuration of virtual machine is scalable as it can scale up to higher configuration without disturbing the already saved data. All of the data will save in our enterprise-level Tier 4 Datacenter located at a different location in India to ensures all time data availability in case of any resource failure. All these things make us best SaaS provider in India.
Navision ERP On Cloud Advantages :
Being an ERP, Dynamics NAV offers different modules for different business operations. And once it transits on cloud which is Navision on cloud, it is possible to run any of its applications from anytime and anywhere. Here, we enlist all the integrated modules that you can use on the cloud platform.
Financial Management: – Interact with data in different ways such as create records of your assets, entering data, sorting and filtering data, writing notes, banking transactions, cash and keep informed with real-time updates.
Sales & Marketing: – Provide access to current information through seamless integration with MS Office. Analyze performance quickly and effectively using powerful reporting tools and understand sales patterns and evaluate marketing techniques.
Project Management: – Plan & Manage activities related to projects, help to complete projects on time within the budget, manage cost by tracking expenditure, consumption, conduct capacity planning and maintain deadlines.
Supply Chain Management: – Handles the flow of goods and services, from suppliers to manufacturers to wholesalers to retailers to consumers.
Warehouse Management: – Integrate, track and control the warehouse management of the business processes, ensuring management of goods and suppliers.
Service Management: – Handles contracts, service orders, scheduling, dispatching. Manage your inventory and automatically updates to accounting.
Human Resource Management: – Efficiently organize & Manage all areas of Human Resources easily and accurately, maximize productivity & improve performance.
Document Management: – Optimize documents handling by adding automatic processing for saving time & facilitate backup and storage. Represent, archive and easily find incoming documents using a cloud-based document capture service. Track and edit original documents.
Workflow Management: – Streamline your projects with business strategies and make every step towards smooth and efficient solutions.
How NetForChoice Microsoft Dynamic NAV On Cloud Helps?
If your business is growing and ready to take more opportunities, NetForChoice will be great as it providing the best Dynamics NAV cloud hosting service.
Security Monitoring: – Continuous survey is done on all the services running on NetForChoice servers to make sure that there is no issue or risk during the data processing and transactions.
Easy Setup in Minutes: – NetForChoice provides you easy to get Microsoft Dynamic NAV on a public cloud. The whole machine takes a few seconds to set up with the desired configuration.
Economic and Scalable: – The process is based on the "pay as you go" model which makes a lot easier. Also, upgrade the resources as per your requirement without interrupting the existing saved data.
Highly Secure: – NetForChoice works with enterprises class Tier 4 Datacenter which helps to keep your data safe and secure and always available with high data redundancy. It also guarantees 99.95% uptime and potential downtime of 22 minutes per year.
24 X 7 X 365 Support: – Get around-the-clock access to the technical support from our cloud specialists with unlimited support and no per-incident charges.
Navision ERP Software on Cloud Benefits: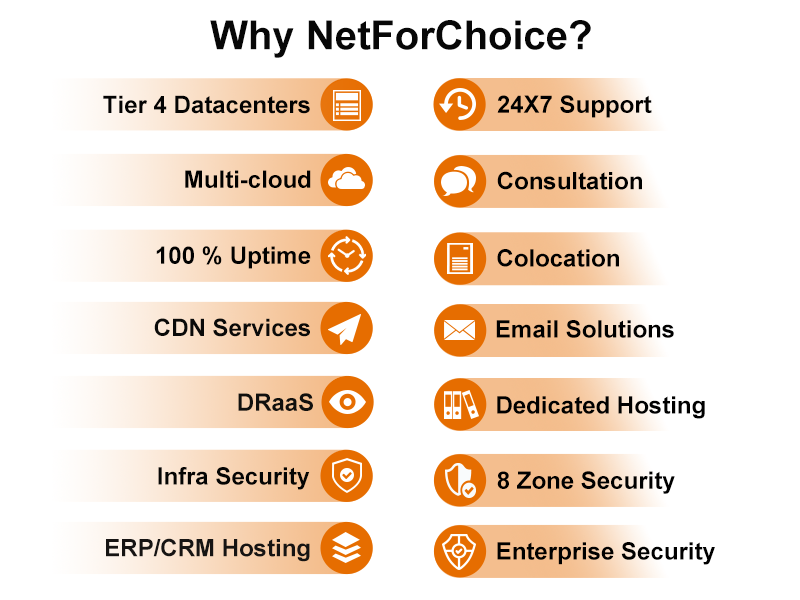 No matter what business you are in. If you are looking for Navision On Cloud Service or need IT consultation regarding Dynamics NAV Software. Our consultants are always ready for providing superior services to you. To know more about our Microsoft Dynamics NAV Cloud Hosting Pricing & Service, contact us at +91-9971344456 or Request a Free Consultation.