Cloud Hosting
,
Informative
,
News
,
Remote Services
,
Technology
Unveil Benefits of Remote Desktop Services to Maximize Productivity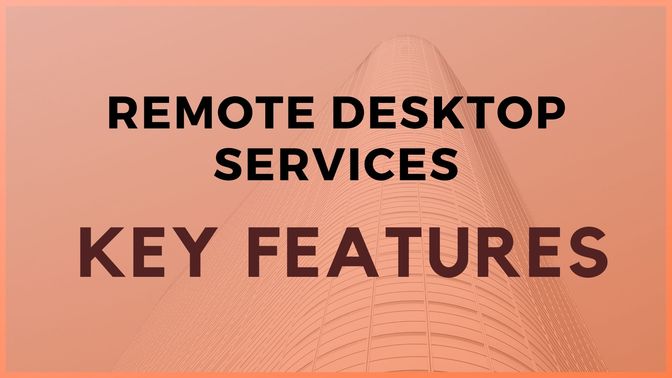 Sitting in India and wants to connect with the friend computer who is living in New York? But do not know how to do this? This is the time when the Remote Desktop Services (RDS) platform comes into play.
RDS (formerly known as Terminal Services) is a virtualization solution that facilitates virtualized applications, and provide end-users the power to execute their applications and desktops from the cloud. In short, using RDS, it is possible to connect with two different computers over the network to maximize productivity.
Furthermore, there are various instances where RDS acts as a hero;
1. In branch offices where limited resources are available and you need to access a high configuration desktop to carry out work on it.
2. When the person is in a remote location and needs to access the application running on their Office system.
3. Deployment of Line-of-business programs, including custom one.
4. In the environment, where users do not have assigned computers.
5. Requirement to access different versions of a program such as Outlook, then it is not possible to install all the Outlook application on a single machine. Hence, it is better to create a virtual machine that has all the Outlook client versions and access that machine using RDP.

It is evident that there are lots of benefits to use Remote Desktop Service in the computing world. To clearly understand all the advantages of RDS, we came up with this article. Here, we enlist all the benefits of using Remote Desktop Services for the businesses in an efficacious manner.
Before delving into the key features of RDS, let's have a quick overview of Remote Desktop Service.
Without wasting any minute. Let's get started!
Role of Terminal Server or Remote Desktop Services
If you have ever worked on a Windows Operating system, that obviously you did, you may also know that one can easily connect remotely to any system using the built-in functionality which is Remote Desktop Connection.
When launched, Microsoft named it as Terminal Services then after some time changed it to Remote Desktop Services. That somewhere sounds more appropriate.
RDS replaces all the PCs with a Thin Client which accesses the Terminal Server. Here, the Thin Client accesses the Terminal Server through Remote Desktop Protocol generally referred to as RDP. Following this, the Terminal Server collectively accesses the data from various different servers and presents a desktop to the client that looks and feels just exactly the same as the Local PC. Earlier it was not really popular then as time passed, people got more aware about this technology which further proved to be a successful move by Microsoft.
Benefits of Remote Desktop Services – Potential Advantages
Using Terminal Server, you can easily achieve mobility, scalability, and robust performance with simplifying IT management along with the broadest security while keeping the cost factor intact. Also, the User Interface makes it navigable for the user to leverage desktops and applications through RDS without any hassle. Further, all the benefits and key features of Remote Desktop Services are illustrated below that will help the organization in various aspects.
5 Advantages of Using RDS
Cost & Time Effective
Maintenance
Performance
No Hardware Failures
Security
Understand the deeper picture of all key features.
Save Precious Money & Minutes:- Thin Client device is available at a lesser price than that of a PC. But saving money should not be the only reason for using Remote Desktop. The major saving is the lesser time in the implementation and management of the computer infrastructure of the end-user.
If the implementation is done on a single PC, one needs to manage many things like installing an operating system, applications to use, connection to a network and updating security patches. But in Remote Desktop Environment, you need to do all these things only once.
Convenient Maintenance:- In a company with a number of computers when you need to update any of the applications you have to go to each of the computers and work individually on each of them. At that time you will feel the importance of Remote Desktop Connection where you can simply implement everything on the Terminal Server and make changes on all the connected virtual machines.
Performance:- There must be a question in your mind that, How it is possible that such a number of clients are logged in and the server is still giving optimal Performance?
Then the point is that there is very less number of users, those who actually utilize all their resources. The reason behind this is – PCs sold nowadays are much more capable of just handling their work. So when we talk about RDS it uses all the resources and distributes it to multiple clients. So that they can get the required performance.
Minimum Hardware Failures:- Chances of Hardware Failure is very less as compared to a PC. However, there are very fewer chances of failure of a thin client than that of a PC.
Hard drives are the major cause of a PC failure which is not actually used in the Thin Clients. Thin Clients use Flash Drives which easily rectifies the issue.
Even after this, if it fails one just needs to put in the replacement thin client into the network and you will be back again with less time impact.
Security:- Considering it as one of the most important benefits of Remote Desktop Services. Thin Client is very secure as it is controlled by the Terminal Server. It can not even manage the software. If a software is used by a particular number of users and urgently you need to increase the users. So that will be also done by the Terminal Server thereby preventing it from unauthorized access, making it completely secure.
NetForChoice for Remote Desktop Services
NetForChoice offers a wide range of services and Remote Desktop Services is one of them. Keeping the cost-related factors in mind we are providing NFCApps at effective pricing that fits in your pocket. One can also enjoy Managed RDS Services to ensure full peace of mind. So, streamline your workflow, Opt-out for Managed Remote Desktop Services from NetForChoice 7 enjoy its benefits. Just connect with us at +91-9971344456 or just fill up the Contact Form and we will get back to you.