Cloud DLP
,
Informative
,
News
Best Practices to Strengthen DLP | Data Loss Prevention Techniques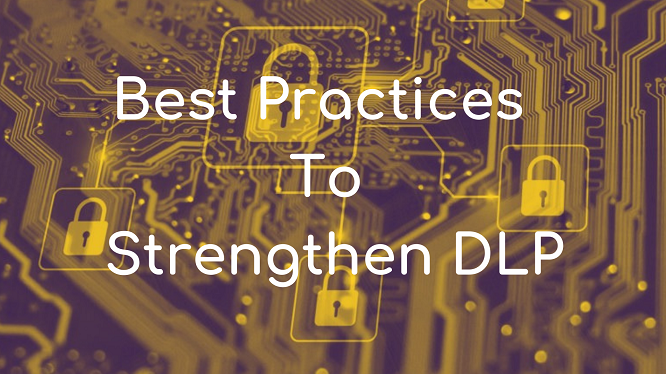 DLP or Data Loss Prevention is an approach to improve the security information and protect sensitive business information. The end-users cannot move key information outside the network due to DLP. It is also referred to as tools that let a network administrator to monitor data that is accessed and shared by end users.
DLP solutions can be used to classify and prioritize data security. These solutions are useful for ensuring access policies to meet regulatory compliance. These include HIPAA, GDPR, and PCI-DSS. These solutions are also capable of going beyond simple detection, enforcing encryption, providing alerts, and isolating data.
A few features of DLP solutions include:
Monitoring – Visibility into data and system access is provided.
Reporting – Logging and reports that are helpful for incident response and auditing are provided by the tools.
Filtering – Data streams to restrict suspicious or unidentified activity can be filtered using the tools.
Analysis – Identification of vulnerabilities and suspicious behavior as well as forensic context to security teams are provided by the tools.
DLP Best Practices to Strengthen Data Security
Technology, knowledgeable staff, process control, and employee awareness are combined in Data Loss Prevention best practices. Below mentioned are a few guidelines which are recommended to develop and effective DLP program.
Implementation of Single Centralized DLP Program – A lot of organizations have implemented inconsistent, adhoc DLP technologies and practices that various business units and departments typically implement. Such inconsistency usually leads to weak data security and a lack of visibility into data assets. Moreover, the DLP programs are ignored by the employees that the rest of the organization does not support.
Inventory Conduction – The value and evaluation of the types of data of an organization is an important early step while implementing a DLP program. Identification of relevant data, whether it is sensitive data, and where the data is stored is involved in this step. It includes confidential information, intellectual property, or data address by regulations. Some of the DLP products scan metadata of files for easy and quick identifying of information assets. It opens and analyzes content, if necessary, and catalogs the result.
Internal Resources Evaluation – For the creation and execution of a DLP plan, it is necessary for an organization to have personnel with DLP expertise. These expertise include data breach response and reporting, DLP risk analysis, DLP training and awareness and data protection laws. Organizations are required to either employ internal staff or retain external consultant with data protection knowledge as per some government regulations.


Implement in Phases – Since DLP is a long-term process, it is best implemented in stages. Prioritizing types of data and communication channels is the best and most effective approach. Similarly, rather than implementing DLP software all at once, consider implementing the components or modules as per organization's priorities.
Classified System Creation – Data classification framework or taxonomy for both structured and unstructured data is needed before the creation and execution of DLP policies. The following may be included in Data Security categories:
Personally identifiable information (PII)
Internal data
Public data
Confidential information
Intellectual property
Regulated data
Using pre-configured taxonomy that organization may later customize, products are scanned by DLP to help identify the key categories of data.
Employee Education – Educating employees to increase their awareness and acceptance of security policies and procedures is important to DLP. Various measures like classes, periodic emails, online training, and posters may help employees improve their understanding of how important data security is. If the penalties for breaching data security are clearly defined, they may also improve compliance.


Data Handling & Remediation Policies to Be Established – Now, creation or updating of policies to handle different categories of data comes in. The DLP policies to handle sensitive data have been specified by Government requirements. Typically, pre-configured rules or policies are applied by DLP solutions. These policies are based on various regulations like HIPAA or GDPR. These policies can be customized by the DLP staff according to the needs of the organization.
In case of administration of policies, DLP enforcement products monitor outgoing channels and it provide options to handle potential security breaches. Suppose, an employee is sending an email containing sensitive attachment, he may be prompted to encrypt his message, or it may be blocked entirely by the system, or may be redirected to a manager.
Things To Be Consider Before Using DLP Best Practices
While shaping your policy, do not forget to consider data in all its forms:
Data at rest – The data which has been stored in databases, computers, cloud repositories, mobile, and laptop devices.
Data in use – It is the data that the users are actively working with and may be modifying.
Data in motion – The transmitting data between parties like payment transactions.
Final Say On Data Loss Prevention Best Practices
DLP and how you can prevent data loss have been mentioned in this write-up. In order to make sure that the sensitive or corporate information is not moved out of the network of an organization by anyone, follow the practices given in this article. Sensitive data and monitoring data in use, motion, and at rest are classified by DLP software. Data handling and remediation policies should be established along with more practices so that the data is saved from being leaked.