Dedicated Server
,
News
Best DDoS Protected Dedicated Server Hosting By NetForChoice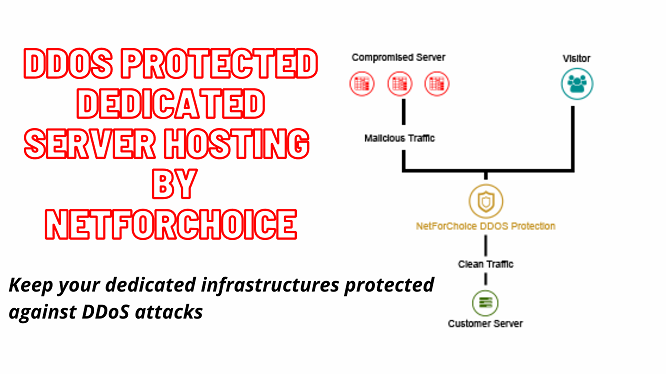 NetForChoice always keep your cloud dedicated infrastructures protected against DDoS attacks.
The extremely widely-used World Wide Web provides a rich set of targets for motivated attackers. Back in 2018, the internet has seen some of the harmful DDoS attacks ever. Compared to a few years ago, it is more important now than ever to have DDoS protected Dedicated Server plan in place before this happens.
Here we come.
NetForChoice always believes that DDoS protection should be standard across all dedicated servers. So no DDoS attack can bring down your website in just a few clicks.
NetForChoice has been holding a leading position in providing high-end DDOS protected Dedicated Server. Facilitates managed support with round-the-clock protection against all types of DDoS attacks, without any constraints in terms of volume or duration.
So the client has the server all to himself with full control over it, and a control panel account to manage the services. Thus, you get a managed dedicated server hosting platform that is protected from any DDoS attacks.
This is the reason we come up with this write-up, to help you choose why DDoS protection is important for your server and which provider is perfect for you.
First, let's begin with a brief description of the DDoS attack for a better understanding of this topic.
Let's Begin!!
What is a DDoS Attack?
Distributed Denial of Services (DDOS) attacks are a specialized type of DoS attack. It has become a tool of choice for malicious organizations around the globe. Generally, there are two types of DDoS attacks – Application DDoS and Volumetric DDoS.
In this attack, the web application becomes unavailable to its intended users, due to the actions of a malicious cyber threat actor. They usually flooding the target application with fake traffic or requests, which can overload systems. This prevents legitimate traffic from reaching the application server.
Who wants DDoS Protected Dedicated Server?
The majority of enterprise customers want DDoS protection for their servers. 85% of enterprises expect their Internet Service Providers to offer protection from DDoS attacks. Most of the providers are reluctant of providing DDoS protection for a fee. This is because enterprises expect it to be a part of their investment and would be hesitant at paying a fee.
Many of these enterprises are fine with paying extra for DDoS protection. Since the attacks are growing and innovative, every business wants a higher level of DDoS protection.
NetForChoice – Best DDoS Protected Dedicated Server Hosting In India
It is evident from the above that how important is to have servers that have protection from DDoS attacks. And NetForChoice is the big name that provides dedicated web servers in the Tier-4 data center in India.
The following are the advantages of having dedicated servers protected from DDoS attacks.
Top Benefits of Dedicated Server with DDoS Protection
Only legitimate & clean traffic send to the server
Protection from any small and big network attacks
Malicious traffic is automatically blocked before it reaches your dedicated server.
Free of charge with any server
In-house filtering with no additional latency
Always maintains services up during any attacks
Every IP protected from DDoS attack
No revenue loss due to attacks causing service outages
Customers can focus on their business well
No unexpected bandwidth overage charges due to attack traffic.
DDoS Protected Dedicated Server Popular Uses For
The servers offered by NetForChoice – Windows Dedicated Server & Linux Dedicated Server can be used for the applications that require intensive workloads and deal with huge amounts of raw processing power. As well as, they can also be used in multiple areas;
Big Data
Machine Learning
Live Media Streaming
Website Hosting
Application Hosting
Backups and Storage
Communication Apps
Infrastructure Virtualization
Server Clusters
Business CRM, ERP, Analytics Software
Online Game Hosting
How can I get NetForChoice DDoS Protected Dedicated Server?
You can easily get the service by giving us a ring on – 0120-4578842 / 9899343428 or do a live chat and have proper guidance as per your requirement. Else, you can either click on the below link and fill your requirements. The concerned person will connect with you in a while.