Informative
,
Technology
G Suite turning to Google Workspace – Changes You Probably Shouldn't Know About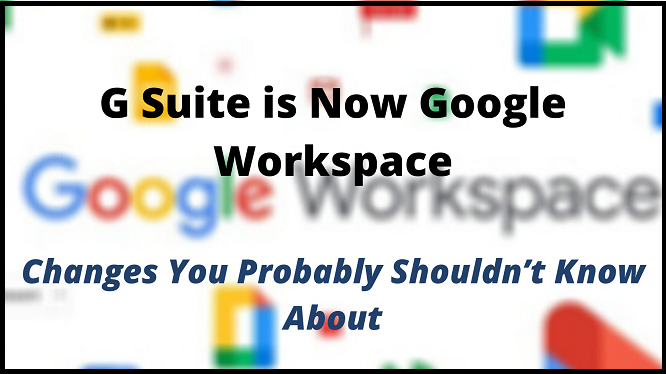 Sandeep Yadav
| Modified: November 29th, 2020 ~ 6 Minutes Reading
Being a popular suite, most of the business official & individual aware with what G Suite is and what it does.
You might have heard that G Suite has now been changed to Google Workspace.
If not, you know now that Google Workspace (evolved G Suite) has been introduced in October 6, 2020 as a set of offerings for better equipment of their customers for future.
It is said that the Google Workspace logo will appear in the Google Admin console from now on.
Are you confused on what's happening here?
Don't be, we will provide you with all the required information for you to understand what changes will be made and all your questions will be answered. Let's first read briefly about Google Workspace.
What is Google Workspace?
Google Workspace is only an evolved version of G Suite. It has a few changes, but works the same way it has been working since the start.
Did you know?
Google Workspace was first named as "Google Apps for your Domain" and since then it has been changing. After that, it was named as "Google Apps" and then renamed as "G Suite" in 2016.
Google Workspace is just another name which has been given as per the changes made by Google in 2020. It still provides the same services as G Suite but only with a few variations. Let's find out what these variations are to get a better picture.
Variations Brought in By Google Workspace
Below are a few changes that can be expected from Workspace:
Google has introduced new names for the plans and has started calling them "Editions". All the monthly plans have been changed.
There pricing has also been changed. They may go up if you keep all the existing features.
In the Business Starter, Standard, and Plus editions, there is a maximum user capacity which is for 300 users and then comes the Enterprise Edition.
Google Workspace has added new technical features and services along with a different logic as compared to G Suite.
Also: Existing customers of G Suite are being upgraded to higher plans by cutting off a few existing features that have the same price as those in Google Workspace.
Google is calling moving from G Suite Basic to Business Starter edition a downgrade. Well, it won't be a downgrade for everyone since the prices are exactly the same. But, we will talk about that later in the blog.
A lot of people also have a query which asks if it is important to migrate from G Suite to Google Workspace. Read further to know the answer to it.
Is It Necessary to Migrate from G Suite to Google Workspace?
G Suite is not here to stay and definitely not here to order anymore. Google says that users can keep the existing plans for now but it is not clear about the depreciation date of G Suite.
It is highly recommended though that you start transferring as soon as possible. There is no point in waiting and moving at the last and missing out. Since the main focus of Google and Resellers is to support and to train for the new features in Workspace. G Suite will only receive the necessary patches whereas Google Workspace will have all the new features and documentations.
In case you are on your monthly plan as of now, your reseller will contact you soon about moving to Workspace's new offerings.
If you are on your annual subscription, your plan will continue until the renewal date.
New Editions/Plans Offered by Google Workspace
All the plans will now be having new names and are changed accordingly:
G Suite Basic Plan has turned to Business Starter Edition
This is a suite of collaborative and productive apps offering professional emails to the business along with secure video conferencing, online document editing, shared calendars, and so much more. It provides a capacity of 300 users and a storage space of 30 GB.
G Suite Business Plan has turned to Business Standard Edition
In here, all the features in the Business Starter Edition are provided along with the following added features:
Shared Devices
More Cloud Storage (2 TB storage for each user)
Enhanced Meetings
Enhanced Chat Messaging
Advanced Document Versioning and Management
Business Plus Edition (New Feature)
It is an advanced suite which provides a storage space of 5 TB for each user. This edition offers all the features of Business Standard Edition with the following features added:
More storage
Advanced Meetings
Advanced Administrator Controls
Enterprise Standard Edition (New Feature)
This standard edition provides users a lot of features for their large organizations including a storage space of 5 TB and the following more features:
Enterprise-level Video Conferencing
Endpoint Management
Device Audit Log
In-Domain Live Screening for 10k
Basic DLP
Cloud Search
Shared Drive
Advanced Enterprise Control and Customization
G Suite Enterprise has turned to Enterprise Plus Edition
Enterprise Plus Edition offers all the features that you have read until now and more. The storage space remains 5GB per user while the "In Domain Live-Streaming" goes up to 100k. Extra features added are:
App Sheet
Data Regions
Integration with Third-Party Archiving Solutions
Connected Sheets
Work Insights
Mentioned above is all that the Google Workspace Editions are offering to the users.
You must have read above that Google says that moving from G Suite Basic Plan to Business Starter Edition would be a downgrade. In the next segment, you will learn if it is true or not.
Jumping to Business Starter Edition from G Suite Basic Plan
Well it won't be a downgrade for a major part of the users, if they are planning on moving. Learn how:
Chat Features Admin Control – You will not be in control of turning history on/off. Also, there will be no automatic acceptance of chat invitations by users.
Advanced Endpoint Management – Company-owned Android devices will not be set by you anymore. You also can't distribute apps to Android devices.
External People sharing – There will no longer be any stoppage on users from sharing the links or any data with those people from out of organization.
Frequently Asked Questions
Q. 1 – Is it possible for my company to try Google Workspace before purchasing the subscription?
Ans. – Yes, you can try Google Workspace for 14-days using any plan before you purchase the subscription. To get hosting, connect with NetForChoice G Suite Hosting Solution.
Q. 2 – Is Google Workspace good for a large Organization?
Ans. – There is a plan for large enterprises that Google Workspace provides. The plan includes enterprise-grade security, flexible cloud storage, compliance features, and advanced meeting capabilities.
Q. 3 – How are G Suite and Google Workspace different?
Ans. – Since the experience of the communication collaboration tools have been integrated while evolving G Suite to Google Workspace, Workspace has been made to represent the product vision more accurately.
Q. 4 – How can one move G Suite plans to Google Workspace?
Ans. – Well, you can move G Suite plans by upgrading or downgrading to a specific package or edition of Google Workspace.