Cloud Hosting
How Hybrid Cloud Is Going to Change Your Small Business Strategies?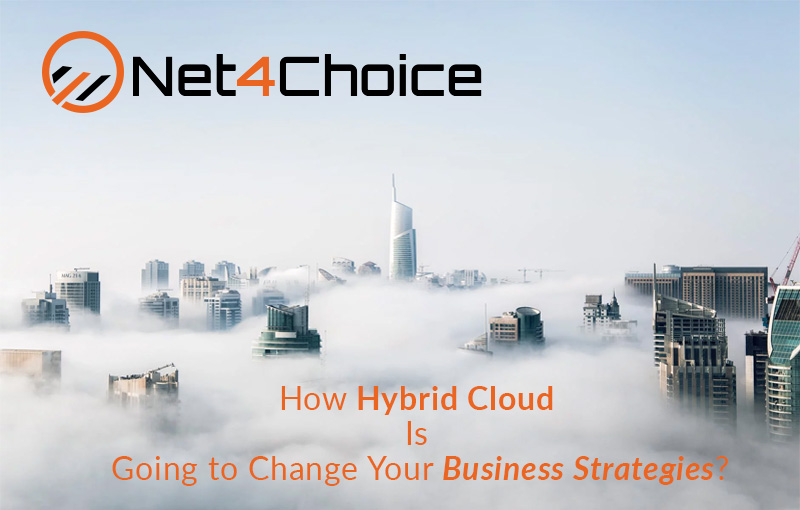 Sandeep Yadav
| Modified: September 14th, 2022 ~ 5 Minutes Reading
Is Hybrid Cloud Infrastructure Good for Small Businesses?
First of all, Hybrid Cloud isn't for every small business.
To determine if a small business can benefit from Hybrid Cloud, a business owner should consider the following questions-
Is it vital for your users to have fast, reliable access to data?
Are you concerned with the downtime due to a local disaster?
Do you have many users traveling or home-based users who share files with one another/customers?
If your answer is 'Yes' or two or more of those questions, then you should consider a Hybrid solution.
As you know the cloud is one of the most popular and technologically sound options today for your business data.
The best reasons to consider Hybrid Cloud computing for Small Business is Versatility and Flexibility. The terms can result in two situations. First, there will be a profound and disruptive, positive impact on business and second, an organization will hardly notice that anything has changed.
So, in this article, we are going to describe why the Hybrid Cloud solutions are important for SMEs. Let's go further to get in detail about the Advantages of Hybrid cloud for Small Business.
Hybrid Cloud- Leveraging Both Private & Public Cloud
Hybrid Cloud Server is the combination of Public and Private cloud environments along with the benefit of those with Security, Storage or Computing needs.
The best reason to consider hybrid cloud computing for your business is the fact that it is so versatile. Hybrid Hosting is meant for site owners that need to prefer the highest data security, along with the economic benefits of the Public cloud.
Here are five facts about Hybrid Cloud for Small Businesses that will blow your mind:
Hybrid Cloud seamlessly combines public and private cloud for the best of both worlds.
It uses a public cloud for computing purposes and private cloud to secure and store data.
Hybrid Cloud allows data and applications to be shared between the public and private cloud.
It allows to easily scale up your infrastructure to meet the surge in computing demand.
It uses the computing power of the public cloud while keeping your data safe on the private cloud.
The Modern Rules of Hybrid Cloud for Small Businesses:
To take a step forward in the future, Small businesses need to take steps to enable Hybrid Cloud Solutions. No matter how risky or time consuming are the changes required because organizations that adopt a Hybrid Cloud architecture can become more efficient.
While there are a number of benefits offered by Hybrid Cloud solutions if implemented incorrectly small businesses could see server implications that cancel out the benefits provided. So, before considering for Hybrid Cloud, ensure that you must have:
API compatibility and management support
A Strong Network connectivity
A plan for the migration of applications
A throughout understanding of the cost benefits for your company and important factors such as load balancing and I/O requirement.
Why Are Small Businesses So Obsessed with Hybrid Cloud?
With its emphasis on privacy and security, it is perfect solutions for small and medium scale businesses. Its nature allows small businesses to use the Hybrid cloud without any heavy investment.
So, here are some of the points about how hybrid cloud infrastructure is good for small businesses:
Hybrid Cloud Offers

Added

Security:
Hybrid Cloud offers the security and convenience of a private cloud at a much lesser cost.
It is not viable for small businesses to own private servers to store sensitive and private data.
Hybrid cloud is a secure means for small businesses to store their client's sensitive data.
Hybrid Cloud is Simpler to Manage:
A hybrid cloud does not require to keep a dedicated team on hand to run and maintain it.
With only a couple of people needed, it helps small business to eliminate their cost.
Hybrid Cloud can handle larger amounts of Data
With Hybrid cloud you don't have to worry about running out of space for storing private data.
With scalable storage space, you can take regular backups of your site and not worry about the cost.
For Small business, it is a cost-effective way to store backups for easy retrieval when needed.
Accessibility
Managed Hybrid Cloud solutions offers ease of accessibility to users to avail every single resource that lives in the cloud.
Supports data accessibility anywhere, anytime to plan business strategies and solutions.
The universal access feature of Hybrid cloud enables users to use devices of their own choice.
The Story of Hybrid Cloud for Small Businesses Has Just Gone Viral!
Going through all this made you understand the benefits of Hybrid Cloud for Small Business along with the steps before considering Hybrid Cloud. Hybrid Cloud Hosting gives a nice balance between offering small business affordability and flexibility. Another greater advantage of having Cloud on Hybrid is Email Integration, like doing G Suite Hybrid with Zimbra Email Service. It allows for a greater amount of customization and it can grow and change along with your company.
As companies are looking forward, the hybrid cloud approach seems to be a perfect solution for SMEs which they are aiming for.