Alternatives
,
Informative
Choose Your Axigen Alternative: Best Picks to Replace It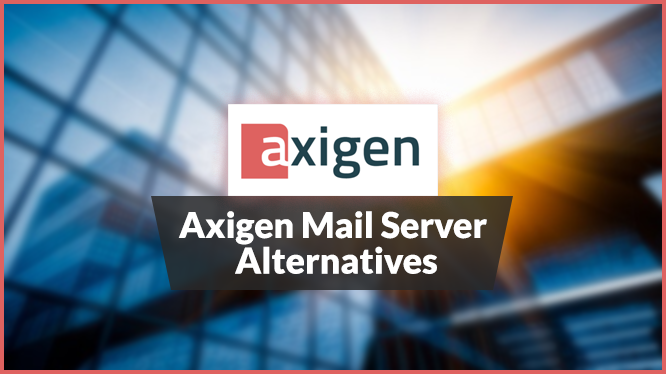 Email certainly has its place in both Personal & Business communication. So it is important to stay on top of how customers communicate and what holds the team back from being productive.
If you are predominantly using Axigen Mail Server for the email workflow with your customers, co-workers, or clients, and so on.
You might have found yourself wondering – If there's a better way.
So if you are ready to step away, we've got some excellent Axigen mail server alternatives for you to choose from.
So, let's get started!
Alternatives to Axigen – Top Competitors
We will not list all the reasons why the Axigen email server is cumbersome to use. If you are searching for an alternative, you certainly get the best pick in this.
1. Zimbra – Top Pick If You're Set on a Collaborative Software
If you are not happy with Axigen email server and its features, your best alternative probably comes as no surprise – Zimbra Collaboration Suite.
There was a time when Axigen had its moment to shine, now, many companies are turning to Zimbra.
Zimbra comprises email server and email client components so you can create a more unique inbox experience. You can easily get the hosting of Zimbra On Cloud from NetForChoice company.
We are a reputed Zimbra hosting provider company in India with a broad spectrum of the client.
2. iRedMail – Another Best Open-Source Alternative of Axigen
iRedMail is a full-featured, Open-source email server. One can smoothly control the email security and no other person can see your message details. Supports the different protocols – POP3, IMAP, SMTP, and TLS. Furthermore, the password is stored on SSHA512 or BCRYPT. Offer Roundcube as webmail.
3. Microsoft 365 (formerly Office 365)
The most recognizable name on this list – Microsoft 365. It has been one of the prominent, trusted, and popular productivity suites in the world since its release. Interestingly, it is one of the leading competitors of Google Workspace.
It offers an expansive feature set, including Web and mobile versions of Office apps, Email and Calendaring, File Storage and Sharing, Teamwork and Communication, Advance Security, Device Management, SharePoint for web-based collaboration, and much more. In addition, Microsoft 365 smoothly integrates with other platforms such as MS Dynamics.
NetForChoice offers Office 365 Hosting at a very reasonable cost and provides amazing support. For more details, consult with our experts.
4. Google Workspace (formerly G Suite)
Google Workspace is a pack of intelligent apps and previously named G Suite. It is recommended to those organizations who are needing email hosting and a productivity suite for their business.
It includes products like Gmail, Google Calendar, G Drive, Google Docs & Sheets, Keep, Meet, Slides, Site Management, Vault, and many other beneficial services. There are 4 different plans that you can choose from – Business Starter, Business Standard, Business Plus, Enterprise.
All you need to take one of the plans of G Suite Hosting and start working towards your goal.
Choosing an Axigen Mail Server Alternative
No doubt! What you choose to replace the Axigen server with entirely depends on your business requirements and what your team is looking for.
While there are a lot of mail servers out there, not all of them will solve your problems. However, Zimbra, G Suite, and Office 365 are excellent mailing communication tools.
If you are stuck deciding what Axigen alternative is right for you, then call us at – 0120-4578842 / +91-9887280808 or fill the form with your required details for the consultation.