Informative
,
Technology
,
Zimbra
Get Zimbra Collaboration Suite for Your Businesses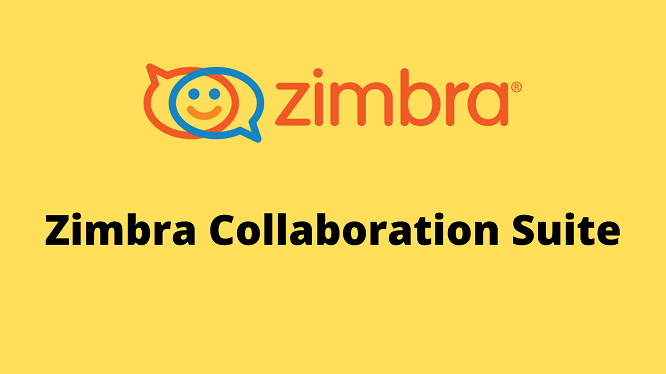 Every business, whether it is a small or huge enterprise, requires an email system. No doubt, it is one of the crucial communication tools for an organization.
So a system which used frequently and has an important place in the firm should be resilient, affordable, secure, and easy to use.
If you are looking for the best business email system, then Zimbra Collaboration Suite should be on your list. To help you understand Why Zimbra is best? We are going to illustrate all the beneficial aspects of the Zimbra mail server in this article.
So, let's get started!
What is Zimbra Collaboration Suite & From Where We Get the Service?
The ZCS or Zimbra Collaboration Suite is a comprehensive package. It includes messaging and collaboration solution integrated with calendar and contacts feature. Besides this, it facilitates Document storage, Editing, Instant Messaging, Mini Calendar, and Easy-to-use Administrative Controls.

It is an incredible webmail where interface built with latest AJAX web technology. As well as Zimbra Collaborative suite provides mobility and sync to desktop client applications.
Most important, Zimbra also offers an open-source solution that supports different operating system and has lower TCO which makes its very affordable in price. That's why it is also known as best open-source email server platform for the businesses.
Zimbra Collaboration Suite comprises Server and Client components, making it the best open source and affordable alternative platform to many popular email servers. Here, we listed some prominent ones –
There are multiple providers out in the market who offers Zimbra Hosting. But it is advised to take the service from the NetForChoice – A Tier 3 Data Center Company in India.
Why NetForChoice for Zimbra Collaboration Suite Hosting?
NetForChoice hosting is Reliable, Credible, and Affordable, as well as the trust of the Data Center. We are not a reseller hosting company. That's why we are recognized as the best email hosting provider in India.
They deliver Zimbra Mail Server Hosting across the globe. With excellent business ethics and managed IT services like Zimbra Mail Server, NetForChoice has earned a respectful name in India as well as in the global market.
They offer managed ZCS hosting plans that are of affordable prices and compatible with all types of operating systems.
Above all, the provided mail server has a dedicated backup service. The developers develop this mail server as per the requirements of the clients within a promised time-frame in an excellent manner. The following are the beneficial features of NetForChoice Zimbra Mail Server Hosting.
Advanced User Interface
The Zimbra collaborative suite Hosting integrated with the advanced functionality to manage webmail, instant messaging, group scheduling, document editing, and sharing, etc.
Access from Anywhere
There is no location constraint while using the ZCS Hosting. You can easily use the mail accounts from anyplace on any device like Android, Outlook, Webmail, and other email clients. Besides this, it is easy to read emails from any IMAP or POP email account including Hotmail, AOL, and so on.
Bulk Emailing
Our enterprise-class Zimbra servers are ready to support bulk emailing features. One can easily send more than 2000 emails/hour without any speed issue.
Security
The Zimbra Servers are fully secured with Enterprise firewall, Intrusion prevention system, Anti-spam, and Antivirus filters which provide security from external threats. As well as, the data backup facility ensures business continuity in the time of catastrophic disaster too.
99.995 % Uptime Guarantee
NetForChoice is a Tier-4 data center company that offers 99.995 % network uptime. The servers are devised with redundant power HVAC systems to deliver guaranteed uptime to every client.
Load Balancing
NetForChoice proves to be an excellent Zimbra Collaborative Suite Service Provider due to its large array of Tier 4 Data Centers available all over India. You can select the data center near to your location and get benefit of impeccable load balancing.
Auto Backup Facility
Zimbra Email Hosting automatically takes backup of your data and saves it to multiple server locations to maintain business continuity in all situations.
24*7 Support
Our certified expert team panel monitoring helps to identify and rectify problems before you didn't realize you had. This makes Zimbra Server secure and reliable. The support team is available 24x7x365 for providing full assistance to you in all verticals to deliver amazing customer experience.
Apart from this, you will get following Zimbra Collaboration features;
Email/Phone Support
Disk Space
Zimbra Email Aliases
Major Zimbra Features
Address Book
Calendar
Tasks
Documents
Zimbra Briefcase
Email Accounts
Auto Responders
Email Forwarders
Anti-Virus
Anti-Spam
Webmail
SMTP
POP3
IMAP
Conversations
Mail Filters
Out of Office Reply
Polling Interval Control
Search – Basic & Advanced
Tags
Sharing (Tasks, Documents, Calendars)
Zimlets
Resource Group Scheduling
AJAX Documents
Have More Question on Zimbra Collaboration Suite?
If you have any query related to Zimbra hosting regarding its maintenance & implementation, you can connect with the NetForChoice team. You can fill the Form with your requirements.
What are you waiting for?
Go and upgrade to Zimbra Collaboration Suite.
Frequently Asked Questions On Zimbra Collaboration Suite
What is Zimbra Collaboration Open Source?
Zimbra also has an open-source edition. The Zimbra code repositories are still available on GitHub, where a person can access the open-source code.
Is Zimbra Free?
Yes, Zimbra Collaboration Suite offers the Free Open-Source Edition as well as Paid Network Edition.
Is Zimbra Mail Good?
Zimbra is a globally accepted mail server that comprises webmail client and comes at a very fair price. No doubt, Zimbra is a good mailing solution.
What is Zimbra Suite Plus?
It is a modular add-on. Zimbra Suite Plus enables you to extend the Zimbra server's capabilities on Zimbra Open-Source version. For example; Backup & Restore, Mobile Push Synchronization, Zimbra HSM Plus.