Cloud Hosting
,
Informative
,
Technology
,
Zimbra
Zimbra – Alternative to Microsoft Exchange Server in Open Source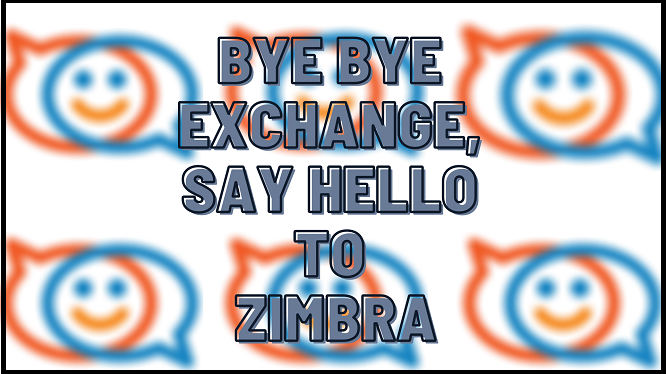 Are you in the market for a free Exchange Server alternative? Then Zimbra Mail Server would be the best.
Almost every person who worked with email has heard of Microsoft Exchange. It is a popular email server solution that gains huge marks from users for its Robustness, Flexibility, Customizability, and Ease-of-use.
Well! Exchange Server has its downside.
Being an on-premise email server, it requires a significant amount of computing resources & memory space. It could be a present challenge for small and medium-sized businesses. Plus, the routine hardware maintenance & Exchange price tag are other factor.
However, Microsoft facilitates the cloud version of Microsoft Exchange, named Exchange Online. If the budget is not a concern, the buyers can go with Office 365 Business Premium Hosting to access Exchange & the full range of Microsoft 365 services.
Microsoft Exchange Server Alternative for Open Source – Zimbra Collaboration Suite
Currently, 100s of millions of people use the Zimbra Collaboration Suite across the globe. It is a well-suited platform for Government, Service Providers, Small/Medium Enterprises, and Educational Institutes for exchanging Mails, Messages, Contacts, Calendars, Video Conferencing, Tasks, and Document Sharing from PC, laptops, and mobile devices.
Zimbra, an open-source email server, has the potential to replace the expensive but ubiquitous Microsoft Exchange. It is not only a free alternative to Microsoft Exchange Server but also replaces Outlook with a web-based email interface. It is a worldwide popular suite that includes Mail Server & Web Client and available in two versions – Open Source & Network Edition. You can visit the Zimbra Network Edition Vs Open Source page for their comparison.
NETFORCHOICE, a Tier-4 data center company, facilitates a streamlined, well-structured Zimbra Mail Server to the organization regardless of their strength at an optimal rate. So you don't have to worry about setting everything up and maintaining it on your own.
NETFORCHOICE has a long history of flawless delivery of the hosted solution and a peculiar combination of Technology, Security, Services, and Monetization.
Why Choose NetForChoice Zimbra Solution as Exchange Alternative?
Managed Services
Implementing Zimbra as an alternative to Outlook Exchange Server reduces CapEx & overhead costs to manageable expenses. As well as, the IT staff can saves a lot of time & can focus on other business crucial jobs.
Scalability
One can start with a small IT infrastructure and smoothly scale up the resources as per the business growth at any time. Zimbra can also be easily scaled to support huge, cloud-based email.
Exceptional Support
The certified expert team panel monitoring helps to identify and rectify problems before you didn't realize you had. This makes the Zimbra dedicated server secure and reliable. The support team is available 247365 for providing full assistance to you in all verticals to deliver an amazing customer experience. You may easily reach the support team by phone, email, or simply chat with us online.
Hybrid Mail Deployment
To lower the TCO, NFC has its unique model named as Zimbra G Suite Hybrid Solution. It is a combination of Zimbra & G Suite. This solution enables the user to work with G Suite along with the Zimbra cloud using the same domain with collaboration in real-time.
Cost-Effective
If you still have the question, why choose Zimbra as an alternative to MS Exchange Server in Open Source? The answer is its Affordable Pricing Plans. This enterprise-level collaboration suite can be deployed in your organization at a price that fits in your budget.
Add-Ons
As well, companies or individuals can integrate multiple add-ons with Zimbra at a decent price. The Email Archival Solution is offered for the Zimbra mailbox backup and Anti-Spam Filter to quarantine all the harmful or suspicious mail in the separate folder, so Zimbra's mailbox gets protected from any potential attacks.
Ask for Email Archival Ask for Anti-Spam Filter
Final Say
There are a lot of reasons why Microsoft Exchange is so prominent in the email server discipline. The server offers a variety of impeccable features and robust administrative options. Still, for some businesses, it's not the right solution, and they looking for a free alternative to Exchange Server, which is Zimbra Mail Solution.