Alternatives
,
Mailing Solution
3 Popular MDaemon Email Server Alternatives to Check Out Today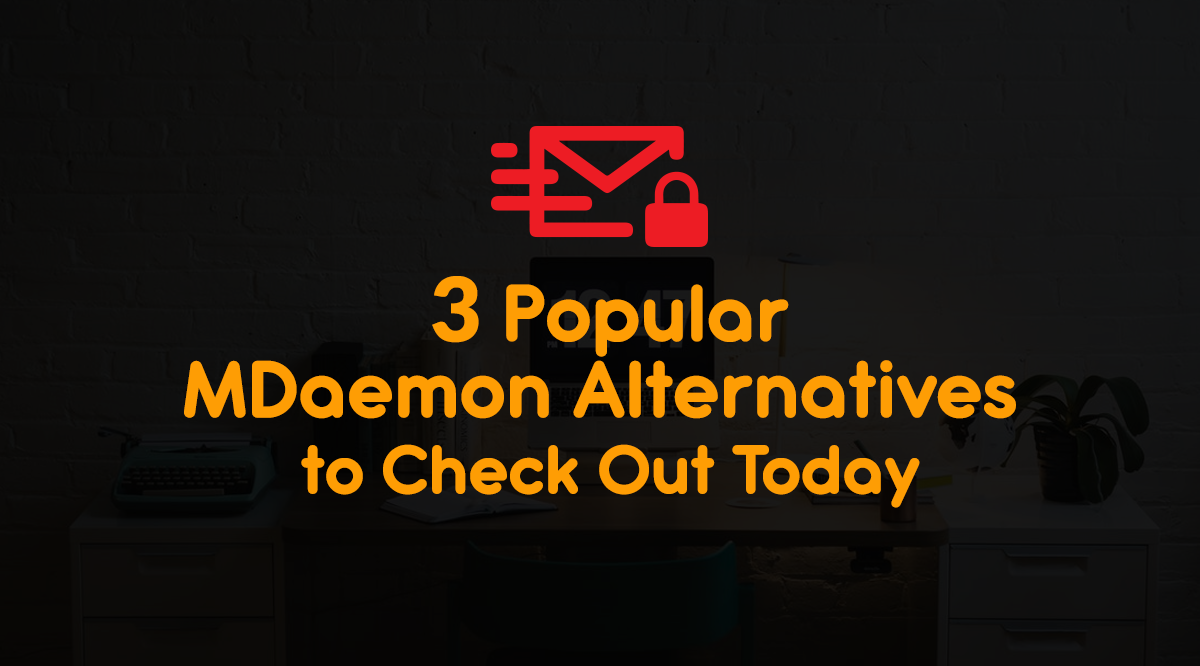 Make your inbox clutter-free with one of the MDaemon alternatives. Streamline flawless email communication workflow and keep yourself on top of things.
MDaemon is a well-known recognition in the domain of messaging solutions. It offers excellent features like encrypted emails and attachments, advanced email authentication techniques for security, content filtering, and much more.
Despite its popularity, MDaemon lacks many features that an organization is looking more. We are not going to list all reasons why MDaemon is not a great choice. Because if you are searching for an M Daemon email server alternative, you can think of a few yourself.
Let's cut to the chase.
Fortunately, there are proficient alternatives that offer better services in terms of both features and cost.
In this blog post, we've put together a list of the best 3 mail servers that could be an excellent replacement for MDaemon. Let's explore all the options in detail.
Top 3 MDaemon Email Server Alternatives
Analyzed a broad range of messaging servers and filtered out the best one that could be an excellent match for your unique business requirements at a competitive price. Let's begin with the most popular MDaemon Linux alternative.
1. Zimbra – Free & Open Source Alternative to MDaemon
Zimbra mail server constellates many innovative features that make Zimbra the most incredible mail server for 60-70 % of businesses today.
One peculiarity of the Zimbra Collaboration Suite is its all-inclusive features. The messaging server is predominantly adaptable and suffices in manifold ways to fulfill your dynamic requirements.
Another great prospect of Zimbra is its comprehensive compatibility with different devices like smartphones. Unlike other mail servers, which got to be upgraded for specific devices or operations, Zimbra is compatible with most devices.
Most of the mail servers find it challenging to provide Document storage. In comparison, Zimbra is one step ahead and offers a much sophisticated experience. You get a mammoth document storage capacity with a well-defined organization structure. As a result, your team's productivity can take a significant ramp up with this feature.
Zimbra has an in-built 'Calendar' feature to reduce all the pain of tracking regular appointments, meetings, payments, account management, invoices. With this feature, one can easily schedule, plan, and track events.
Why Zimbra consider the best MDaemon free alternative? The reason is the cost-effectiveness of Zimbra. Deployment of Zimbra at the workplace means a remarkable reduction in overhead as against any other mail server.
The cost-effectiveness of Zimbra gets extended in other forms as well. Just take Managed Zimbra Server hosting from NetForChoice. We are the leading Tier-4 data center company in India and a trusted provider of Zimbra hosting. Sign-up hosting from us and forget the heavy expenditure on server upkeep. Being a data center company, we offer 99.995 % Uptime and managed support and disaster recovery.
Last but not least, you can integrate the NetForChoice Anti-Spam Solution to Zimbra and activate an intelligent spam filter for this to keep malicious or spam email away from your inbox. As well as leverage the benefit of Zimbra backup by using the NetForChoice Email Archival attribute to protect emails from any catastrophe.
Ask for Zimbra Backup Ask for Ant-Spam Filterr
2. Microsoft 365 or Office 365 – SaaS-Based MDaemon Alternative
Microsoft 365 (formerly Office 365) engineers to help you explore new heights in business with innovative Office apps, intelligent cloud services, and state-of-the-art security.
Microsoft 365 has different plans covering four domains – Home , Business , Enterprise , Education.
In the Home edition, users can use the Microsoft applications on up to five different devices, including Windows, macOS, iOS, and Android, at the same time. You can manage your time by using the 'Calendar' feature.
In-Office 365 Business edition, you can get real-time collaboration with Microsoft Teams, the cloud storage of 1 TB, the facility to connect with customers and coworkers through Microsoft Outlook and Exchange, and protection against viruses, ransomware, spam, and other threats.
The Microsoft 365 Enterprise edition facilitates all Office apps (Powerpoint, Word, Excel, OneNote, Publisher, Access), Email & calendar via Outlook, Exchange, Bookings, Microsoft Teams for meetings, chat, and calling, Presence of SharePoint & Yammer, Work Management through Planner / Power Apps / Power Automate / Power Virtual Agents / To Do, Get the organizational insight using MyAnalytics, Power BI Pro, Identity and access management, Threat Protection, Information Protection, Security Management, and Advanced Compliance.
Here, we have listed some standard benefits of Office 365. To get more information about Office 365 Email Hosting, connect with NetForChoice executive. We offer the Microsoft 365 plans at a lower price than the actual cost with fully managed support
3. Google Workspace – Cost-Effective Business Productivity Suite
Like Microsoft 365, the Google Workspace is a pack of intelligent Office apps, cloud computing, productivity and collaboration tools, software, and products engineered by Google.
The Google Workspace education edition offering a learning platform Google Classroom and has the name Workspace for Education.
G Suite had 6 million paying businesses and 120 million G Suite for Education users till April 2020.
Google Workspace is a SaaS-based model and offers Gmail (most popular web-based mail), Google Drive, Meet, Calendar, Chat, Currents, Jamboard, Docs, Sheets, Slides, Keep, Sites, and Forms.
Google Workspace has four different plans – Business Starter , Business Standard , Business Plus , and Enterprise.
The Business Plus plan includes eDiscovery, retention, Attendance tracking, 5 TB Cloud storage, Vault, Advanced endpoint management.
The Google Workspace Enterprise plan includes all the Business plan features along with S/MIME encryption, Noise cancellation, In-domain live streaming, Unlimited storage, DLP, Enterprise endpoint management, Support.
Here, we have outlined the significant Google Workspace benefits. To get more information about G Suite Email Hosting , connect with NetForChoice executive. We offer the Google Workspace plans at a lower price than the actual cost with fully managed support.
Ask for Google Workspace Plans
Which MDaemon Alternative Should You Go For??
It is a joyful experience testing these MDaemon mail server alternatives. Of the free & open-source, we recommend going with Zimbra as it has many great features and is stable, reliable, robust, and low pricing.
If you want a solution that comprises a business productivity suite and are concerned about security, then the cloud SaaS model Microsoft 365 and Google Workspace could be satisfactory options.
If you are still confused about which alternative is suitable, you may contact us or click on the below link to schedule an open meeting with our customer relationship manager.