Hosting Solutions
,
Informative
,
Mailing Solution
,
Managed Services
,
News
,
Technology
,
Zimbra
Why is NetForChoice the Best Email Hosting Provider in India – Let's Reveal Today!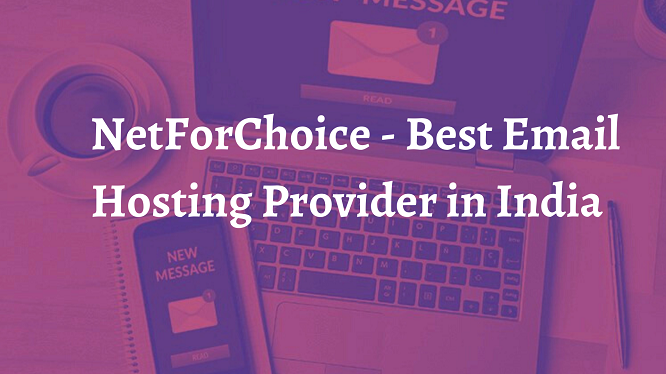 Sandeep Yadav
| Modified: September 18th, 2022 ~ 8 Minutes Reading
Today, we will be discussing the topic – best email hosting provider for small or large businesses in India.
The best email hosting service providers deliver excellent speed with reliability. These providers for SMBs allow you to send and receive as many messages as you want to without the fear of being blocked.
Email hosting is much like a web hosting service. The fact that emails hosting is the most effective marketing tool for businesses is no surprise.
Many email users believe that paid hosting is unnecessary, but what if you have important documents like bills, invoices, client contacts or any other pieces of sensitive information stored on your email account?
Can you afford to lose subscribers, customers, etc. only because of having a clumsy and unprofessional email such as your.business@gmail.com over your own domain such as info@abc.business.com?
Obviously Not!
NetForChoice is a data center service & hosting provider company. It facilitates all the cloud computing services as well as email hosting too. Here we are going to reveal that Why is NetForChoice is the best email hosting service providers in India?
Read this post till the end to get the excellent provider for handling your mail communication.
Topics To Be Covered
What is Email Hosting?
Types of Email Hosting
Email Hosting by NetForChoice
Best Hosting services by NFC


G Suite Hosting
Zimbra Hosting
Office 365 Hosting
Zimbra G Suite Hybrid Hosting
What is Email Hosting?
Email Hosting is a service that runs on email servers and rents out these servers to its users. Putting it in a simple way, if you own a domain name and want email service on your domain name, you will have to sign up for an email hosting service. That email hosting service can be used to send, manage and maintain your email accounts.
Different service providers offer different technology and services. Some are more inclined towards security while others are more inclined towards email management and filtering.
Most of the e-commerce businesses have in-house email servers to assure that the emails reach the recipients on time. Whereas, many businesses use email hosting provided by companies like G Suite, Zimbra and Microsoft Office.
Types of Email Hosting Service
There are different email hosting services, each with a purpose of their own. Let's take a look at the different types of email hosting services:
Shared Hosting
Shared hosting is a type of web hosting which provides hosting on a single physical server for multiple sites. Many users use the resources on a single server, which also keeps the cost low. It cannot send or receive emails in bulk. This type of hosting is suitable for small sites or blogs that do not require advanced resources or high bandwidth speed.
Third-Party Email Hosting
It is a type of professional email hosting service that is segregated from your web hosting account. It is mostly preferred by digital businesses. This email hosting provides scalability and easy to use servers.
Self-Hosted Email Service
It is the practice of running and maintaining a webpage or a website using a private server. These are complex robust servers and require technical expertise to operate. You can easily rely on these servers. These servers can send, maintain and receive emails with ease.
NetForChoice – Best Email Hosting Provider in India
NetforChoice provides you both Email hosting and management add-on. With this add–on, you also get your email inboxes from G Suite, Zimbra, Office 365, and Zimbra G Suite Hybrid email hosting solutions. The service is swift, offers robust support, and is available 24*7.
If you are looking to deploy email hosting for your work, then freely have a session with our experts regarding this
Along with the email hosting and add-ons, you will also get:
Managed Hosting Solution
Data Backup
Disaster Recovery
Best Email Hosting Services in India By NetForChoice
#1 – Zimbra
Zimbra is an email and a collaboration platform. It consists of both client and server components. NetForChoice's Zimbra on Cloud is based on SaaS Solution and it offers an amazing interface that a person could have barely experienced until now. It gives the client high performance, fastest email channel, and a secure environment that makes NFC the best email service provider in India.
With Zimbra dedicated hosting, a client can easily access mail from any device, including Tablet, Smartphone, Windows, Linux, and Mac and experience impeccable messaging experience. 
Features of Zimbra Hosting by NFC
Runs on All Devices – Windows, Linux and Mac
Benefit of low cost
Easy File Sharing and Collaboration
Easy and Quick Deployment of All the Resources on Cloud
Advanced Data Security with Anti-Spam Filter
Backup & Disaster Recovery with 99.995% Uptime
Enhanced Server Management with Hierarchical Storage
Best-in-class email client-cross-platform support
IT Managed Service with 24*7*565 Support
#2 – Office 365 / Microsoft 365
As is clear by the top email hosting providers, cloud-based software suite is a go-to email hosting for people who want to go beyond basic hosting services. Office 365 Email Hosting provides you with the existing online applications which include Microsoft Word, Excel, PowerPoint, Outlook, OneNote, Access, and Publisher.
NetForChoice is a Microsoft Office 365 partner, as it seamlessly deploys and integrates the cost-effective solutions. Along with the Office 365 email hosting service with licensing options into your day-to-day operations.
Features of Office 365 by NFC
Explore and integrate seamlessly with Office & other Microsoft programs
By reducing the number of servers, Office 365 meets business needs
Access to email, documents, contacts, calendars, or any device anytime
Active Directory integration for easy management of user data and permissions.
Unified user interface – all applications in one place.
Enterprise-level service that includes IT manager support, disaster recovery.
Includes all licenses and can be implemented by companies
24*7*365 Live Chat and Support from Microsoft Office 365 Experts
Data stored in the cloud ensures documents are always available
Easy Migration with Bulk of Data and Account Information
#3 – G Suite Gmail
We all know how Gmail works. Think of G Suite Hosting as an advanced, sophisticated, and feature-rich version of Gmail. By using this service, one can send or receive emails anywhere, anytime without any limitations. It is flexible and perfect with modern-day marketing. G Suite is a lot more than just email.
You can customize business emails, calendars, mobile emails using G suite. NetForChoice provides services for a multitude of different SaaS products to run everything smoothly in order to grow your business. It is a SaaS product and by far the best email solution in the market.
Feature of G Suite by NetForChoice
Take advantage of professional domain name of your company.
Facilitate all tools needed to bring your project to life
Real-time collaboration with team from any location 24*7
Anti-Spam security to safeguard data from external threats
Facility of unlimited storage for your business on Cloud
Easy to manage Users, Devices, and Date at your terms
Technical Support by Experts 24*7*365
Protects company's critical data with potential security services
#4 – Zimbra G Suite Hybrid
G Suite Zimbra Hybrid solution makes it feasible to work with Google G Suite along with Zimbra cloud using the same domain and collaborate in real time. The Organizations that have a good number of employees, requires multiple licenses of Google G Suite. And that leads to a case of large upfront capital expense. To overcome this pain, the hybrid cloud solution comes into play.
It is an optimal flexible suite model that takes account of open source functionality of Zimbra Mail to reduce the cost of licensing. Moreover, integration of G Suite with Zimbra helps the organization to meet its technical as well as business objectives effectively and cost-efficiently.
Features of Zimbra G Suite Hybrid by NFC
Reduces G Suite Licensing Cost By Migrating Non-Critical users to Zimbra
Significantly Lowering the Total Cost of Ownership of a Business
Power Users Can Get Advantage of G Suite and Its Services
Allows to Share Same Domain in both G Suite and Zimbra Application
G Suite Zimbra Hybrid Provides Simplified and Unified Communication
Technical Support and Uninterrupted Workflow 24*7*365
NetForChoice Managed Services Keep Infra Always Up
What Say – Is NetForChoice a Best Email Hosting Provider in India or Not?
Using the services provided by NetForChoice, a user will be able to enjoy all the benefits and services that are required for Email Hosting. NFC provides all the things that a client looks for in an email hosting provider. Based on your understanding and business needs, you can choose one of the four hosting solutions mentioned above.
If you still have an doubt, you can consult with our experts.