Alternatives
Best 3 Apache James Alternatives You Can Buy For Your Business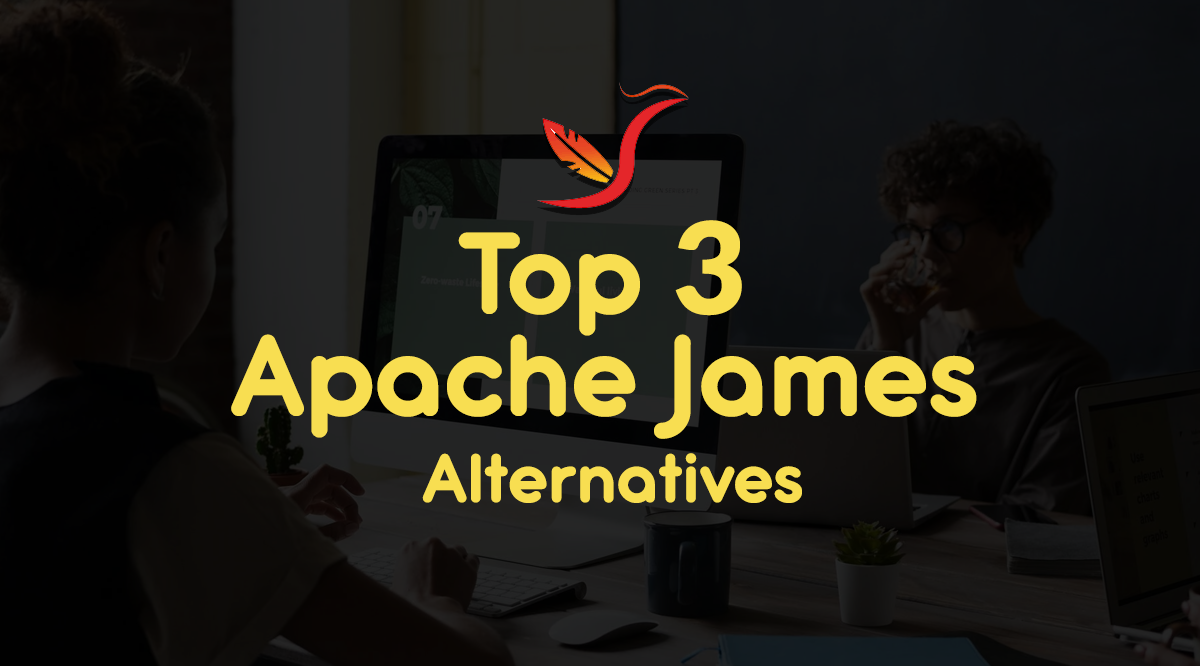 Ready to ditch Apache James mail server? These are the 3 Apache James alternatives that deserve your attention.
Apache James (or Java Apache Mail Enterprise Server) is an open-source SMTP, IMAP, JMAP & POP 3 enterprise mail server. Also, a Java-written news server. It includes a mail application platform too.
If you are looking for the best email server or collaboration software similar to or better than Apache James. You much check out our top picks.
Let's see which Apache James alternatives support your needs.
The Best Apache James Mail Server Alternatives
The list of alternatives comprises a free, open-source, and paid SaaS service, which offers the latest applications that fulfill the business requirements of these days.
1. Zimbra Server– Open Source Alternative of Apache James
Zimbra Collaboration Suite is engineered to deliver an end-to-end mail solution that is easily scalable, robust, and reliable. The email system module is based on well-known open-system technology and standards. It is composed of a mail server application and a client interface.
Zimbra comes as an open-source version that can download from its official website for free, and a Network Edition also offers new features, which has a license fee. To know the difference between them, check out our blog – Difference Between Zimbra Network Edition Vs Open Source.
Zimbra mail server can be used with almost any email client, but many users preferred the Zimbra webmail client. With Zimbra's client, one can access its email from any location in the presence of an internet connection.
The administration portal is another unique point. The console can do all the admin work through the web interface.
You can view Zimbra mail on any mobile device. It is a cross-platform server and supports all the major Operating Systems.
Facilitates features like Task Management System, Document Management System, Calendar Management System, Search Option that provide an easy to search all core applications.
It is considered as the Best Zoho Alternative, Kerio Connect Open-source Alternative , Axigen Mail Server Alternative , Zarafa Alternative , Open-Xchange Alternative , Office 365 Alternative , Xeams Alternative , G Suite Alternative , Horde Groupware Alternative , Icewarp Alternative , Qmail Alternative , Agorum Core Competitor, HCL Notes Alternative & Exchange Server Alternative email solution.
Zimbra provides the feature of data synchronization. One can easily synchronize mailbox data, contacts, and calendar information with open-source mail clients such as Thunderbird / Evolution and with popular proprietary software like Mac Mail and Microsoft Outlook, either with the help of connectors or ActiveSync protocol, both of them are exclusively present in the commercial version of ZCS. In addition, you can also receive two-way sync with many mobile devices.
If you are looking for a free and open-source Apache James alternative, then no surprise, Zimbra wins the race. To get Zimbra Mail Server, connect with NetForChoice.

We are a Tier-4 data center company and trusted provider of Zimbra hosting globally. Our affordable Zimbra Mail Server packages can help you save money on hardware and software costs. As a result, it lowers the company's TCO.
2. Microsoft 365 or Office 365
Microsoft 365 is an online suite of intelligent apps and delivers as a SaaS model. There are a plethora of reasons to choose Microsoft 365 as an alternative to Apache James.
The best part is the all-time availability of the Office 365 application. You can access any application from any location in the presence of an internet connection. It helps you to start work in one place and finish anywhere else you can connect.
One can install all Office applications on the computer through a licensed version.
It offers real-time collaboration and saves each version automatically, which helps you to revert to older versions with ease.
It helps you to collaborate with people outside your organization while having firm control over data security.
Microsoft 365 allows the user to control who can view your data. As well as, it enables the user to control how long users have access to that shared data.
Office 365 comes with its built-in antivirus / anti-malware that scans your email messages, documents, and applications to protect your corporate network.
Easy to managed admin panel to allow you to keep all your applications and administration organized.
Office 365 is a big money saver. Instead of spending thousands on hardware, OS licensing, application licensing, etc. You need to pay a fair amount per user and access all the 365 services.
Here, we have listed some standard benefits of Office 365. To get more information about Office 365 Email Hosting, connect with NetForChoice executive. We offer the Microsoft 365 plans at a lower price than the actual cost with fully managed support.
3. Google Workspace or G Suite
Google Workspace somehow has services equal to Microsoft 365. They both are competitors.
No shock, Gmail has been around since 2004 and now boasts over a 1.2 billion users.
One of the best things about G Suite is that you get an enhanced ad-free version of the online email client you're probably already using.
Like Zimbra & Microsoft 365, Google Workspace allows businesses to have their own Gmail account with the email addresses of their business domain name.
Offering Google calendar, Google contacts, Google Chat, Meet, Google Forms, Slides, Google Vault, Google Sites are a few more additional benefits of G Suite.
Online Drive allows you to store, access, and share your files in one secure place. G Suite basic plans come with 30 GB of storage for every user. On the other hand, the G Suite Business, Enterprise, and Teams editions provide unlimited storage.
Google Docs and Google Spreadsheets are the tools we use every single day. You can import Google Docs into WordPress directly and standard third-party formats to bits of help in collaboration.
Google Keep is a well-known Evernote alternative to create To-do lists, notes and set reminders to stay on track.
The admin console for G Suite allows business owners to manage everything from one single place easily.
Here, we have the outline of Google Workspace. To get more information about G Suite Email Hosting, connect with NetForChoice executive. We offer the Google Workspace plans at a lower price than the actual cost with fully managed support.
Ask for Google Workspace Plans
Last word of advice
Don't fall into the trap of expecting the same Apache James quality within the same mail server line. Preferably, adopt new email server models that offer exceptional features. It seems to be the best way to choose the Apache James alternatives.

If you are looking for a free option, then Zimbra would be the best. If you wish to have advance productivity tool and real-time collaboration, then Microsoft 365 & Google Workspace works excellent.

To get a free consultation on the mail server, give a call on this number – 0120-4578842 / +91-9887280808, or click on the below link to schedule an open meeting with our customer relationship manager.