Informative
,
Mailing Solution
Xeams Alternatives That You Need to Consider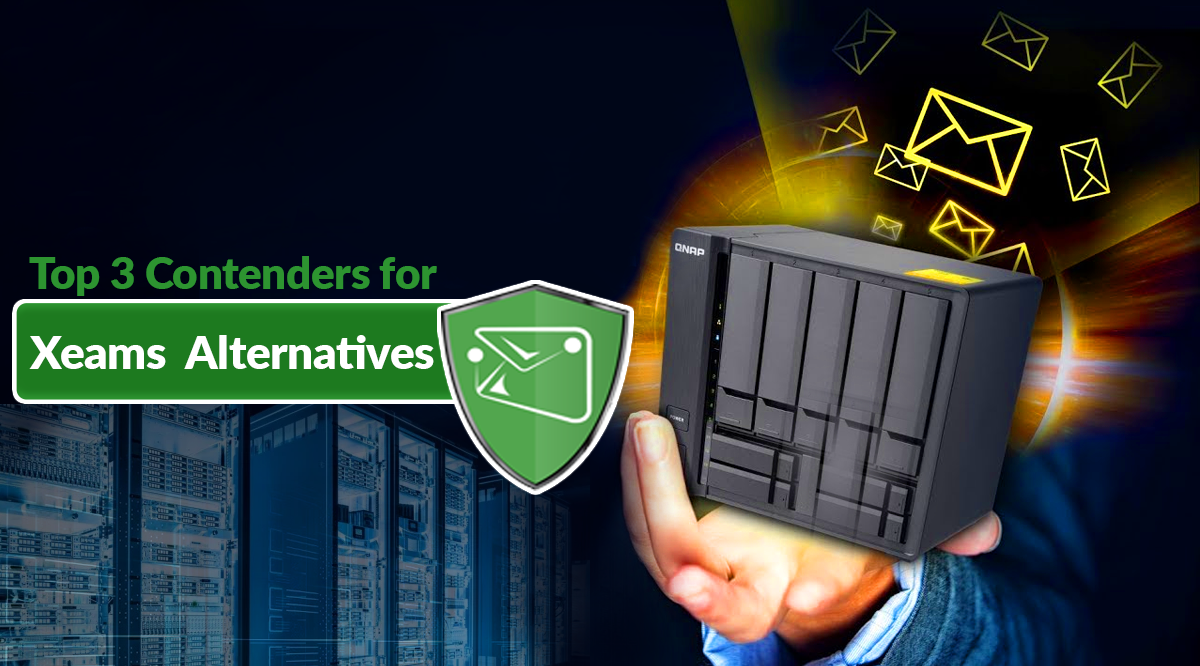 Nearly everyone who has a basic familiarity with the mail server has at least heard of Xeams. It a secure mail server platform devised for Windows, Linux, Solaris, macOS, and UNIX. It supports all important protocols SMTP, POP3, and IMAP.
Xeams becomes a household name because of its resilient spam filtering engine that removes approximately 99% of junk email right out of the box. It earns a well scoring from users for its flexibility, ease-of-use, and versatility.
But like any other mail server, Xeams also has drawbacks. So if you are a one of those people caught in the web of Xeams shortcomings, here are some best Xeams alternatives that can help you.
Xeams Alternatives – Top 3 Contenders
1. Zimbra – Open Source Xeams Alternatives
There are millions of users out there who are using Zimbra Collaboration Suite. It is a feature-rich, well-suited platform for Government, Service Providers, Startups, medium and large enterprises, and education institutes for mail communication, real-time video conferencing, document sharing & management, and lots more. It is available in two versions – Open Source & Network Edition. To get the difference between both, you can thoroughly read the blog – Difference between Zimbra Open Source & Network Edition.
This is the reason it is also known as the best open-source Xeams alternative.
It is not only an open-source email server but provides the webmail client too.
Yes, you heard it right.
Zimbra is a worldwide cost-effective collaboration suite that facilitates Mail Server & Web Client component.
We, NetForChoice, a leading Tier-4 data center company in India, offer a streamlined, fully managed Zimbra Linux Server hosting (Open Source & Network Edition) to the organization regardless of their strength at a fair price. We have a long history of flawless delivery of hosting & mailing solutions. So you don't have to take tension about the deployment and maintenance of the mail server.
Some of the interesting features of Zimbra:
Zimbra Chat Feature.
Real-time Messaging & Collaboration
Productive Document Management System.
Sharing Calendar Wizard.
Content Feature.
The facility of encrypted email messages via S/MIME or OpenPGP.
Dedicated Search tab
Work Online/Offline with Zimbra.
Stay connected with your mailbox at any time from your mobile.
Ajax-based web administration console.
Integrated anti-spam, antivirus security
Migration wizard to transit from Microsoft Exchange and Domino environments to Zimbra.
Deploy Zimbra server on hardware or virtualized or deployed as a software virtual appliance.
Comprehensively supported VMware and KVM Hypervisor.
A smart mailbox with an intelligent filter option.
Capability to move unimportant emails out of the inbox to Activity Streams.
Modern collaboration formats – RSS / ATOM Feeds, Tags.
Read-only access to attachments.
Comprehensive context switching.
Facility to linking a message to external web services/applications. For example:- Intranet (Customer relationship management software, Enterprise resource planning, VoIP, etc), Internet (Google / Yahoo Maps, Package Tracking, etc).
Single sign-on.
Availability of TLS / SSL.
2. Microsoft 365 (formerly Office 365)
The widely popular name on the list of Xeams alternatives– Microsoft 365 or Office 365. It holds a prominent position in the domain of business productivity tools globally. It facilitates a broad portfolio of features, including Mobile and desktop compatible Office versions, Advance Security, File & document sharing, SharePoint, and tons of other benefits.

We also offer, Office 365 Hosting at the best price in the market with managed support. For more details, consult with our experts at 0120-4578842 / +91-9887280808.
3. Google Workspace (formerly G Suite)
The next and last Xeams alternative is the Google Workspace. Like Microsoft 365, G Suite is a business collaboration tools suite. It is a great alternative to Office 365 too. It includes popular products like Gmail, Google Calendar, Meet, Google Contacts, Drive, Office tools, Vault, and other exciting tools.
Sign up for G Suite Hosting from NetForChoice and get the benefits of managed 24/7 support at a price that you can never imagine.
Choosing a Xeams Mail Server Alternative
It is true that what you selecting to replace your Xeams server will completely depend on your budget and what you are looking for.

However, apart from the above list, there are a lot of mail servers out there, not all of them will solve your problems as the above-listed solutions do.
Still, if you are stuck deciding what Xeams alternative is right for you, then call us at – 0120-4578842 / +91-9887280808 or fill the Query Form with your required details for the consultation.