Alternatives
,
Mailing Solution
hMailServer Alternative for Linux – Consider Other Options Also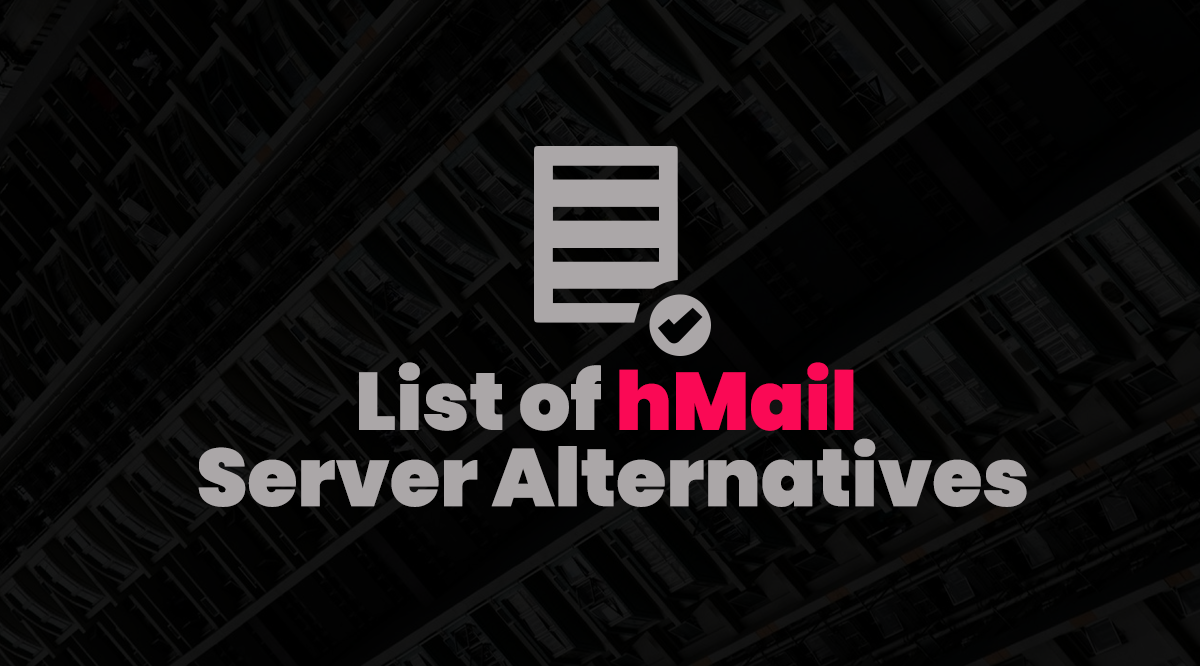 Sandeep Yadav
| Modified: September 19th, 2022 ~ 4 Minutes Reading
hMailServer is a free, open-source email server exclusively for Microsoft Windows. It means it is not available for Linux. Don't worry! From many hMail Server alternatives for Linux, we list Zimbra, which is similar to hMailServer and available for Linux.
No doubt! hMail Server is the default choice for most Internet Server Providers, Companies, Governments, and Schools globally. And that's for a good reason. hMailServer offers many features like built-in anti-spam, RoundCube & SquirrelMail webmail, Support for IMAP, SMTP, POP3.
However, if you are looking for an hMail Server alternative for Linux or searching for a free, open-source mail server with business productivity features at a low price, then this blog is worth it for you.
Here, we list the one replacement of hMailServer for the Linux platform you must try from the array of hMailServer alternatives. So you will get the best one in the least time.
Let's begin!
hMailServer Replacement for Linux Platform
One of the privacy reasons for users switching away from hMail is the non-availability of the Linux platform and privacy concerns. Many users don't feel safe with hMail. Another significant concern among users is the lack of business tools. So if you want a more feature-rich, cost-effective, and privacy-oriented mail server, check out the Zimbra Collaboration Suite. Let's understand Zimbra in Detail.
Zimbra Collaboration Suite Instead of hMailServer – Why?
100s of millions of people use the Zimbra Collaboration Suite across the globe. It is a well-suited, open-source platform for Government, Service Providers, Small/Medium Enterprises, and Educational Institutes for exchanging Mails, Messages, Contacts, Calendars, Video Conferencing, Tasks, and Document Sharing from PC, laptops, and mobile devices. One can easily create a domain for the business and use customized email addresses for users. ZCS gives your company the visibility and authenticity it deserves.
It is a free alternative to hMailServer and replaces RoundCube or SquirrelMail with its web-based webmail service. It is a worldwide popular suite that includes Mail Server & Web Client and available in two versions – Open Source & Network Edition. You can visit the Zimbra Network Edition Vs. Open Source page for their comparison.
Zimbra makes it easy to handle business communications even when you are away from your desk, working remotely, or on the way. Zimbra Mobile support makes staying in touch on the go easy and streamlined. Plus, Zimbra offers two-way sync to multiple mobile devices. It effortlessly synchronizes mail, contacts, and calendar items with an open-source email client such as Thunderbird, Evolution, and proprietary clients such as Microsoft Outlook.
You can access Zimbra mail from any platform, such as Tablet / Smartphone / Windows / Linux / Mac.
The admin control panel is a terrific roof to do all the email server settings, customization, user creation, group management, setting up policies, and more.
Zimbra data centers have resilient security and surveillance, with a robust 99.995% Uptime. So you will never go down with your email service.
You can use the Zimbra on Windows server with the help of creating a virtual environment. Moreover, Postfix use for the MTA functionality.
To get the best Zimbra Server hosting, connect with NetForChoice. It is one of the trusted Zimbra hosting provider in India. Our affordable Zimbra Mail Server packages can help you save money on hardware and software costs. As a result, it lowers the company's TCO.
Try Out Zimbra as hMailServer Linux Alternative
As we discussed above, hMail Server is not for the Linux platform. So it is best to use Zimbra Collaboration Suite hosting as an hMailServer alternative with more storage space, privacy features, intelligent mailbox, anti-spam, two-factor authentication, webmail, and archival email options.
Do you use any other Linux alternative of the hMail email server that's not listed here? Let us know if that is the scenario by filling the form mentioned in the right-hand pane.
Besides, if you are looking for a more Open-source email platform for Linux, check out our linked article.