Bare Metal Server
,
Dedicated Server
,
Informative
Bare Metal VS Dedicated Server – Which Is Good For Your Workload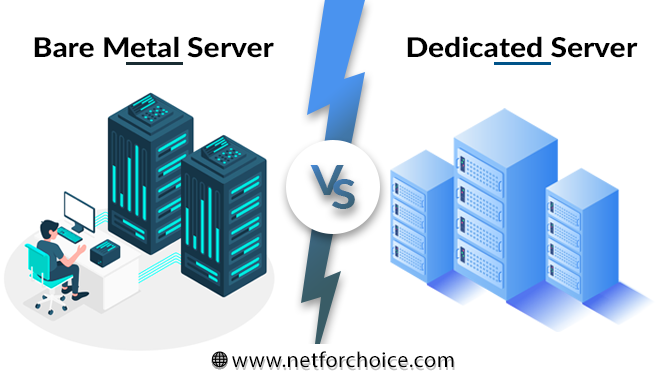 Undoubtedly, selecting a server for your data-sensitive workload can be a cumbersome quest.
In some instances, you are well determined to draw up the best choice, but you can't seem to understand the difference between Bare metal Server and a Dedicated Server.

Ask for Bare Metal Server Ask for Dedicated Server
Most obviously, they both come as a physical box and not a virtualized slice of server resources. Both types of servers are dedicated to a single tenant and provide a processor, memory, and storage configuration that not share between users.
However, when it comes to getting the highest performance from
dedicated server hosting
, users now can choose between traditional dedicated servers or next-generation bare metal servers. But how customers choose between these hosting solutions.
This article sets out the comparison –
Bare Metal Server Vs. Dedicated Server
. So, you can choose which server is suitable for your current situation.
Bare Metal Server VS Dedicated Server – Deep Comparison
| Features | Bare Metal Server | Dedicated Server |
| --- | --- | --- |
| TERM DESCRIPTION | Dedicated to single-tenant – No Shared Resources. | Dedicated to single-tenant – No Shared Resources. |
| HARDWARE | Bare metal server comes with new upgrade technology which ensures better performance speed. | Use traditional infrastructure, not advanced like Bare Metal. |
| CUSTOMIZATION | It is highly customizable. You can build your server to the unique specifications as per your requirements. | You can customize the server as per your requirement and have whatever configuration you want. |
| CONTROL | The bare metal servers offer the total control over the resources. | You are free to install any software or application as per your business need or fulfill the current demand of the work. Hence, the server control is there. |
| PERFORMANCE | With bare metal, users can receive a high level of performance due to the enterprise-grade hardware and server optimization feature. | Being a single-tenant server, dedicated server offers more performance than VPS or Shared Hosting. |
| Cost | Bare metal cloud server is expensive than other hosting solutions. However, many providers offer a pay-as-you-go model, which is highly cost-efficient. | Dedicated Server is less expensive than a bare metal physical machine. |
| MANAGED SERVICES | You can get managed as well as an unmanaged service hosting. | You can get managed as well as an unmanaged service hosting. |
| DDoS PROTECTION | Yes | Yes |
What Are You Building?
That's all about the Bare metal server VS Dedicated server. No doubt, the resemblance between Dedicated (traditional) Servers and Bare Metal Servers outweigh the differences. But, indeed, other factors must be considered before a business chooses a server.
Withal, neither is excellent in every circumstance. You must opt for one according to the requirements and peculiarities of your deployment.
If a dedicated server could get the job done, purchasing a bare metal server is unnecessary. However, cutting-edge hardware is an absolute need; Bare Metal Server Hosting is the way to go. It represents the latest generation of dedicated server technology from CPU, memory, and storage to connectivity, security, and control. Also, lit shows a massive range of versatility and can prove careful to a different business. Since it can be easily customized, it would be an excellent option for companies with unique requirements and data-sensitive workloads.
If you are the one who is still confused, then have a cup of tea with our experts. You can call us at 0120 – 4578842 / +91 – 8766177177, mail us at info@netforchoice.com or schedule a free meeting with our customer relationship manager.