Bare Metal Server
,
Informative
What is the Meaning of Bare Metal Server – Why Use Them?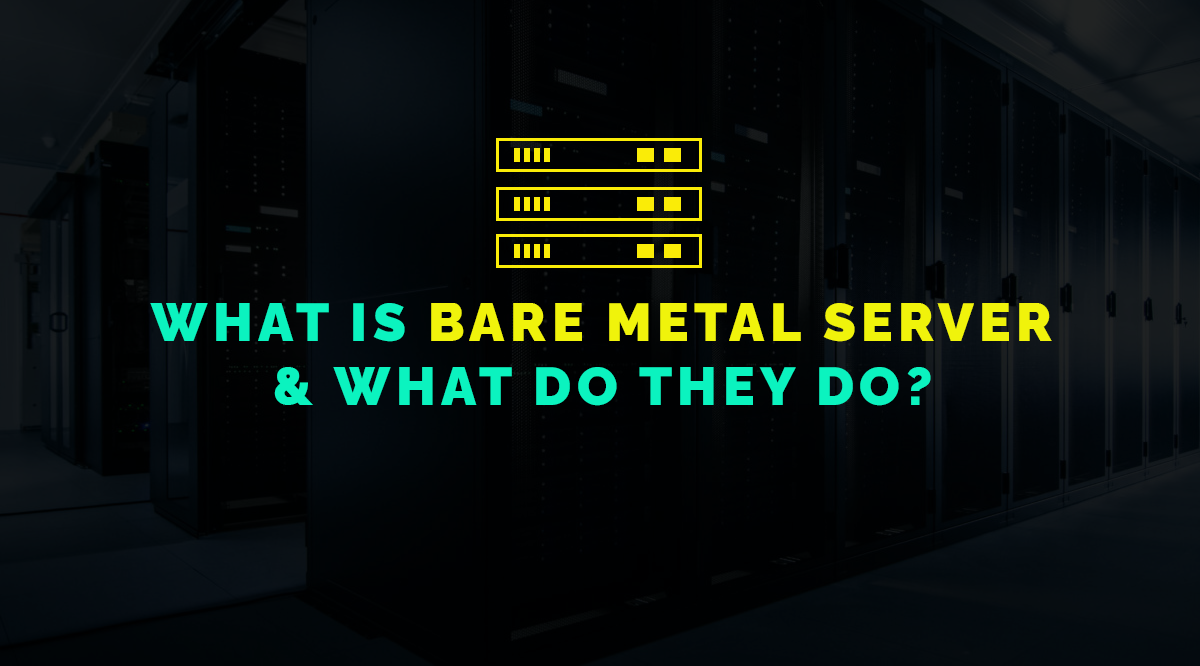 Your server is getting more intelligent & powerful! Know what is bare metal server & it is the best server for your workload.
Bare metal is one of the most prominent servers used for intensive workload & high-performance computing. Let's explore what is bare metal server and why use bare metal servers for your business.
What Is Meant By Bare Metal Server?
What is Bare metal? – The term "bare metal" usually denotes the computer hardware free from any visualization layer. It is also known as a bare machine.
What is bare metal server? – A bare metal server is a single-tenant server that dedicates the resources of a physical server to a single tenant.
It is a prevalent subtype of traditional Infrastructure-as-a-Service.
It is also named Single-tenant Physical Servers or managed Dedicated Servers. The reason is that – it is exclusively dedicated to a single tenant.
One of the most significant advantages is that you can directly deploy the operating system on the server while removing the layers to get excellent performance.
The tenant of the server can customize or optimize the server according to its workload required to achieve excellence in performance, reliability, and security.
Generally, the bare metal physical machine is housed in a data center and facilitated by the managed IaaS provider.
One can easily rent the servers on a monthly or yearly subscription basis from a managed service provider.
Why Use Bare Metal Servers?
There are multiple factors why you should consider using bare metal physical server over any other hosting. Here, we have outlined the major ones.
Performance You Can Count On– One can easily optimize the server according to its unique workloads requirement. So it can provide the performance that you are always looking for.
Reliability You Can Trust – Receive 100 % server reliability as it doesn't share the compute resources with the neighbors. Hence, there will be no noisy neighbor effect that disturbs server reliability.
Top-Notch Security – Use a bare metal server to isolate your data, applications, and other resources to accomplish a higher level of privacy and security than any other hosting service.
Transparent & Flexible Billing – Reduce the total cost of ownership by paying for only what you use—transparent consumption-based pricing model.
Compliance – This type of physical server takes care of compliance and cloud security issues better than any other type of server. The reason is the single-tenant environment. It facilitates the best application & data performance while providing high-level security.
It is evident that a bare metal server has many advantages. And so, it is quite fruitful to use bare metal servers especially for heavy applications.
How Can NetForChoice Help?
We are a data center company and offer data center & managed cloud services around the globe. We have provided our high-performance bare metal servers to countless companies. Our major clients include – National High Speed Rail Corporation Limited, INTAS, Sonalika, All India Management Association, Board of Secondary Education Manipur, HALDIA Development Authority, and so many names.
As you heard about different types of servers like Windows Dedicated Server, Linux Dedicated Server, Shared Server Hosting, VPS Server. There is a domain of powerful server that doesn't possess any hypervisor and offers high performance – Bare Metal Server Hosting.
What's more – Get a one-month free trial of our physical server to experience the performance and quality of our hosting service. All our co-located servers have continuous 24*7 monitoring, Power backups, and Quick hardware replacement, guaranteeing 99.995 % Uptime. Rent a powerful physical server at a meager price that anyone can manage and afford. Hence you will receive the most secure infrastructure at fair monthly pricing.
Need more information about the different types of servers? Check out this comparison –
Bare Metal Server Vs. Dedicated Server
Bare Metal Server Vs. Hypervisor
Bare Metal Server Vs. Virtual Server
Final Say on What is Bare Metal Server? And Why?
In the end, we would like to conclude that if you only want to host a single website or application that does not require many resources, then physical servers are not required. Regular Cloud Hosting could perform better in this.
However, if the companies want to run heavy workloads and require root access to their hardware while maintaining compliance and security standards, a bare metal server would be a perfect choice.
Moreover, it is suggested to analyze your IT needs first before making any server purchase. If you need consultation, then get a free meeting with our IT experts. NetForChoice always helps you find the best solutions for your workload.
Free Consultation From Experts
This concludes our write-up on what is bare metal server and why use bare metal servers for your business.