Bare Metal Server
,
Informative
How Do Bare Metal Servers Benefit You? Best 15 Advantages Listed Here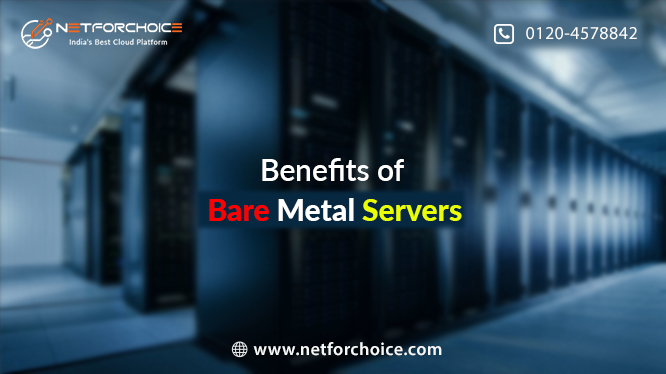 Do you know about Bare Metal Server?
The term "BARE METAL' refers to the physical side of the hosting, i.e. the complete hardware. A Bare-metal server is the same concept as that of a dedicated server or a single-tenant server. It is a physical computer that is specifically designed to run dedicated services without any obtrusion for extended periods. It is highly durable, reliable, and stable.

If you are looking for Bare Metal Server Hosting, then NetForChoice is the place where you can rely on. We are the best data center and cloud services provider in India. We provide state-of-the-art Bare Metal Servers. For more information, gives us a ring on 0120-4578842. Also, you can do live chat or click on the below link to send a query.
Let's take a look at the advantages of Bare Metal Servers.
#15 Potential Benefits of Bare Metal Servers
Bare metal cloud provides flexibility and scalability. It allows for DevOps driven provisioning and the infrastructure-as-code approach. It helps with demand-based capacity management and a pay-as-you-go pricing allocation. Other than this, bare metal servers have unique advantages mentioned below:
| S.No | Features | Bare Metal Server |
| --- | --- | --- |
| 1. | Customizability | It is highly customizable. You can build your server to the unique specifications as per your requirements. |
| 2. | Dedicated Resources | It enables high-performance computing. No virtualization is used and there is no hypervisor overhead. All the resources are dedicated to the application. |
| 3. | Tuned for Performance | This can be tuned for performance and features. It doesn't matter if it is disabling hyperthreading in the CPU or changing BIOS and IPMI configurations. |
| 4. | Security | Full end-to-end encryption or Intel's Trusted Execution and Open Attestation for security can be easily integrated. |
| 5. | Full Hardware Control | Total control of hardware environment is allowed. |
| 6. | Cost Predictability | It is generally bundled with bandwidth eliminating the need to worry about bandwidth cost overages. This tends to cause significant variations in cloud consumption costs and is a major concern for many firms. |
| 7. | Efficient Compute Resources | It delivers more cost-effective compute resources for compute capacity in terms of cores, memory and storage. |
| 8. | Root Access | It offers unlimited administration options. |
| 9. | Economical Outbound Data Transfer | It provides a cost-effective IT infrastructure to handle and transfer data-intensive workload with excellent performance. |
| 10. | High Performance | Enjoy increased response time and high performance. Communication is not restricted as infrastructure doesn't have a hypervisor. |
| 11. | Latency Sensitive Workloads | It eliminates the latency which is associated with virtual machines and their virtualized network and I/O. Workload that require the lowest latency is one of the strongest use cases. |
| 12. | High Load Economics | For environments where the virtual machines are large and heavily loaded on a continual basis, it can be cheaper on a per-workload basis. |
| 13. | Quality of Service | Provides greater quality of service by eliminating the noisy neighbors. |
| 14. | Raw Power and Reliability | It is fully customizable, and ranges from state of the art powerhouses to inexpensive low-powered machines. |
| 15. | GPU | It is easier to find the right GPU solution to work along with your server's CPU. |
Table 1.1 Advantages of Bare Metal Server Hosting
Why Should You Choose Bare Metal Servers?
Bare Metal Servers are beneficial for every type of business whether it is small or medium because of the presence of huge benefits of Bare Metal Servers. As well as, it is cost-effective that can quickly automate and scalable.
This type of server is an extremely popular option, especially in many industries. The unique features of the platform allow for an amazing level of performance, power, and security. Industries like banking, financial services, government, and health care rely on dedicated hosting solutions and Co-location. Bare metal is perfect for high-intensity workloads such as database apps or business intelligence.
It is used as an affordable way by innovative software development companies to test and launch products. Those industries are more likely to use bare metal systems that have the highest needs for data security, world-class performance, and precise data operations. This market will continue to grow along with the demand for storage alongside big data. Large enterprises are expected to drive the majority of usage.
Takeaway
Unlike many servers in a data center, Bare Metal Servers are not being shared between multiple customers. Each server offered for the rental is a distinct physical piece of hardware that is a functional server on its own. This write-up shed light on all the advantages of Bare Metal Servers in the most efficient manner. Hope! After reading this a user will get aware of its benefits.