Cloud Hosting
,
Dedicated Server
,
Informative
How to Buy Dedicated Server at the Best Price in India?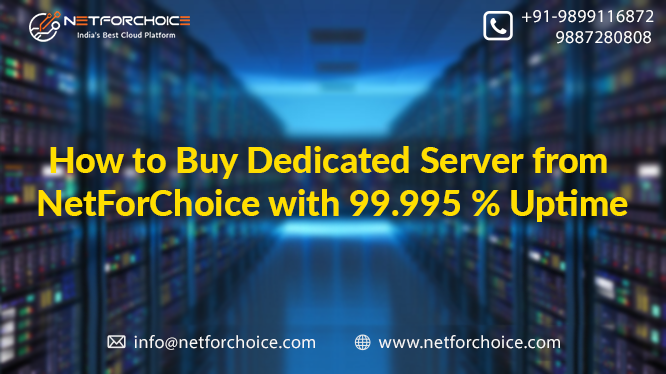 Sandeep Yadav
| Modified: September 2nd, 2021 ~ 7 Minutes Reading
Need to control your data? If a server purchase is in your plans, here's what experts say you must know.
Ask for Win Dedicated Server Ask for Linux Dedicated Server
While buying a dedicated server, you should be careful as it is not a decision that should be taken in haste.
A dedicated server is expensive when compared with a Shared Server Hosting or a Virtual Private Server.
There are a few factors that you should consider while purchasing a dedicated web server. But first, let's learn a little about the dedicated server.
What Do You Understand By Dedicated Server?
A dedicated server is a type of web hosting where your website or application will have the server all to itself. It means that the client will be able to use the entire server exclusively. But, the immense power and flexibility come with a higher cost, which is quite worth the performance. Dedicated hosting is one of the most powerful servers.
Why Choose a Dedicated Server for Business?
If you predict that your site will grow quickly, you should go for a dedicated server. Suppose your site already has shared hosting, whenever it gets a lot of traffic, your site's performance will drop down and lead to a delay in loading. This can cause a loss of revenue and higher bouncing rates.


Since you have full control over the server, you become the only one in charge of your site's security. There could be sensitive information including customer's information, confidential emails, or credit card numbers. Dedicated hosting gives you full control and makes you responsible for the information.


If your page is loading slowly, it might result in an increased bouncing rate as page loading times have an impact on all the aspects of a website, guarantees that you have the bandwidth needed for enhancing your page loading times.


The one reason above all others that will make you want to buy a dedicated server is control. You are made completely responsible for how you want to use your server. You can choose the server software that you want to choose. Also, you are given the power to adjust the hardware specifications as well as choose the operating system (OS) that you wish to install.


Points Need to Be Consider While Purchasing the Dedicated Server
There are a few parameters that you should consider before hosting a dedicated server with a hosting provider given as follows:
Cost – Most of the users demand a level of Support, Uptime, Performance, and Security. It is because if their website is slow or down, then it has impacted negatively on the company revenue. Sometimes it's a lot of money that a company has to pay for these issues. When you buy a dedicated server, it means you are paying a reasonable amount for the high-level services.
Support – You might need to resolve some issues urgently and for such cases, you shouldn't settle for anything less than 24*7*365 support. Technical support is offered by many hosting providers but you need to make sure that the hosting services you get are supported 24*7*365.
Uptime – Keep one thing in mind while choosing a dedicated server – hours of downtime is an eternity for online business. The highest amount of uptime, mostly 99.9%, is the biggest criteria for a company while buying a dedicated server. Many companies offer a 100% uptime and are not able to achieve it. You should be careful of these companies as they expect the users to not ask for refunds. Make sure that the company is providing at least 99.9% of uptime.
Performance – Some hosting providers use cheap or old hardware, sounds like a great specification, but become slower and are more likely to have failures leading to downtime. Low pricing offers do not always include upgrading hardware, backup systems, configuration, and control panel choices for free.
Security – Installing software can be done easily with a few clicks if a person know. But to configure the server with the underlying operating system (OS) and then configuring all instincts running on a server securely is quite different. Whenever a hosting provider gives hosting, they make sure that the client has a team of software engineers who can keep their websites protected from malicious attacks.
NetForChoice – Best Provider to Buy Dedicated Server in India with 99.995 % Uptime
In the hosting and data center service world, NetForChoice is a leading name. It is a Tier-4 data center company with extensive experience in multiple areas.
NetForChoice provides dedicated hosting in Windows operating system and Linux operating system (OS). Let's go through dedicated hosting in Linux operating system first.
Buy Linux Dedicated Server From NetForChoice
NFC provides the best Linux Dedicated Server Web Hosting for developers to manage their websites and applications in a very secure ambiance. It supports LAMP (Linux, Apache, MySQL, and PHP) to host all website data, mail services, Email management, or cPanel components.
Features of Linux Dedicated Server Hosting by NFC
It can quickly install and configure various CMS platforms.
Provides maximum performance with bare-metal infrastructure.
Supports General programming and DBMS.
Gives redundant and reliable service with uptime of 99.995%.
SSD powered server with SSH, RDP root access.
24*7*365 live chat and support system with experts.
Why Linux Dedicated Hosting by NetForChoice?
Reliable Storage – It has a really fast server and a reliable storage server.
Advance Security – Takes backup automatically of the data. It is SSL certified and provides DDOS protection.
OS Compatibility – It is fully compatible with all the operating systems (OS), be it Windows, Linux, or Mac, etc.
Best-in-class-support – It has an in-house skilled support team of experts that is always there to help you in case scenarios.
Windows Dedicated Server by NetForChoice
Windows Dedicated Server Hosting with high performance is a great choice for all sizes of companies. NFC offers a 99.995% Uptime and competitive SLAs crucial for today's businesses that are looking to start investing in a dedicated server.
NFC's fully managed hosting provides robust server and infrastructure solutions that include:
Maintenance
Regular Updates
Disaster Recovery
Backup Facility
Patching
Server Optimization
Server Configuration
All these services are provided to ensure uninterrupted server operations.
Advantages of Buying a Dedicated Server
Work with databases built with Microsoft Access of SQL server.
Support for FrontPage, InterDeva of Microsoft Web Development Tools.
Get any Windows server
24*7 Support provided by experts
Microsoft Stack app and Frameworks can be run
Power-packed performance and reliability
Hosted at enterprise-class Tier 4 data center with advanced security.
Root Access
Why Purchase Dedicated Server By NFC?
Customization – You will get the exact dedicated server of your choice and configurations with complete support.
Reliable – 99.995% Uptime guarantee and Tier 4 data center with managed services.
Expert Support – User will be provided with 24*7*365 to help to troubleshoot any problem.
Secure – DDOS protection, advanced firewall, protection from intrusion, network monitoring.
Wrapping up
If your website is having issues with keeping up with an increase in traffic, it is now time to buy the dedicated server by NetForChoice. It is a server that is essentially made only for hosting your website. It provides high performance and enhances the page loading times of your website. Also, helps you to optimize your server with the operating system (OS). Provides security from all the malicious attacks, is 24*7 available for technical support with expert help.