Bare Metal Server
,
vps
Bare Metal Vs Virtual Server – Which One Is Better?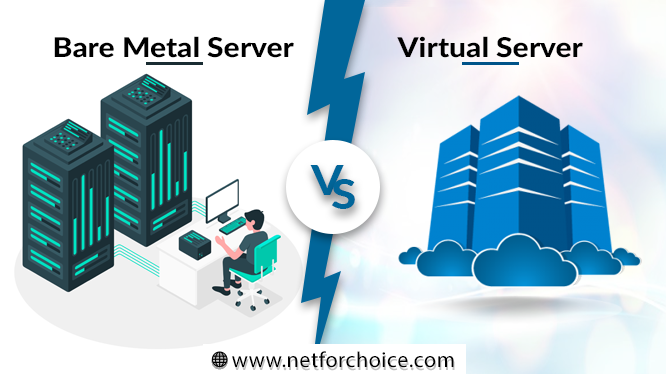 Hello Everyone!
If your business depends on the internet and you know the importance of a good hosting service in your life, you will relate to this article.
The Bare Metal Server vs Virtual Server Virtualization debate has been going on for a while now.
Let's put some light on the difference between bare metal and virtual machine and see who surpasses the other in terms of various aspects of performance.
If you are looking for any of these hosting solutions – Bare Metal Server Hosting or Managed VPS Hosting. It is suggested to connect with NetForChoice. We are a Tier 3 data center company and have a close relationship with Ctrl S to facilitate Tier 4 data center facility. We offer reliable, promising, and cost-effective hosting solutions with exuberant support.
Ask for Bare Metal Server Ask for VPS Server
Let's begin with the comparison.
Bare Metal Server Vs Virtual Server – Comparison Table
Features
Bare Metal Server
VPS Hosting
Term Description
It is a physical computer that is specifically designed to run dedicated services without any obtrusion for extended periods. It is highly durable, reliable, and stable.
Virtual Server is also a type of bare metal, but an extra layer – a hypervisor, that allows adding more operational systems which increase the tenants' numbers using its resources to share the costs efficiently.
Customization
It is highly customizable. You can build your server to the unique specifications as per your requirements.
VPS hosting provides a client with complete control over the customization and installation.
Scalability
The scalability feature is not so much shown in the discipline of bare metal server machine.
In VPS hosting, a client gets unlimited potential in this area. Resources can be adjusted to adapt to the business requirements of a client.
Security
Full end-to-end encryption or Intel's Trusted Execution and Open Attestation for security can be easily integrated.
The risk of security breaches is less as the site's resources are isolated. However, it has fewer security measures as compared to Bare Metal Physical Machine.
Performance
Enjoy increased response time and high performance. Communication is not restricted as infrastructure doesn't have a hypervisor.
It can work for both small as well as large sites. In addition, it is comparatively faster as users don't have to queue up with other sites to use the server.
Price
It is generally bundled with bandwidth eliminating the need to worry about bandwidth cost overages. However, this tends to cause significant variations in cloud consumption costs and is a significant concern for many firms.
Relatively lower than bare metal server hosting.
Pros

Customizability
Dedicated Resources
High Performance
Security
Full Hardware Cost
Efficient Compute Resources
Root Access
Raw Power & Reliability

Client gets full control of the server
Cost-Efficiency
More bandwidth and easily scalable
Traffic from other sites do not affect your site
Stable and fast
Security and performance are impeccable
Flexible Pricing Structure

Managed Services
You can get managed as well as an unmanaged service hosting.
You can get managed as well as an unmanaged service hosting.
Final Catch – Bare Metal Server Vs Virtual Server
When deciding which hosting solution to go ahead with, whether Bare Metal or Virtual Machine, it is essential to consider your business requirement. One must acknowledge that the two server options have different billing paradigm. The VPS or Virtualization server charges its clients on services and resources used, whereas the Bare metal server would have a set free pricing structure.

Companies that require to run high-performance computing (HPC) workloads in the cloud can get a considerable performance boost by implementing the bare metal servers over virtual machines, and nobody does a physical machine like NetForChoice Cloud Infrastructure.
If you are the one who is still confused, then have a cup of tea with our experts. You can call us at 0120 – 4578842 / +91 – 8766177177, mail us at info@netforchoice.com or schedule a free meeting with our customer relationship manager.