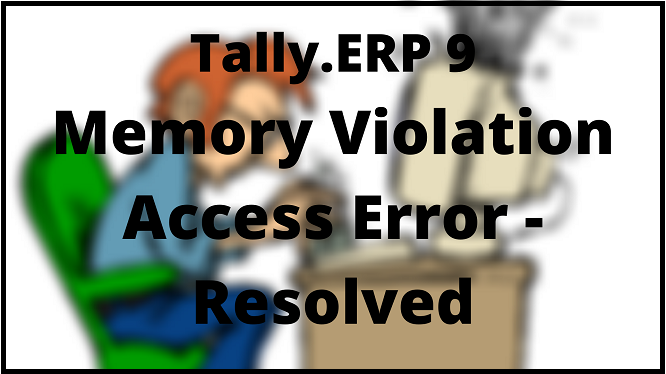 Wait!!
Facing Internal error Memory Access Violation(MAV error) while opening Tally.ERP 9 / TallyPrime or printing invoices.
Looking for the solution to fix Tally internal memory error problem.
Suggested: If you are getting an error message again and again, then you can opt for NetForChoice Tally On Cloud Service, in which you don't have to worry about the memory as all the data stores on the cloud.
Plus, the data corruption is also nil which is an another main reason of Tally MAV error. Currently, it is a mainstream technology that opted widely by Organizations who work with Tally ERP / TallyPrime solution. It provides you multiple advantages along with no tension of hardware implementation required for the ERP.
But didn't find?
Rejoice Users! Here we described the easiest ways that let you know how to resolve software exception c0000005 (Memory Access Violation) in Tally 9 / 7.2 ERP.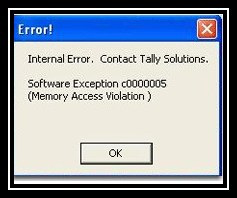 [Error Software exception c0000005(memory access violation)]
But What Causes Memory Access Violation Error!!
If you are working with Tally for a long time, you might have come across the MAV error. Usually the c0000005 error occurs when the program tries to access a memory location that doesn't exist or trying to access an illegal memory location.
We can also say that when the program has attempted to read from or write to a memory location that is outside the process address space.
Other plenty of reasons are Corruption in Windows Operating System, Error in Registry, Fragmented files, Redundant program installations.
This circumstance usually spell doom to the users. And causes following problem in Tally.ERP 9 / 7.2 application.
Crash the running program abruptly due to MAV error code.
User system crashes frequently while displaying memory access violation error in Tally accounting software.
Windows input and output result becomes slow.
Screen freezing problem starts occur in the system.
Do not worry! There are multiple solutions to fix the Memory Access Violation error in Tally / TallyPrime .
Although, before going further, initially it is advised to take a data backup of Tally.
Afterward it is advised to upgrade your older version of Tally application to the upgraded one. Because new versions are coming with lot of problem resolving patches. It could be possible that the Tally error memory access violation get resolved.
Still, if the internal error Memory Access Violation remains, then follow the below-mentioned methods as it will let you know how to solve "Tally Memory Access Violation Error".
Don't forget to take backup.
Methods to Solve Memory Access Violation Tally Error Code
In this subsequent section, we are going to elaborate the techniques that will fix the Memory Access Violation issue in the Tally ERP. Majorly, there are four workarounds for the same. All of them are listed below.
4 Ways to Fix Tally MAV Error
Edit the Tally.ini Configuration File
Disable Auto-load Companies Option
Delete Corrupt Printer Files
Adjust Screen Resolution
Resolve Rupkara Font Compatibility Issue
Let's go through each method in detail with complete steps to solve internal error c0000005 Memory Access Violation.
#Method 1: Open Tally.ini configuration file
It might be possible that the company files are corrupted, due to which the Tally software gets the error. In such situation you need to disable the company file.
To disable it, we will have to go to settings that tell to automatically load a company. To solve it go to further steps.
Step 1: Go to the software folder where the Tally is installed. Inside you can see a file named tally.ini. If you don't know how to do this or where the software folder of Tally is located. Then go to your desktop or wherever you have kept the Tally ERP9 icon. Right click, then a context menu will pop up on your desktop.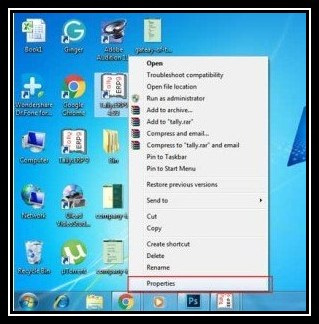 Step 2: Go to Properties.
Step 3: Click on "Open File Location".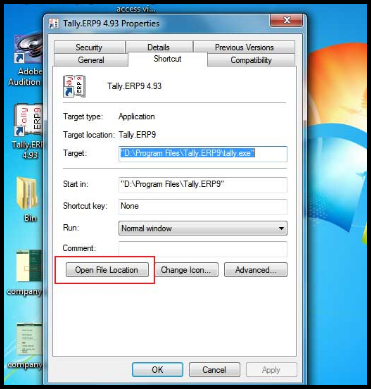 Step 4: Tally.ERP 9 file will open.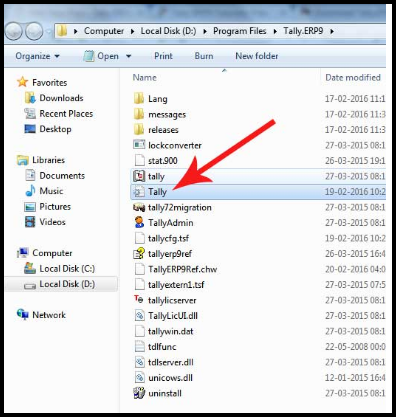 Step 5: Inside the folder you will find a geared wheel-like icon, a notepad file.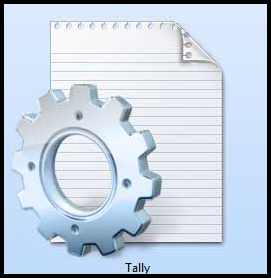 Open that file.
Step 6: Inside that file, you will find the line.
"Default company=Yes"
Set the default company from 'yes' to 'No' (Default Company= No). This will stop the loading of the companies at the time of startup.
Step 7: Then Save the file, close Tally software and start it again
If this process is not working then follow the further steps.
#Method 2: Stop Automatic loading of Companies using F12 Configuration
Many times, Tally settings has set up to automatic loading of companies that takes up memory a lot. So we need to disable this feature.
In the latest version of Tally.ERP 9, you have to go to F12 configuration. To solve the problem, go to the data folder.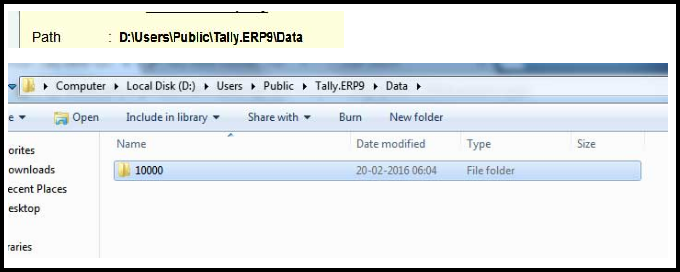 Move the data folder to somewhere outside, like desktop (Data Backup is necessary before doing this).Then follow the further below steps.
Step 1: Now load Tally ERP 9.
Step 2: Press F12 configuration >> Data Configuration.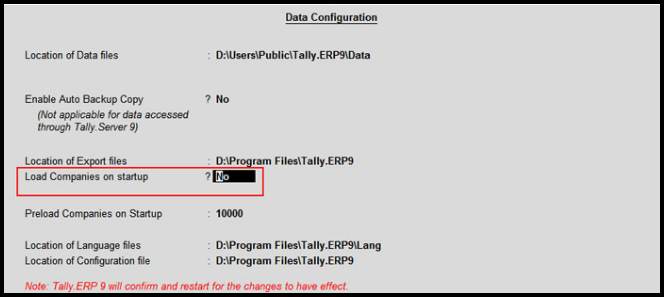 Note: Make sure that the load companies on start-up has NO status.
Step 3: Press the Enter and save. Now get back to the data file that moved to desktop.
If again the ERP opens with the same error, then switch to below-discussed methods.
#Method 3: Troubleshoot Memory Access Violation by Delete or Remove Faulty Printer Driver
Many times Memory Access violation Tally error occurs while printing an invoice. The reason behind is the faulty printer driver or incompatible invoice dimensions. Follow the below steps to troubleshoot Memory access violation error while printing.
Steps to Fix Tally Internal MAV Error
Step 1: Open Tally >> Account Info >> Voucher Type >> Alter.
Step 2: Afterward, choose the desired voucher type (Sales, purchase etc).
Step 3: Set Print after saving voucher> to No.
Step 4: Else, you can also delete the 'tallycfg.TSF' file which resides in the installation folder.
#Method 4: Screen Resolution Settings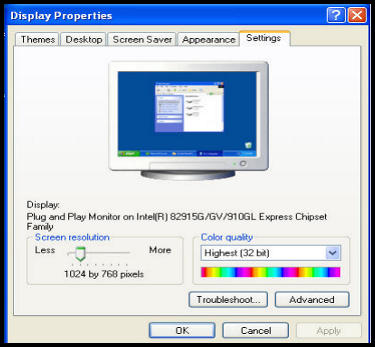 Tally has issues while being used with fewer colors. However different versions of Windows has different minimum requirements. Change the display setting in the control panel.
Go to Windows display properties, right-click on Properties. Then go to settings and set the following:
Window 2000 or above versions: Screen Resolution: 1024 by 768 pixels. Color Quality: Highest [32 bit]
Windows 98: Screen Resolution: 1024 by 768 pixels, Color Quality: 16 bit Higher color, Font size: Small Fonts
Accept the settings, close and then open Tally.ERP 9.
#Method 5: Fix Memory Access Violation Due to Incompatible Font
This Tally MAV error arises when the Rupakara font is used in an incompatible operating system – Windows Vista, Windows Server 2008, Windows 7, and Windows Server 2008 R2.
To resolve this issue, the licensed Windows users can download the patch file from the Microsoft official site. The users who do not have the licensed version can resolve the error by following workarounds.
Change the currency symbol to Rs. in the Company alteration screen.
Without using the currency symbol, print the document.
Final Say on How to Solve Tally Memory Access Violation Error!
Tally Memory Access Violation error / MAV code / software exception c0000005 in Tally occurs when the programs attempts to access a memory location that is not allowed to access, or the location that doesn't exist.
Fortunately, there are something we can do to overcome this. Therefore, in this article, we have discussed all the appropriate workarounds to resolve the Memory Access Violation Error in Tally.ERP 9/ Tally 7.2 Software.
Still, the problem still persists, contact the Tally solutions.