Cloud Hosting
,
News
,
Tally
,
Tally On Cloud
,
Technology
How Hosting On Cloud Can Fix Tally Backup Related Problems?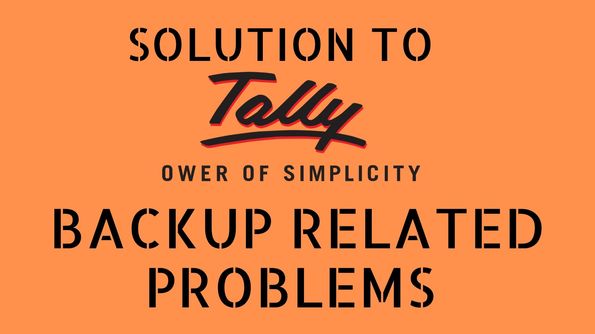 Tally Solutions are widely used by businesses to manage their accounts. But it was a bit tough to keep a backup of all that and manage it. But when hosted on the cloud it provides integrated Tally Backup Services.
Now, Let's go back when Cloud Computing was introduced.
Right from the beginning, it has been noticed that people are very much interested in virtual platforms. Then cloud computing came and changed the dynamics in a great way.
Cloud computing provided great ease to the people using Tally over the cloud. It facilitated the users by providing them infrastructure, platform and software services. It provided users, the functionality and all those high-end specifications at a much lesser price as compared to that of on-premise computing, where you need to buy expensive resources to run just a single application.
Tally Solution is one of the most commonly used accounting software. It is an ERP Software generally used for billing, auditing, and managing ledgers. There are numerous benefits of Tally Solution among which pricing and its compatibility with GST are the best.
People store their important data over there and do a lot of other accounting activities but what about the security of that data.
Is your Tally data really safe?
To ensure full security of your data you need to take the backup of the same on regular time intervals. So let's discuss how to take the backup of your data from Tally.
Data Backup from Tally ERP
Select Data Storage Platform of Your Choice:
You can use any of the services available online to store your Tally backup. Some of the famous ones are Dropbox and drive. You must have a Gmail account, so you won't be needed to create an account for Drive. But you need to create one for the Dropbox.
Basically, you just need to select a service to store your data online.
Save the File
: Take a backup of your tally data and name the folder as Tally Backup as doing so can be a bit convenient for you.
Above mentioned online services automatically syncs all the data automatically from your computer. So once you are done taking the backup, data will be saved online automatically.
But think, how it would be if all your data get backed up automatically. Yeah…..you heard it right but for that, you need to start working with Tally Cloud platform.
Tally on Cloud Solutions
Tally Accounting Software is one of the most trusted solutions as it offers a number of features that include GST as well. The actual perk that you should consider for using Tally over the Cloud is to store all the data virtually.
Also, Tally can be hosted over the cloud and can be used on any OS whether it is Tally on Mac, Linux or Windows. As well as, you can run Tally on Mobile environment with an ease.
Hosting Tally on Cloud is considered very useful as it rectifies all the complications of working at a single place by providing ease to work from anywhere and also anytime. To make you understand better, let's go through the features and benefits of Tally over the Cloud you will enjoy working with.
Benefits of Tally Cloud Computing
Security: Keeping the Business' data secure is used to be everyone's topmost priority. When you are working on the tally, you usually handle an ample amount of data on Tally and security of that is very important. Being hosted on cloud Tally comes with the server's security credentials that will help you from any data breach.
Scalability: For a well-established company, there used to be a lot of financial data for which Tally Cloud Accounting Software offers you full scalability by powering you to scale up or down your resources anytime you want as per your requirement.
High Uptime or Availability: Working with Tally accounting software over the cloud used to be very convenient. It works on multiple servers that help you with high uptime and more availability. In case, your server goes down another server will take the load and handle all the working.
Remote Printing: Just like your Tally on-premise, Tally hosted on Cloud also let you print documents from your local printer which ensures more convenience in your hand.
Auto Backup services for Tally Data from NetForChoice provide you a wide range of services. It includes Disaster Recovery Services that help you to recover your data that you have lost due to some uncontrollable calamities.
Tally Cloud Backup from NetForChoice
Make your accounting and Backup work easily with NetForChoice, we provide Cloud Hosting and Tally Backup facilities to industries of all sizes whether it is small, medium or large. Get managed services and ensure full peace of mind.
So, take your accounting solutions to the cloud and try out Tally Cloud Solutions from NetForChoice. Connect with us at 989116872 or 8882397781 to empower your business with Tally Cloud.