Tally
,
Technology
The History of Tally Software & Its Benefits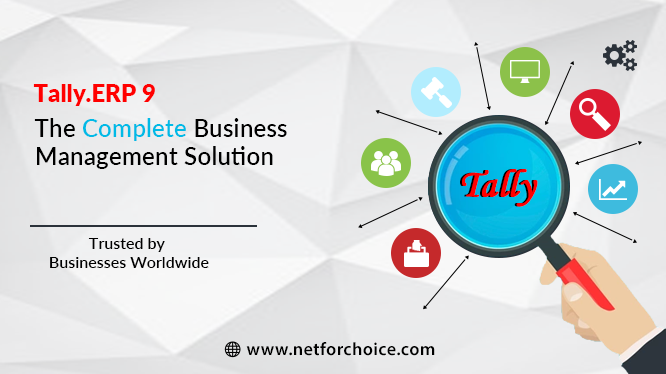 Sandeep Yadav
| Modified: December 19th, 2020 ~ 5 Minutes Reading
According to Wikipedia, the Tally Solutions Pvt. Ltd. reports that Tally software is used by more than 1.8 million customers worldwide.
No company calculate their taxes, budget, and other financial things manually.
Manual calculations are time-consuming & daunting.
That's why all the organizations use Tally ERP for their accounts operation.
There are plenty of unique selling points and advantages of Tally.ERP 9 software that make its relatively better accounting software than others. It has gained a considerable market grip due to its broad scope, importance and features that created a consumer base with strong adherence to Tally software in India.
What is Tally Accounting Software & Its Benefits?
Managing your accounting services has never been easier for corporate pricing. But the main question that arises here is what do you mean by Tally? Whenever we listen to Tally and, we often use it as an application for calculation purposes. But here, Tally accounting software is a very powerful and useful software that SMEs or large companies generally prefer to manage their accounting and inventory. Tally is a complete business solution at a very low cost.
Read More Articles:
The latest version of Tally is the Tally.ERP 9. The software is the only accounting software considered worldwide, from individuals to commercial companies who use Tally's accounting to manage their accounts. The firm's accounting software has unlimited benefits and the main thing is that it is easy-to-use. 
Most popular accounting software used in India, especially used by small and medium enterprises.

Complete business management solution with GST integration. Offers comprehensive functionalities such as Accounting, Finance, Inventory, Sales, Purchase, Point of Sales, Manufacturing, Costing, Job Costing, Payroll, and Branch Management along with compliance capabilities for Excise, TDS, TCS, and GST.

Enables the digitalization of bills and signatures, thus staying up-to-date with the latest technology.

The owner of a small shop can also manage his store, keep records of customer bills, and manage financial transactions efficiently with a small training of Tally software.
| Tally Version | Year of Release |
| --- | --- |
| Tally 4.5 | 1990 |
| Tally 5.4 | 1996 |
| Tally 6.3 | 2001 |
| Tally 7.2 | 2005 |
| Tally.ERP 9 | 2009 |
However, being a Windows-based application, it is impossible to access Tally from home, especially in the COVID-19 pandemic. Now it becomes a necessary to have such application that can be accessible from any location.
That's why it is good to use accounting software on cloud solution. In India, NetForChoice offered Tally on Cloud Service that lets you to access Tally from any platform on any device without any time & location constraint. You can go through all the advantages and importance of this solution by visiting our page.
Scope of Tally Software
Previously, when organizations did not use accounting software, organizations had to spend the resources and time required to manage most of the accounting data. It's not just data, companies have to move files from one jurisdiction to another. Organizations generally had to keep data for years and maintain the data in annual archives. To solve this problem, the company uses Tally's powerful accounting software to manage its accounting requirements. It has the following advantages.
Data security: The data provided by Tally accounting is very secure. All information is stored in an encrypted format to protect it from external problems.
Payroll: Another big advantage of using Tally accounting is the support in calculating the wage and salary distribution. Tally software helps companies store all financial information about the organizations, including forecasts, payments, bonuses or fees.
Audit tool: To check all elements, Tally's accounting software comes with an audit tool. Since the beginning of each financial year, he has carried out all his orders quickly and consistently and ensured all transactions carried out during this period.
Access to all documents: Tally archives all accounts, receipts in its documents. A repository for the archive folder is also provided to keep books, calendars and invoices longer.
The A – Z Of Advantages Of Tally.ERP 9
Tally is the world's most powerful multilingual business accounting software. Users can create their own names for the accounting data in the language of their choice.
Create invoices with individual articles, multiple objects, multiple types of taxes, and even multiple currencies.
Invoices in multiple currencies can be printed out with complete transactions value in different currencies.
Tally allows its users to work with multiple company accounts simultaneously and update real-time information once coupons are entered.
Tally accounting software can easily integrate with various third-party applications.
SMEs need ERP software to manage three important functions: accounting, inventory and compliance, because it comes with a unique solution for itself.
Tally offers complete solutions on Accounting, inventory and data integrity
Tally comes with an easy-to-use and simple to operate interface.
With Tally ERP 9, critical decisions can be made by viewing important financial reports available with a single click.
Multiple users can support a single connection.
Tally ERP 9 is easy to use with the Internet, allowing global financial reports to be published.
Tally ERP 9 lets you easily manage accounting, inventory, and compliance in a single program, making it easier for business owners
Users can start recording transactions and create invoices within minutes of installation.
The software is so reliable and robust that even in the event of a power failure or device shutdown during operation, the data will not be affected as it is securely stored in the Tally database.
With Tally ERP 9, tax advisors and auditors can perform remote audits without transferring the data, and can leave feedback on vouchers to business owners for further action.
ERP 9 offers flexibility while creating transactions because companies often have to create different types of vouchers.