Cloud Hosting
,
Informative
,
Tally
,
Tally On Cloud
,
Technology
How to Install Tally.ERP 9 on Mac OS/ MacBook Pro / MacBook Air Within a Few Moments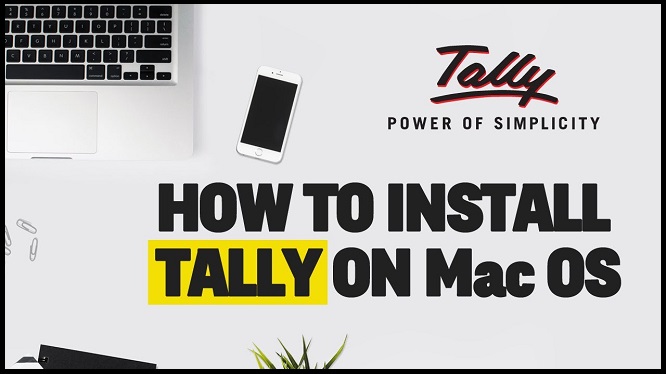 Sandeep Yadav
| Modified: September 19th, 2022 ~ 10 Minutes Reading
Can I use TallyPrime on my Apple machine? How can I download Tally.ERP 9 on my MacBook M1? Does Tally work on Mac OS or Tally for Mac available? Tally MacOS available?

The above ones are the most searched queries on the internet for the installing Tally accounting software on Apple machine.
But, a combination of Mac OS & Tally.ERP 9 / TallyPrime is like a dream that never comes true.
Whenever a client tries to install or download Tally software on its Mac Operating system, they end up with this error message – "You can't open the applications because Microsoft Windows applications are not supported on macOS"

So whenever someone asks – Is Tally compatible with Mac? Or Does Tally work on Mac?
Answer is NO.
If you find any link that claims "Tally download for Mac," then let me tell you it might be possible to be a spam link or a fake button. Because Tally Solutions never engineered any dedicated version of Tally for MacOS platform.
But, Why Installation of Tally On Mac Is Not Possible?
Unfortunately! Tally accounting software is not meant to run on Mac OS platform. This application is specially engineered for the Windows platform. Although, some indirect approaches or workarounds help to resolve the following queries of the users:
How Can I download Tally ERP 9 on MacBook?
Can Tally run on Mac?
How to install Tally 9 in MacBook Pro?
Does Tally ERP 9 work on Mac?
What is Tally on Cloud for Mac?
How to Use Tally on MacBook?
How can I install TallyPrime for Mac?
Can I run Tally software on MacBook Air?
Is it possible to download Tally.ERP 9 Release 6.6 on macOS?
How to install Tally.ERP 9 in Apple?
Tally.ERP 9 download for Mac availability
Finally! Your Search of Tally On Mac Ends Here……….
Here, we will illustrate all the possible approaches to run or download Tally on Mac OS environment. Read this article till the end to get an in-detailed picture of all the methods. So you will know how to run Tally ERP or TallyPrime software on macOS environment.
So, let's get started!
How to Install Tally.ERP 9 on macOS / MacBook Air / MacBook Pro?
It is evident from above that there is no dedicated approach to accomplish the same. Although, there are 4 indirect ways to run or download Tally on the Mac platform. All of them are discussed below in this section. So, let's get started!
4 Ways to Install Tally On Apple Mac
Tally on Cloud for Mac Strategy By NetForChoice
Dual Booting to Run Tally.ERP 9 on Mac OS
Operating System Virtualization Technique
Download Tally Using Crossover & WineBottler
You can also watch video to install Tally on MacBook for better understanding.
How to download Tally ERP 9 on Mac – Complete Guide
Let's go through each method in detail with complete steps.
#Approach 1: Use of Tally Application On Cloud
One of the cost-effective, most-straightforward, fastest, and reliable way to access Tally ERP / TallyPrime on the Mac Operating System platform is – Tally On Cloud technology.
However, You might find little surprising but most Mac users prefer to use Tally from the cloud as it is very facile to use and pocket-friendly.
Furthermore, there is no need to install or download any complicated tool, OS platform, and applications to access Tally software.
Generally, Tally on the cloud means that the Tally software is already hosted on the Tally cloud dedicated server. All you need is to have a Tally license, and the rest of the work is taken care of by the service provider. Adding to it, install the Remote Desktop Protocol (RDP) to access Tally from the cloud on the Macbook Air/Pro machine.
NetForChoice, a young & vibrant company working in the domain of web hosting, data centers, managed hosting, and provides the service of Cloud-based Accounting Software with comprehensive resources at a very economical price.
The biggest advantage to use hosted Tally is that it does not slow down your Mac system and you can also use the Tally on your Mobile device, too.
Steps to Install Tally on Mac Via. Tally Cloud Solution
Step 1: Connect with the NetForChoice Sales team –  0120-4578842 / +91-9887280808.
Step 2: Get the Tally ERP software with desired configuration.
Step 3: Install Remote Desktop Application.
Step 4: Access Tally over the Mac platform Via. Tally hosting
Apart from this, there are multiple reasons for why NetForChoice Tally on cloud for Mac is best;
Easy Configuration: Install Remote Desktop Client, enter your tally credentials and start using Tally ERP on any OS like Linux, Windows, Mac.
Time-Saving: No complicated tools and applications installation. Hardly requires 5 minutes to configure and get started.
Universal Access: Access anywhere, anytime anyplace. Even work on 3G networks, no need for fast internet connectivity to run Tally on mobile platforms. . For more information, have a read to this blog – How to Access Tally from Outside the Office?
Best Performance: Fast Tally cloud server makes sure your software is always running fast without utilizing the resources on your MacBook.
Tally Backup: The cloud hosting facilitates the data backup facility. One can easily backup Tally data automatically on our secure and powerful servers.
Homeland Protection: The facility of Homeland Protection prevents access to remote sessions from foreign attackers.
Brute-Force Defender: Act as Brute-Force Defender to block suspicious or malicious IP addresses and limit the failed login attempts.
Permissions: Get Tally Application Control per user and/or per group.
Working Hours Restriction: You can apply policy to control the days as well as the time of accessing the remote servers.
End-point Device Protection: Restricting the access be device name with the help of End-point Device Protection.
Ransomware Protection: Promise to secure your Tally server from Ransomware attacks, one of the standard forms of cyber-threats.
#Approach 2: Dual Boot Mac OS Client Machine
The dual-booting is a process where you will have two operating systems installed on your Mac and choose one at boot time.
A boot loading tool like Boot Camp allows the installation of Windows OS on the Mac machine. Here, you need to create a partition in the Mac hard drive and install the Windows Operating system. Then, in this guest Windows OS, download the Tally Software and work on it. So, whenever you open the machine, you need to choose Windows OS to use the accounting application and access all the Tally data files in the parallel space.
Steps to Install Tally on Mac Via. Dual Booting
Step 1: Install Boot Camp Assistant under the Utilities folder.
Step 2: Download Windows 10 ISO disk image from the official site- https://www.microsoft.com/en-us/software-download/windows10.
Step 3: Now, click on Continue >> Continue.
Step 4: Time to choose Windows ISO image and pick the desired USB drive.
Step 5: Keep a copy of your pen-drive on other location because Mac system will format it.
Step 6: At last, click on Install to accept the partition size. Here, you can also choose the Divide Equally button to change the partition size between OS X and Windows. By default, the Windows take 32 GB.
Step 7: Time to download Tally accounting software on Windows Partition.
Step 8: Use Tally.ERP 9 on Mac whenever it is needed.
Hold On! Dual Booting Has Downsides Too
You can't use both OS simultaneously. Either you can use Tally or Windows or use something else on the Mac OS.
You are wasting so much hard disk space for Tally. Suppose Tally utilizes 100 MB, but you will have to install a couple of GB for the Windows Operating system.
You will have to pay for the license of Windows. So it will be an extra cost which you will have to pay.
If you want to use Tally on 10 different systems, it is mandatory to perform the same process on all machines to access Tally.ERP 9. Ultimately it is a case of expensive upfront.
Mac machine gets slow down due to the installation of the guest operating system.
#Approach 3: Virtualization to Download Tally On Mac
Applications like Parallel Desktop, vBox allows you to create a virtual machine(VM) on your Mac to download the Tally ERP. Inside that virtual machine, you can install Window OS and use Tally just like dual booting.
Steps to Install Tally on Mac Via. Virtualization
Step 1: Download tools like – Parallel Box (Paid).
Step 2: Install the tool on Mac platform.
Step 3: After the installation, a window will appear that asks either install from CD or Pen-drive or directly purchased the Windows license.
Step 4: After installing the Windows OS, download Tally accounting application on it.
Advantage:-
You can use Windows-based Tally and other Mac-based software simultaneously.
Flexible to Use.
Disadvantages:-
Need to Pay for MS Windows license.
Slow down your MacBook Air / Pro by huge consumption of resources like RAM, hard drive space and more.
# Approach 4:- Cross-Platform Tools– Crossover or WineBootler
In this method, we use tools like Crossover or Wine. These applications allow you to run Windows applications over the Mac OS platform. Basically, this tools create a layer between the Windows application and Mac OS.
Advantages: –
It provides flexibility and there is no need to install the Operating system.
Don't require to pay a license for Windows.
Disadvantages:-
Cumbersome to install and configure.
Not sure that it will be working 100% or not.
If a newer version of Tally comes, it will not be working anymore. You again need to perform the entire procedure for the installation of new edition.
Wine is a 32-bit program that won't install on MacOS Catalina. In such a situation, you have to go with the workarounds mentioned above.
Final Say On How to Install Tally ERP 9 on Mac OS!
No matter in which business you are in, accounting work must be there. This job can be easily done with the prominent Tally.ERP 9 software. But the same ERP is not devised for Mac OS. Due to this, people are looking for how to download Tally On Mac to use it.
After considering this issue, we have discussed all the appropriate ways to help a user run Tally ERP on MacBook Air/Pro in this article. However, all the professionals are always suggested Tally hosting on a cloud for the MacBook user to work with it.
Rest, it is all up to you which workaround you will use to work with Tally for Mac platform.
Frequently Asked Questions –
Is there any Tally.ERP 9 free download with crack for Mac available?
There is no Tally ERP or TallyPrime designed for Mac platform. The sites who are providing such kind of software make fool of you only.
Does Tally.ERP 9 / TallyPrime work on MacBook Air?
It is possible only when you use any of the technique:-
Tally on Cloud for Mac
Dual Booting
Operating System Virtualization Technique
Use of Crossover & WineBottler
How Can I get Tally on cloud service for Mac?
Connect with NetForChoice along with your requirements on 9899116872 / 8882397781 or fill the Query form.
Can I install Tally ERP on Mac?
Yes, it is possible to use any version of Tally accounting software on macOS platform.
How do you use Tally on MacBook Air with Tally Online technology?
3 Steps to work with Tally on MacBook Air
1. Download & configured MS Remote Desktop.
2. Establish RDP connection with authentic credential.
3. Start using Tally by clicking on its icon on the Dock.
Can I download Tally for free?
Yes, the Educational version of Tally is free of cost available.
How do I install WineBottler on Mac?
Type "Download WineBottler" on your search engine.
Go to this site – https://winebottler.kronenberg.org/.
Now you will get the different version of Wine as per your Mac edition.
Does Tally Prime work on Mac?
TallyPrime can work on Mac / MacBook / MacBook Air / MacBook Pro using the Tally cloud computing.