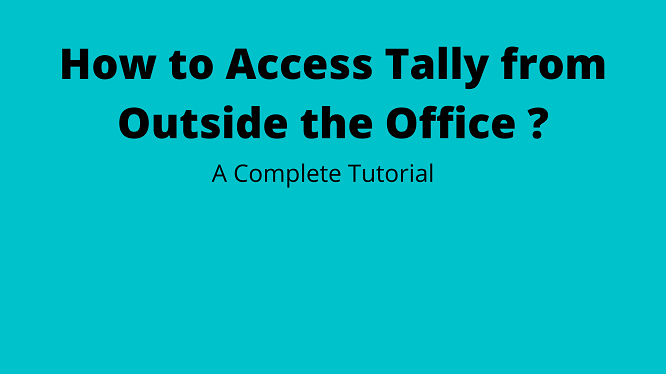 The blog enlightens you how to use Tally.ERP 9 from the home in this COVID-19 crisis.
Do you have a newly launched Android phone or a tablet that you use for making business Skype calls, managing office work, but you don't have a Tally application to use with it? Or maybe you are at your client-side, and you need important invoice information saved in Tally to tell your client and except your phone you have nothing. So what will you do at that time?
OK! It is just a consideration. But it is not less than a nightmare.
Let me tell you if you have a Smartphone, Tablet, or Mac device, then you are in luck: You can easily run Tally software remotely the same as you access in office Windows PC.
All it takes is the right Tally Cloud Solution, device to access Tally, a strong internet connection, and a few taps & clicks here and there.
Here, in this guide, we show you all the steps required that let you know how to access Tally from outside the office from your phone, tablet, laptop, or anywhere in the world.
So, let's get started!
What You Need if You Want to Access Tally Remotely?
To be clear, you can only access the popular Tally accounting software exclusively on that system where it is installed. In the case of a multi-user, it could be possible to use Tally remotely but over the LAN only.
Also, Tally.Net Server allows you to remote access which lets you know to access Tally from outside the office or from the home.
But
Hold On! A downside associated with it.
If you want to access the Tally from outside world instead of the office, then you must have a Windows machine that has Tally installation. Otherwise, it won't be possible to use Tally outside the office remotely. Apart from this, the server and end-user must have the same release of Tally.ERP 9.
Therefore, it is not a successful solution if you have a Mac machine at home or you want to access Tally from outside over the phone. That is why you need to use Tally hosting on the cloud solution that lets you use your Tally on Android Mobile as well as on the Tally on Mac OS platform, Tally on your laptop the same as your office PC without prior installing licensed Tally ERP on your device.
There are many companies available in the market, but the one experts liked best was NetForChoice. We are the Tier-4 data center and cloud services provider company in India. It is most important to select your provider carefully as ERP implementation on bad cloud service can be failure.
NetForChoice hosts the popular accounting software on their data center. After hosting, you can easily access the Tally.ERP 9 on any device without any restriction from anywhere, it can either be your couch or office chair Via. NFCApp connection.
The Tally online service is available in two versions: Demo and Paid. The free version gives you a complete picture of how Tally cloud works. Once you have been completely satisfied with the demo version, you can go for the full solution offered by us.
4 Essential Steps to Access Tally from Outside the Office
Step 1: Connect with our team Via. Call, Email, or over the chat.
Step 2: Open browser in your device or NFCApp.
Step 3: Use public IP provided by company in your browser.
Step 4: Acesss Tally independently from outside the office.
Final Say!
Now that you know how easy it is to access Tally from outside the office with your smartphone or laptop running on Windows or Mac Operating System. You can also use other services offered by NetForChoice and share your thoughts with us, too.
We, at NetForChoice, are very sensitive about the global COVID-19 pandemic. Stay at home, prefer work-from-home instead of going to the office.
Stay Safe & Healthy!