Cloud Hosting
,
Cloud Security
,
Data Center
,
Data Security
,
Hosted ERP
,
IaaS
,
Remote Services
,
Tally
,
Tally On Cloud
Protect Your Data With NetForChoice Tally Dedicated Server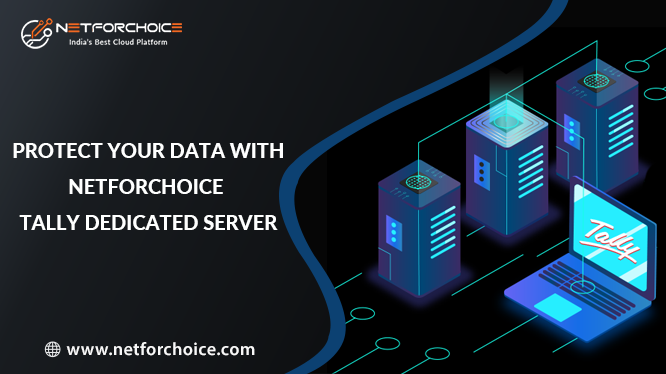 Sandeep Yadav
| Modified: September 17th, 2022 ~ 3 Minutes Reading
We use the internet for just about everything today from cooking recipes to ERP access. Most of us are not as cautions as we should be to avoid modern online threats. This is the reason it is suggested to try Tally on Dedicated Server from NetForChoice while going with Tally SaaS model. It prevents your business-critical information from all external attacks and keeps your information available in any situation.
What is Tally Dedicated Servers?
Tally dedicated server, also named as bare metal servers, is a kind of server that is exclusively dedicated to an organization or an individual that can be easily managed remotely.
NetForChoice, the leading datacenter & cloud services company, facilitates a fully-managed Tally cloud solution and also known for its Dedicated Server excellency.
NetForChoice could be your only destination for availing Tally on dedicated server services. Furthermore, we are the Tier 4 Data Center company whose servers are located all over India (Noida Datacenter, Bangalore Datacenter) and facilitates data backup and recovery service to maintain your business in all bad situations.
As we all know, COVID-19 situation already hits us badly. In such crisis, Tally dedicated server works best. It gives you the power to access Tally accounting software at your home without any speed or any other issue.
Above all, this service provides numerous advantages to the users in different verticals.
Top 10 Benefits of Tally Dedicated Server
So how exactly can your company benefit from Tally cloud computing. Let's take a look at the best 10 ways.
Take the advantage of dedicated server stores in the well-certified Tier 4 data center.
No need to take worry about its day-to-day management as it is completely cared by our experts team.
Effortlessly & Securely work remotely with Tally online service with any Tally version anytime, anywhere at any device.
You can run Tally on Mobile to carry out work in this pandemic situation from any location. As well as you can run Tally.ERP 9 on MacBook platform without any performance issue.
Optimized specialized servers to run Tally accounting ERP at high-speed redundant connectivity.
Data of Tally is utmost secured with our server as we assure that your account is accessible by the authorized users.
Your Tally data backup is taken on the cloud which enables you to retrieve the backup smoothly in any failure.
The Tally dedicated server is available at an exceptionally reasonable and affordable price that fits in everyone's budget.
Ultimate hands-on-control over your server deployment.
Advantage of lower upfront costs as the Tally Servers are leased
Get Your Tally Dedicated Server Today!
If you want Tally on the dedicated servers, they are a physical system and when you speak about Tally VM server they are just a set of software package and not physical devices. We provide every type of solution that you wish for. Our professionals tackle the implementation expertly by taking into account your existing needs, as well as consult you for the future requirements too.
To know more about, just connect with our team and have a direct conversation – +91-9887280808 / 0120-4578842.