Bare Metal Server
,
Security
NetForChoice Bare Metal Dedicated Server With DDoS Protection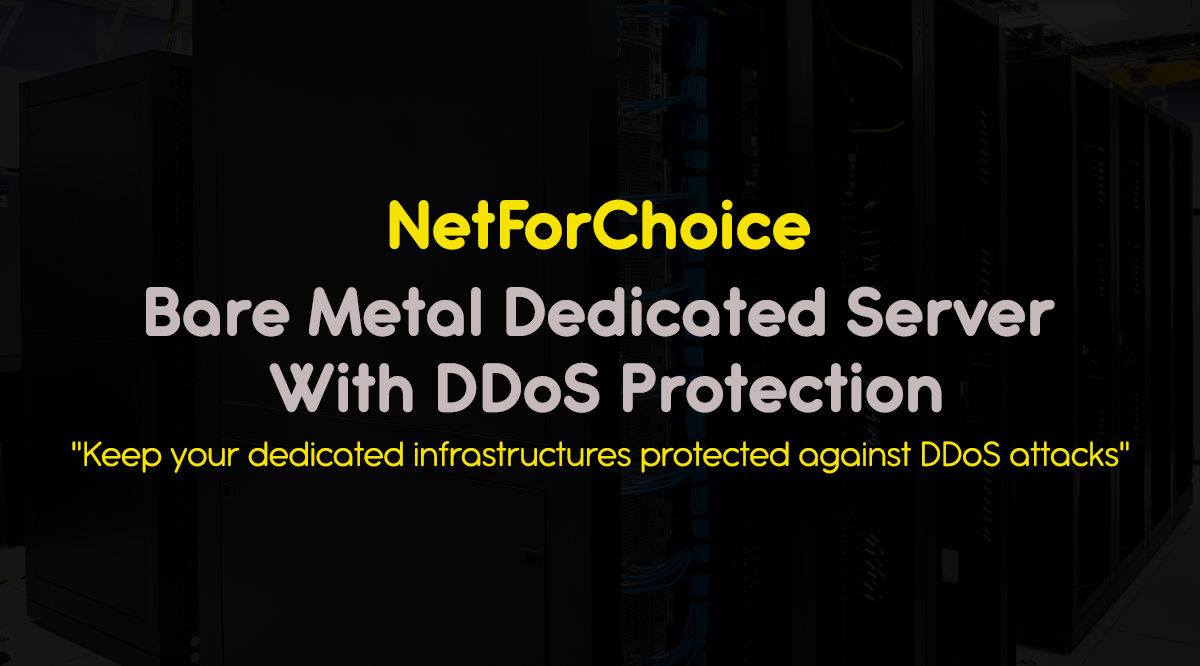 An anti-DDoS system is included with all NetForChoice Bare Metal Servers to guarantee maximum security for your infrastructures.
Hello Everyone!
This blog gives you genuine information about where you can buy a bare metal dedicated server with DDoS Protection. But, before getting into the details, let's have a glance at DDoS attacks.
So, What is DDoS Attack?
Distributed Denial of Service or simply DDoS attacks consists of Botnet, a network of infected machines whose sole motive is to overload your server with bogus requests. As a result, the legitimate users cannot reach the server.

Notably, DDoS attacks are not always performed by hackers or cybercriminals. Sometimes, it is carried out by businesses against their competitors to trigger financial losses and reputational damage.
Where to Buy Bare Metal Dedicated Server With DDoS Protection?
If you require the next level of server protection, 99.995 % Uptime, or have a data-sensitive application that utmost needs full-time mitigation, NetForChoice Bare Metal Dedicated Server with DDoS Protection would be the one that you are looking for.
NetForChoice DDoS Protected Bare Metal Server
All the bare metal servers are built with next-gen Intel processors and anti-DDoS protection. So users can get the optimized performance for the heavy workloads in any circumstances. In addition, NetForChoice is the only company that safeguards your workload from DDoS attacks at no additional cost. It is available for free on Bare Metal Server hosting, Windows Dedicated Server hosting, Linux Dedicated hosting, Virtual Private Server hosting, and Colocation Hosting Services.
Ask For DDoS Protected Bare Metal Server
The automated traffic filtering tools and ultra-fast DDoS mitigation infrastructure is always available to ensure your business is up regardless of any catastrophe. In addition, it provides service continuity for your applications in the event of an attack.
Moreover, we designed, build, and manage 500k physical servers worldwide for your specific workloads. In addition, we offer different ranges of high-performance bare metal servers adapted to the most demanding needs of all companies at a meager price.
By renting a server from NetForChoice, you get exuberant technical support through telephone, ticket, and email. Furthermore, you can also do a live chat with our experts at any point in time. 
Final Say on Bare Metal Server With DDoS Protection
The NetForChoice offers the most potent DDoS-protected bare metal server in the hosting industry. It keeps your dedicated resources protected against the distributed denial of service attacks round-the-clocks at no cost.

All the malicious traffic gets automatically blocked before it even reaches the server. So, only the legitimate traffic can goes to the server.
So, what are you waiting for?
Leverage the power of enterprise-grade protection against the Distributed Denial of service attacks and malicious traffic with a NetForChoice DDoS protected server that is up to date with the latest exploits.