Accounting Software
,
AWS
,
Cloud Hosting
,
Hosted ERP
,
Informative
,
News
,
Tally
,
Tally On Cloud
,
Technology
How To: Running Tally.ERP 9 / Tally Prime on AWS Cloud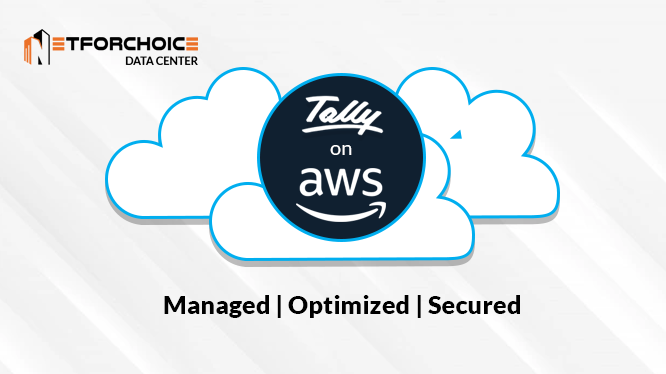 Sandeep Yadav
| Modified: September 19th, 2022 ~ 5 Minutes Reading
Amazon Web Services or AWS has a thriving Cloud Infrastructure ecosystem. In case you've been using Tally.ERP 9 or TallyPrime your whole life in your local system, switching over to Tally on AWS platform comes with unlimited benefits, including Security, Data Backup, and much more.
There are millions of organizations using Tally or TallyPrime to fulfill their accounting needs, and due to that, Tally becomes one of the most potent accountancy software in the market.
BUT…
Once your business grows, you have to make precise decisions backed with all the valuable information. And for that, organizations use Tally to get instant reports on business outstanding.
THE YEAR OF LOCKDOWN
We all are going through a tough time, and in the current pandemic situation, most organizations shifted to work from home norms.
And this work from home norms created a need for the consolidated system to quickly access data from different states and locations. Tally on Cloud Hosting is one of them which all tally users want. 
BUSINESS REQUIREMENTS OF TALLY ON AWS
As we earlier said, due to COVID-19, most users want a centralized system where they can assess all the accounting needs from any location. Besides, Running Tally on AWS also solve challenges that most of the companies face using Tally, such as:
It solves the multi-location data consolidation.
Maintenance of Tally or TallyPrime Server.
Solve the performance issue of Tally on LAN.
Cost-effective and save money in licenses purchase for multiple users.
SOLUTION
Now, the questions arise in your mind about how you can get all these benefits of Tally. So, the answer is straightforward to try NetForChoice Tally on AWS Cloud. It is the right solution that fulfills all the above-discussed benefits. In addition, you will get extra benefits for using Tally on AWS, which you can see in the below image.
Advantages of Running Tally on AWS Cloud
Multi-location data consolidation & Synchronization.
Seamless Tally ERP or TallyPrime Performance.
Cyber Security & Data Backup.
End to end Tally infrastructure management.
Flexible TallyPrime in AWS pricing plan & Customer Support.
Remote access from any device.
The facility of concurrent connections support.
Print Tally report from any location without the installation of printer drive.
Facility to use Tally on Mac and Tally on Android devices.
Unlimited users can work simultaneously on a scalable load-balanced architecture.
Ability to assign one or more Application Server(s) to users or groups.
100 % guaranteed security of Tally data from attacks.
Provide any version of Tally, including GST Ready software.
Facility of Tally Backup along with DRaaS service.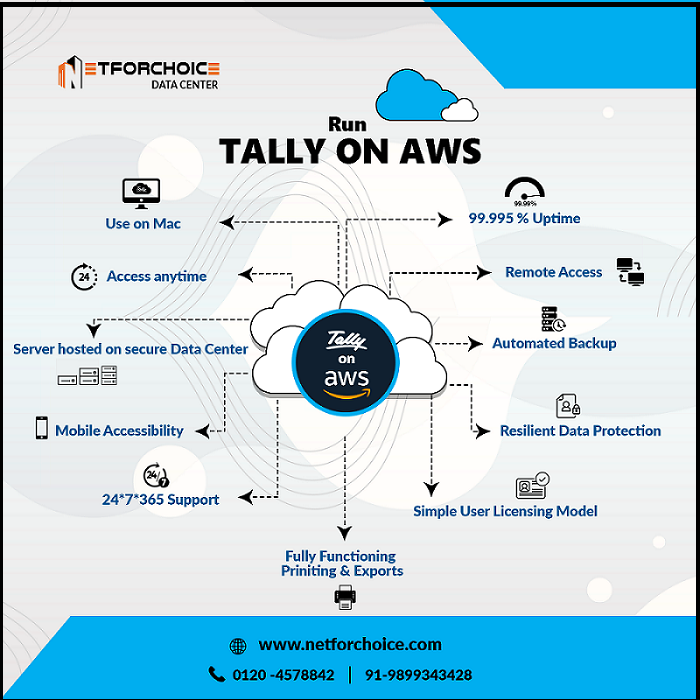 Major Benefits of Running Tally.ERP 9 ON AWS
The following section will describe how beneficial is to use the Tally accounting software (Tally.ERP9 or TallyPrime) on AWS cloud along with the managed service of NetForChoice.
#1: WORK FROM ANYWHERE (Home / Office / Coffee Shop / Any Remote Location)
NetForChoice means a reliable and cost-effective cloud solution. In fact, host the Tally on AWS gives you the flexibility to access your account data from any device, anywhere, and anytime. No restriction. You may use Tally ERP / TallyPrime on Mac , Desktop, Windows, Linux, Tally on Android, and IOS platforms, and it works perfectly.
#2: SECURE AND SCALABLE SOLUTION
We all know the consequences of data theft, so users are also concerned about keeping their data and account details in the most secure environment. Hence, to fulfill the user's requirement, we provide one of the most highly secure infrastructures. And if you want more users as your company grows, you focus on your core work and let NFC take responsibility for your infrastructure.
#3: COST EFFECTIVE 
We all know that having a car is costlier than using Uber because you have to think about all the vehicle expenses like maintenance costs and the cost of the oil. But if you are using a cab service, you don't need to think all about this. And this same thing happens with Tally on AWS, it is incredibly cost-effective, and you no need to think about any infrastructure maintenance; the well-qualified NetForChoice team will take care of it.
#4: UPTIME & AWS SERVER SECURITY
Tally on AWS cloud by NetForChoice offers you guaranteed 99.995 % Uptime. The NFC server security is integrated with a secure foundation. We provide advanced firewalls, intrusion prevention & detection, and many other security walls to protect the server.    
#5: 24*7 MANAGED SUPPORT
The NetForChoice has well-qualified and immensely supportive support on Tally on AWS service. You will get help on any query related to hosting Tally over AWS cloud infrastructure and maintenance. You can reach us via phone, live chat, and email. We consistently monitor your environment so that any technical glitch can address before it occurs.
How to Install Tally on AWS Cloud?
Step 1: Connect with NetForChoice Relationship Manager
Step 2: Take Tally on AWS demo.
Step 3: Once you satisfy, select the plan.
Step 4: Enjoy running Tally on your favorite cloud.
Get AWS Tally Server TODAY!!!
The world is moving towards cloud hosting. If your business is still following the old-school things, then you have to wake up. And if you are looking for a more advanced and stress-free accounting solution, then try Tally on AWS from NetForChoice and experience the world's best accounting experience.
If you are the one who is still confused, then have a cup of tea with our experts. You can call us at 0120 – 4578842 / +91 – 9887280808, mail us at info@netforchoice.com or schedule a free meeting with our customer relationship manager.