Informative
,
News
,
Tally
,
Technology
What is TallyPrime – List of TallyPrime Features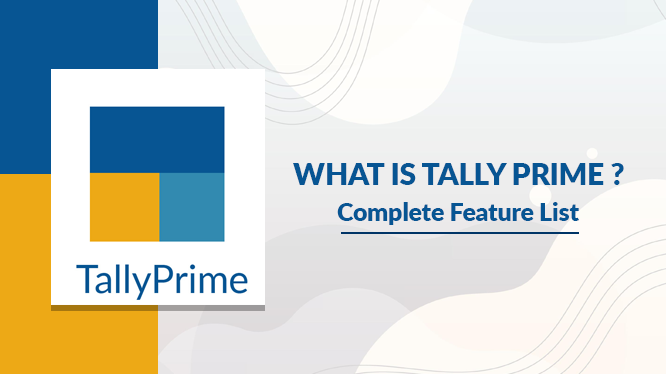 Available now, a new Tally release – TallyPrime software is launched with a new and simple User Interface to make accounting operations more smooth. Get into the blog and shed light on what is TallyPrime & its features list.
Tally Solutions Private Limited release the new edition of Tally entitled as TallyPrime software to drive innovation faster for the small and medium business scale.
The TallyPrime release is more bedrock on the improved UI and easy-to-use new features that scale up the capabilities of business owners to keep a closer look on the business, and for others, while keeping the convenience at the top.
Like Tally.ERP 9, people can use the TallyPrime on Cloud infrastructure too, which is a trending technolgy nowadays and works well in current pandemic situation.
Using this, one can easily use the Tally on the Apple Mac & Tally on Mobile anytime regardless of location. NetForChoice, a leading Data Center Company in India, provides this solution at a reasonable price with utmost security. As well as, you can also host Tally on Azure or Tally on AWS cloud with NetForChoice.
To know more, give us a ring on 0120-4578842 / +91-9887280808 or click on the below button.
Without wasting any single minute, let's get started with what is TallyPrime software.
TallyPrime – What is new in this software?
TallyPrime is the latest and advanced version of Tally after the Tally.ERP 9 release.
It has multiple new features that are not available in the Tally.ERP 9. All of the new functionalities are used for the better management of financial and accounting operations.
The TallyPrime has a brand new graphical user interface which is far more interactive than Tally.ERP 9.
TallyPrime has an additional layer of security called TallyVault. It provides strong encryption which is cannot be broken not even by Tally Solutions.
After understanding what is TallyPrime software. Let's have a look on What is new in TallyPrime.
TallyPrime Features List
The below-mentioned table is a summary of all the benefits included in the TallyPrime for a quick view of all the features.
PARAMETERS
FEATURES
Invoicing & Accounting

Create, Print, and E-mail a professional-looking invoice.
Include additional information in the invoice as per the preference.
Generate different types of GST invoices.
Create e-way bills without re-entering details in the portal.
Instantly generate e-invoice and print invoices via IRN & QR code.
Engineered to suit different purchase and sales processes, followed by the business.
Support different billing formats to match up your business needs.
You can manage invoices, quotations, orders, accept payments, and receive bills in foreign currency.
Auto-calculate the currency rates.
Facilitate management of multiple price lists for products. Moreover, TallyPrime provides the option to create different price levels such as Wholesaler, Retailer, Customer, etc, and put different price lists to these Price Levels. It encourages error-free and faster filing by auto-capturing the relevant prices and discount rates in orders and invoices.
One can maintain multiple mailing details for your company and ledgers. Create multiple addresses for your company and party ledgers and use them in invoices and reports as required.
Receivables & Payable Bills are managed automatically.
Facility to pre-set details such as Duty ledgers etc.
One can easily record post-dated transactions supported with post-dated register.
Receive support for promotional transactions.

Inventory Management

Segregate multiple product lines in well-defined unlimited groups, categories, batch, and locations/ Godowns.
Managed & quantify the stock in the way you want.
TallyPrime feature to record a comprehensive cycle of manufacturing operation.
Bill of Material (BOM) feature enables you to define all the components of inventory.
Option to set re-order level & minimum order level and automatically generate status report along with shortfall & quantities to be ordered.
Provide option of stock valuation methods – FIFO, LIFO Annual, etc.
Handle & manage Job work process both as Principal manufacturer & job worker with job work feature.
Batch summary report to intelligently manage manufacturing & expiry dates.

Comprehensive Reports

GoTo search bar to view all the reports conveniently from one place.
Get the insights of all business reports – Accounting, Financial, Inventory, and Management Control.
One can filter out the information by including & excluding the details and create different viewpoints to understand the reports better.
Every report provides you with additional information for better business decisions.

Credit & Cashflow Management

A unique bill reference is automatically generated for each invoice.
TallyPrime ageing analysis report to analyze the bills which are ageing from a very long period and accordingly follow-up.
Provide option to swiftly clear a party bulk payment for multiple pending bills in one go.
TallyPrime makes it streamlined by automatically calculating the interest and assists in accounting accrued interest into the books.
Track & plan the cash flow and assign capital in a right way.
An instant cash flow projection report helps in planning your investment or spending while taking care of the expected inflow.
You can set a maximum credit limit based on the customer's credibility. You will also be notified through an alert during a sales invoice if your customer has any overdue bills.

Taxation

Built-in feature to analyze error in the GST return file.
You can manage TDS and TCS requirements for your business in an accurate and simplified manner.
You can manage data from both the previous and current tax regimes in a single company.

Banking

Facility of Auto Bank Reconciliation and support more than 100 banks.
Allow creation of multiple cheque books with unique ranges for every bank.
Option of cheque register to view, search, and track your cheque details.
Using the e-Payments feature in TallyPrime, you can simplify the payment process with the utmost security of your financial data.

Net Capabilities

E-voice service integration.
View crucial business reports on any web browser from any device regardless of location.
Secure Remote Access with multiple security layers.
Option of decentralization of books to multiple branches.
Proficient e-Banking facility.

Cost Control and Cost Analysis

Cost Control and Cost Analysis.
Set Budgets & Track Variance report.
Business forecasting by analyzing different business scenarios.

Enhanced Security Management

Keep your business data safe & secure with TallyVault while maintaining the confidentiality of information by encrypting the data.
One can easily set the user-level rights and assign specific access to employees.
Option of User management and password policy management.
Tally Audit feature to track changes that affect the integrity of a transaction.

Payroll Management

Well-defined, error-free automation of payroll process.
You can segregate employees based on different parameters.
Attendance/Production Type Creation option to calculate the employee pay and track their presence/productivity.
Automatically create statutory reports about the provident fund (PF), professional tax, gratuity, and income tax

Another Benefits

It is easy to handle and manage multiple companies and their complexities.
Feature to consolidate the accounts of any number of companies at any point in time and also maintain them separately.
Facility of data backup and restore facility.
Multiple language support option.
At the beginning of the new financial year, TallyPrime automatically creates a fresh book using the split company utility feature.
Table 1 – Represents Tally Prime Features or Benefits
Final Say on TallyPrime Software
With the new release, the company owner stated that the COVID-19 pandemic has been difficult for the small and medium business sectors. So Tally is trying to bring the new simpler product to make life easier for business owners. To make more facile people can also host the Tally Prime on cloud infrastructure for the better accessibility.