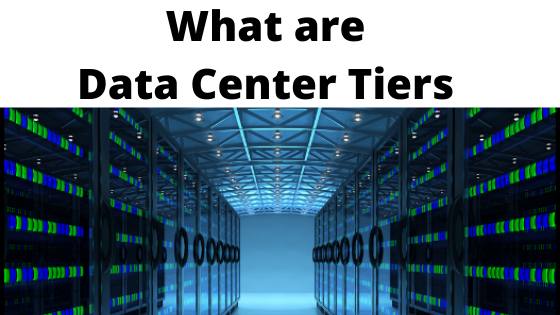 You must have heard about Data Centers. This is the facility for housing millions of servers.
But, Are all the Data Centers same?
Unfortunately! Answer is No.
Technologically data centers are of 4 types.
Without wasting any single minute, let's get into the blog.
What are Data Center Tiers?
Data Centers are classified into a system called "Tiers". The Data Center Tiers are ranked from 1 to 4 and higher ranked data centers have more potential Uptime than a lower-ranked data center. Basically, Tier 1 to 4 Data Center is nothing but a standardized methodology used to define Uptime of a Data Center.
And it is used for measuring:
Datacenter performance
Investment
ROI (Return of Investment)
Reliability
However, the latest Tier being the 'Tier 5' which is on the developing phase of now.
A 'Tier' is also another way of saying 'Level of Service'. In this article we are going to describe about – What are Data Center Tiers ? So, let's go further to get in detail about all the Tiers of Data Center.
How Are Data Center Tiers Classified & Why Are They Important?
In the subsequent section, we are going to elaborate classification of Data Center Tiers. Basically the data center is classified into four-tier level. All of them are described below.
Tier I Data Center (Basic capacity)
Tier II Data Center (Redundant capacity components)
Tier III Data Center (Concurrently Maintainable)
Tier IV Data Center (Fault Tolerance)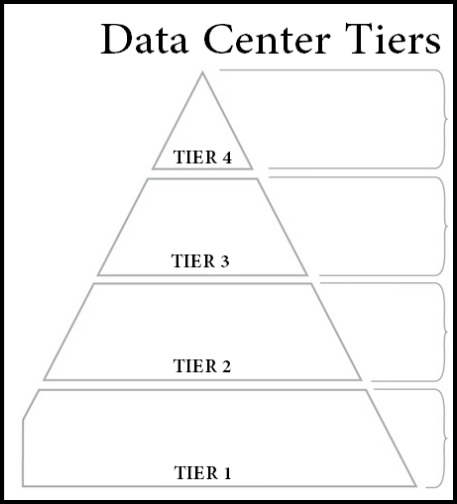 What is Tier 1 Data Center?
Tier 1 data center is the lowest tier in the tier standard and it is generally utilized by small businesses or shops. Tier 1 Data Center has not enough facilities to keep the Data Center running. If one of the components or a small chip is removed then the entire Data Center comes to a halt.
Moreover, Tier 1 facility is not for tolerance at all. If there is any power outage happens and any emergency condition occurs the system will be shut down.
Tier 1= Non- redundant capacity
Tier 1 Datacenter Specifications:
It provides a single path for Power and Cooling
Non-redundant Capacity components (Single uplink and servers)
Provides 99.671% availability
28.8 hours of downtime annually
What is Tier 2 Data Center?
A Tier 2 Data Center contains all the characteristics of the Tier 1 Datacenter. Additionally, Tier 2 Data Center contains some partial redundancy in the power and cooling component. Tier 2 DC overcomes Tier 1 technical glitches by providing some additional features. It includes the dynamic power and cooling setup which will not shut down the datacentre at any cost. Any failure of components can be manually operated by switching over to a redundant server to a short period of downtime. However scheduled maintenance still requires downtime.
Tier 2= Tier 1 + Redundant Capacity Components
Tier 2 Data Center Specifications:
A single path for power and cooling distribution
Redundant Capacity Components
Provides 99.741% availability
22 hours of downtime annually
What is Tier 3 Data Center?
A Tier 3 Data Center contains all the features of Tier 1 and Tier 2 Data Center as well as ensures equipment is dual-powered and has multiple uplinks.
With multiple paths for power and cooling system in place, the system will remain online even during the planned maintenance and outages. All the equipment is connected to different UPS units. So the UPS units can be taken offline without cutting off network connectivity. The redundant cooling system is also in place so that if one cooling unit fails, the other one continues to cool the room.
Moreover, Tier 3 Data Center offers the most cost-effective solutions for the medium to large business. The companies that require the constant online presence or 24* 7 online presence can opt for Tier 3 Data Center.
Tier 3 = Tier 1 + Tier 2 + Dual-powered equipment and multiple links.
Tier 3 Data Center Specification:
Provides 99.982% availability
1.6 hours of downtime annually (not more than this)
Composed of multiple paths for power and cooling distribution.
N+1 fault-tolerance with at least 72-hour power outage protection
What is Tier 4 Data Center?
This Tier considers as the most robust and less prone to failures. A Tier 4 Data Center includes the features of Tier 1, Tier 2 and Tier 3 Data Centers as well as ensures that all equipment is fault-resistant. All the IT components are serviced by two different utility power suppliers, two generators, two UPS system and two different cooling systems powered by different utility power services. Each data and the cooling path is fully redundant. If any of the power or cooling unit fails, processing will continue without any issue.
Tier 4 DC is the minimal improvement in availability as compared to Tier 3 DC. It also has a high cost than Tier 3 Data Center.
Tier 4= Tier 1+ Tier 2+ Tier 3 + all components are fully fault-tolerant including uplinks, storage, chillers, HVDC systems, servers, etc. Everything is dual powered.
Tier 4 Data Center Specification:
Provides 99.995% availability
26.3 minutes of downtime annually
Composed of multiple power and cooling distribution paths.
2N+1 Fault tolerance with at least 96-hour power outage protection (the main difference between Tier 3 and Tier 4 Data Center)
Zero single points of Failure
NetForChoice works with Tier 4 enterprise-class data center which ensures data security & availability with high redundancy features. It facilitates dual-powered instances of the server, cooling equipment, Network Links, Storage, and Power. It also guarantees 99.995% Uptime with a downtime of 22 minutes per year.
Moreover, NetForChoice offers Web Hosting, Managed Hosting, Hosted ERP like Tally on Cloud, Busy On Cloud, Marg On Cloud, Dedicated Servers in India with Tier 4 Data Center.
Finally! Which DC Tier You Should Choose For Your Business?
Going through all this made you understand what are Data Center Tiers and their specifications. But, it is also important to understand your business needs for using the Tier 1, 2, 3 or 4 Datacenter provider.
Tier 1 and Tier 2 data center may work well for small to medium-sized business which doesn't have full 24*7 requirement. And it may not be worth it for small firms to put in the extra investment to run in tier 3 or 4 environment.
However, if you are a large multi-national organization that does business round-the-clock and has several applications that can never be down then you have to host your apps on Tier 3 or Tier 4 Data Center.