Busy
,
Cloud Hosting
,
Informative
,
News
How to Use Busy Software in Mobile? Here's How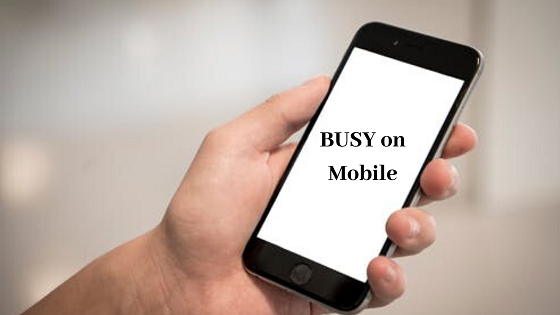 Are you a Busy accounting software user?
If Yes, then you must have these questions in mind.
Is there any Busy software app for mobile?
How can I use Busy accounting ERP on my Android phone?
Where I can download Busy GST software on Android?
How can I get Busy mobile app crack?
Is it possible to use Busy on mobile?
You don't need to look further.
This blog gives you information about how to use Busy software in Mobile and why it is used for.
Besides this, a great alternative of Busy Mobile App – NetForChoice Busy On Cloud with a bunch of functionalities also illustrated in this write-up.
Schedule Free Busy on Mobile Demo
So read this blog till the end and implement it in your business to make it more eloquent.
Let's get started!
How Do I Get Busy Software for Mobile ?
Unlike Tally, Busy accounting application has its app for the Android platform named as – BusyApp. It is devised to access and view the company data from any location.
It is important to know that BusyApp only enables you to view company data. You cannot perform any entry or operation on the company data.
Prerequisites to Use Busy On Mobile Platform
1. Must have an active Busy License subscription.
2. Must have either a Standard or Enterprise model of Busy accounting software.
3. Important to configure the BUSY Data Exchange Platform (BDEP) before moving on the Mobile App.
4. Internet connection is required to run BusyApp on Internet mode.
5. Always open your companies in BUSY in your computer system that you want to view in Mobile Apps. It is only needed when you are accessing Mobile App on the Internet or LAN mode.
How to Use Busy Mobile App?
Once you will fulfill the prerequisites, follow the 4 steps to run Busy accounting software on the Android platform.
Step 1: Enable Settings in Busy
Step 2: Port Forwarding in Router
Step 3: Install BusyApp on Mobile
Step 4: Configure BusyApp and start using it
Let's understand each step in detail
#Step 1: Enable Settings in BUSY Software
Initially, we need to make some configuration changes in BUSY. The following settings change are needs to be done.
Part 1: Configuration Under General Tab
1. You need to open the company that you want to configure in Busy mobile application. For this, you need click on – Administration >> Configuration >> Features/Options >> General Tab.
2. Afterward, the General window opens on the screen. You need to perform the following operation on the following screen.
Allow BUSY to run as a Web Server – Make this option 'Y'.
Web Server Port No. – It will automatically set once you enable the BUSY to run as a web server option. You can also change the Port No. if needed.
Enable 'BUSY Data Exchange Platform (BDEP)' – Enable BDEP service and configure it by clicking on its corresponding Configuration button.
Enable BUSY Mobile App– Specify 'Y' under this option. Afterward, click on the Configuration tab and check the box corresponding to Enable Mobile App. for Parties. It is used to allow parties to access their account in your company through BUSY Mobile App. Using this, the parties can see their respective Account ledgers, Bills Receivable, and Bills Payable reports in your company.
Part 2: Configuration Under Party Master
Time to set up Party Masters for all parties to whom you want to allow access to their account.
1. In Party Master, you need to specify 'Y'. Click on Config corresponding to Allow access to Mobile App.
2. A Party Mobile App Details appear on the screen, you need to enter the following details in it.
User Name – Mention a unique name for the Party. The same User Name should be specified by the Party while login to BusyApp.
Password – Set a relevant password for the user name.
Allow Stock Status – Make it 'Y' to this field to enable Party to view the Stock status report.
Part 3: Configuration for Sub Users
After setting the BUSY Mobile App feature, BUSY User and Mobile App User will appear.
BUSY User – Allow BUSY users to use the mobile app by enabling 'Allow Access to Mobile' option under the Sub-User window.
Mobile App User – Add Mobile App Users by clicking on Administration >> Users >> Mobile >> App Users >> Add option.
Under the Add New Mobile User window, mention the User Name, Password. Afterward, assign the Report, Master, Transaction rights that will be accessed by the user on BusyApp.
#Step 2: Do Port Forwarding in Router
Once the first step has done properly, you need to make provision for Port forwarding in the router.
Note: This step is only required when you will be using a BUSY mobile app in the Internet mode.
#Step 3: Download BusyApp in Your Mobile
Time to install the application in your mobile device from the Play Store and perform the next step.
#Step 4: Configure BusyApp & Start Using It
Once the BusyApp mobile gets installed, open it, and do the following work.
Step 1: Initially, you need to add profile. For this, tap on "Click to add profile" as shown in the screenshot.
Step 2: A window named "Configure Profile" pop up on the screen. It shows you four profile:-
New – Use to include a new profile
Modify – Use to modify the existing profile
Switch – Use to switch to another company
Delete – Use to delete any of the profile
If you are a new user, click on New.
Step 3: After clicking on New, a Configure New Profile opens on the screen. Here you will get two modes:-
A. Company Mode:-
Select this mode if you want to login as a Company. Under this mode, you have two options to run the BusyApp.
Online i.e. Internet Mode
Offline
Under Online mode, specify BDEP ID, User Name, and Password of the company whose data you want to access Busy App.
Once the configuration is done, you are ready to use BusyApp,
Now, you need to Import Masters by selecting the 'Import Masters' option from the welcome screen.
You are ready to access the reports once the masters are imported. Click on Reports to view reports. Here you can view the following details.
Account Ledger
Day Book
Stock Status
Bills Receivable
Bills Payable
Party Details
Note: If BUSY is running in Demo mode, then you can only view up to five transactions only.
1.To use BusyApp under the Offline mode, firstly, all you need to Import Masters and Vouchers to your mobile using LAN mode. The Import Masters will be done in the same manner as explained above in Internet mode.
Note:- While using LAN mode, ensure that your computer system on which BUSY is running and your mobile on which BusyApp is installed are connected with the same wireless network. Also no need of Port Forwarding for Offline mode.
2. Enter IP Address and Port No in their respective field while selecting the LAN mode.
B. Party Mode:-
Add Profile by tapping on 'Click to add profile'.
While configuring New Profile, opt for Party Mode and mention the company BDEP ID, User Name & Password.
Now, you can click on Reports to view any following reports:-
Account Ledger
Bills Payable
Bills Receivable
Stock Status
This is all about how to view busy accounting software in mobile. Now we are going to talk about the easiest and efficient way to use Busy on any device regardless of your physical location.
How to Use Busy in Mobile – Easiest Way
It is better to have a solution which is more than accessing the data of Busy company on Mobile. The solution named Busy Cloud Computing. It is an approach where the BUSY accounting application hosted on the remote server. It can be further utilized by any platform, including Windows, Android, iPhone. Above all, you cannot only access your data, but you can also perform transactions in it.
So instead of performing such a long procedure to just access Busy on mobile. It is better to opt for Busy accounting software on cloud technology. Apart from this, you can easily perform remote printing.
Benefits of Hosted BUSY on Cloud –
Access from anywhere in the world
Access anytime 24*7
Use it on any device – Mobile, Tablet, iPAD
Support BUSY Software for Mac platfrom
Get updated Busy Version
Fast & Flexible
Easy-to-use
Guaranteed Security
Seamlessly Scalable
Local Backup Facility
Printer Support
The Final Say!
After in-depth research, we have found that people are constantly searching for – BUSY Software download for mobile or how they use it. So we have collected on the information at a single place.
After reading this, you will get enough knowledge about how to use BUSY software in mobile Via. BusyAPP and cloud technology.