Data Security
,
employee tracking
How do Employers Monitor Employees Working From Home to Keep Efficiency Up?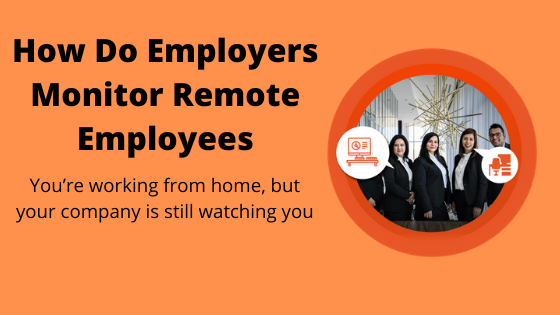 Sandeep Yadav
| Modified: September 14th, 2022 ~ 5 Minutes Reading
You're working from home, but your company is still watching you.
Remote working, remote workforce, telecommuting, or working from home – whatever you say, they all have the same meaning that your employee is not working in front of you.
It will certainly click lots of worries of an employer such as;
Does my employee work remotely?
Which type of device are they using to sign-in to corporate networks?
Is any employee leaking the corporate sensitive data to outsiders?
Which employee violates the company rules?
and lots more…..
Right now millions of employees across the globe shift to a Work-from-home model due to recent COVID-19 pandemic.
Due to this outage, offices are closed. Boss sends their employees with a hope that they can do the same amount of work done from the home that you did when you were in the office.
Many employers do Hope only and face decrement in employee's productivity.
In the year 2020, hope does not work.
Therefore, most of the organizations have installed tracking or monitoring software on the employee's system. The idea of instigating an employee monitoring tool is to ensure productivity and work efficiency won't fall by the wayside.
Of course, a remote working model can be a boon in many disciplines. However, the employer has no idea that the employee is virtually looking while working from home or dealing with the company's sensitive intellectual property.
Cybersecurity specialists treat remote employees as a threat.
No matter it is a permanent move from the organizations or employers are implementing the work-from-home model temporarily in an effort to mitigate the COVID-19 spread, monitoring of employees is an important step to be successful in a distributed teamwork environment.
In this article, we take a look at how do employers monitor employees working from home and how it will beneficial for the work. So, if you are an employer and have any of the below-mentioned questions, read this blog till the end and get your answer.
How do I monitor my employees working from home?
Can employers track an employee remotely?
How do employers spy on employees?
How do I monitor my employee computer?
Is it legal to track employees' work activity while working from home?
Let's begin!
Is it legal to Monitor Employees Activity While Working Remotely?
Of course Yes.
A company has complete rights to deploy any surveillance software on the device that they have provided for work. There are plenty of reasons that urge this monitoring like determining whether the employee is spending too much time on personal email or social media accounts in the work hours.
Also, the employer wants to safeguard themselves from a legal standpoint or any kind of discrimination occurs in the workplace. And it becomes important to keep an eye on employees' productivity who are working remotely as they can be distracted by domestic chores.
But, it is important to notify the employees about the deployment of tracking software on their system. Else, it will be considered as a wrong practice. Besides this, it is the moral duty of an employer to tell their employees what is being monitored on the endpoint device to prevent any privacy concern issue.
Now we have covered it is legit for the companies to track employees, let's go over the best option for the employee surveillance.
Also Read:- Pros & Cons of Working Remotely for Employer & Employee
How Do Employers Monitor Employees Working From Home With NetForChoice?
Most of the business workforce now working remotely, so with the right tracking software employer can monitor their remote workforce.
Today, NetForChoice Employee Monitoring Tool allows organizations to gain insight into employees' productivity, efficiency, and behavioral patterns regardless of their work place.
This tool easily tracks and monitor how much time a remote worker spends on an individual task, site, or app. It is a best software to manage remote employees effectively.
Our solution is cloud-based user-activity monitoring software and document what employees are doing in the working hours. It gives contextual information that empowers companies to more secure, compliant, and productive.
Advantages of Tracking Remote Workers
Let's quickly show you some of the benefits of having an employee monitoring tool for your remote workforce.
Track activities of your off-site staff
Identify who is the most productive employee in a company
Check data exfiltration activity in the company by an insider
Track which employee is looking for a new job
Find out the behavioral pattern of the employees
Warns which employee is violating the policies
Notify an employer about the installation of unauthorized application by an employee
Practively monitor the psychological stability of employees with its online activities
Evaluate sexual harassment complaints by taking account of real evidence
Protects insider threats by letting you understand employee's activity
Comprehensive insights on the centralized dashboard in the form of graphical representation for understanding.
reduces the time spent on time-tracking and task management as the tool does it for you.
As there are proper records of employee activity, employers know exactly which person deserves increment.
In The End!
We all know the current COVID-19 outbreak makes the work-from-home model need of an hour. However remote access is required in different places too, such as business trips. Every situation needs close monitoring of whether their remote workforce is working or taking care of intellectual property.
The user activity monitoring tool is a crucial application in a business's drive to be successful and efficient.
Hence, you're working from home, but your company is still watching you. So do work with honesty and enjoy working!