remote working
Pros and Cons of Remote Working for Employer & Employees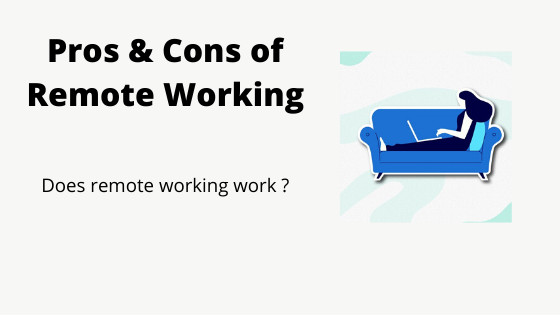 Many companies like Google, Microsoft, and even NASA are implementing work from home strategy as more COVID-19 cases are being diagnosed. Now remote working acts as an important tool to minimize the virus spread while maintaining the business continuity. So, we will be understanding the pros and cons of remote working.
Is working remotely a good idea?
It is a very critical question whose answer cannot be completely Yes or No.
Because as per different circumstances, work from home, remote working, or telecommuting has its own benefits and disadvantages.
Remote working is not a new concept, but, the year 2020 is all about work from home due to COVID-19 pandemic. Also, the advancement in technology has helped fuel the trend.
Here this blog outlines all the working remotely pros & cons for business owners as well as for employees.
It is true the various users have had to adopt work from home situations but nowadays, every employee prefers this situation. Since the time taken in travelling is cut, many people are either looking for a full time work from home opportunity or a hybrid thing.
And not just the employees, various companies are also benefitting by this situation. They are hiring people out of the city or state and providing work from home to them with all the other advantages of the company on lower packages.
Since the travelling cost is cut, no company has to pay conveyance & no user thinks about it anymore.
Let's get started and learn more about this distributed model.
What Are the Pros and Cons of Remote Working?
In the following section, people will get a descriptive idea about how work-from-home is a good or bad idea? So, we start with the benefits of remote working for employee and business.
Pros of Work From Home/ Telecommuting/ Remote Working
No one is going to show up on your work desk to discuss trivial matters and have a talk that is of no use to business while working remotely. This reduction in distraction somehow gives a positive influence on business productivity.
Working from home means that you have a significant time for your family. Not commuting to the workplace saves a lot of time that an employee can utilize in any hobby or creative work. Also, you can create a time schedule that can help you to make a perfect balance between work & personal life. The pros from the working remotely pros and cons is this one from the perspective of an employee.
Some extra time to manage personal life makes employees or workers more happy and satisfied with their jobs.
It is very troublesome to maintain a healthy lifestyle as you need to travel for your work and the pressure of completing deadlines always skip your meal in the office. On the other hand, while working from home, you don't have to commute for work and have a considerable amount of time to regulate a healthy lifestyle. This one from the pros and cons of remote working allows you to prepare and eat nutritious food and get involved in exercise sessions.
An employee saves money on many bills like transportation, parking tickets while working remotely. As well as, an employee also contributes to the reduction of a carbon footprint as you will not be taking your vehicle out. In addition, an employee is not saving the environment, but also save fuel for the future, too.
Remote working or work-from-home can also help to reduce office overheads and expenditure. Also, organizations can easily increase their workforce without expanding their office space. A great pros from working remotely pros & cons as per the employer is that it lowers the upfront cost.
There are plenty of factors like adverse weather conditions, national events, disasters like a pandemic that can impact your staff's ability to commute to the office. To take the COVID-19 pandemic as an example, there are many countries where a nation-wide lockdown is implemented. Due to this, it becomes impossible for employees and employers to commute to the workplace. With a remote working model, organizations can mitigate the coronavirus spread and ensure business continuity as well.
Another amazing benefit from the pros and cons of remote working shows that remote workers tend to have fewer sick days as compared to the employees who travel to the office every day to work. According to CIPD's Survey, it is illustrated that 56% of employers found that absenteeism dropped 56% when they deployed the flexible work-from-home model in the company.
Employees or workers who work from home have shown to be much more efficient as well as productive and exceed their working hours too. As per new research, it is found that working remotely pros & cons include the advantage of remote workers who are 20% more productive as compared to the employees who travel to the office every day to work.
When you do work-from-home, then you have complete control over your desk. You can customize and design it to fit your lifestyle. You can choose any place and decor as per your choices.
With the remote working model, the employer has no restriction on the recruitment procedure as they are capable to select top-qualified candidates around the globe. Hence, the pros & cons of remote working state that instead of depending on those candidates who can relocate and are able to make the daily commute, the employer can focus on hiring the best-qualified candidates from any geographic location.
There are various benefits of working from a remote location or having work from home opportunities. It save time, makes the employee focused on more things related to work.
Cutting the cost & time spent in travelling helps the employees to be more productive and give their full hours to work.
Disadvantages from the List of Working Remotely Pros & Cons
Some employees find working from home very difficult as they are not around with their coworkers. It is the most common challenge of remote workers listed under the pros and cons list.
The biggest disadvantage or con from the working remotely pros & cons is that your employer or supervisor is unable to see you at your desk. Many employees take a disadvantage in this situation and do unnecessary work during business working hours. And who knows what your employees do when they are no longer in the range of a corporate network. That's why many companies are investing in monitoring software. It is advised to deploy cloud-based NetForChoice Employee Monitoring Software in the system of employees.

This solution is engineered to provide information about employee activities during work hours. Also, proactively send alerts to employers when any kind of suspicious activity takes place like data exfiltration, intellectual property threat, and so on. Hence, the pros and cons of remote working clearly means that it is advised to trust your employees, but not blindly because any data leakage to your competitor harms your reputation and business, too. You can also read this excellent blog which gives you lots of information about how to track online activities of employees – How do Employers Monitor Employees Working From Home to Keep Efficiency Up?
Not every single employee is made to work remotely. A lot of people encounter a lack of self-discipline and motivation problems. It is the point where your employer or manage needs to take lead. To tackle this problem from the working remotely pros & cons, you can go through this amazing blog – Best Ways to Manage Remote Employees
The future of Remote Work
The COVID-19 pandemic has drastically changed the future of work from home or telecommuting. It might be possible that if companies see that this model works well, then it could be possible that businesses encourage to shift their employees to remote work permanently.
Although, there are many pros and cons of remote working. Now firms have to decide whether it is a feasible approach or not.