Cloud Hosting
,
Cloud Security
,
employee tracking
,
Remote Services
,
remote working
How Do You Effectively Manage Remote Employees – Survival Guide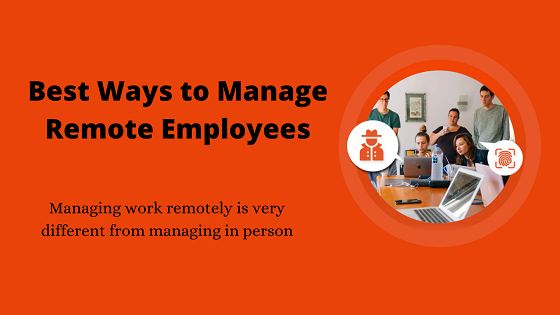 Sandeep Yadav
| Modified: September 15th, 2022 ~ 5 Minutes Reading
Managing work remotely is very different from managing in person
Remote working is not a new term for the cooperates. Many enterprises already working under the roof of the work-from-home model.
But these days the Covid-19 pandemic makes this working model mandatory for businesses of all sizes. All-in-all, the Coronavirus outbreak has taken our workspace remotely.

It might be possible, it is the first time for the organizations when the managers and the employees are working out of the office. And it can be cumbersome for many managers to come to grips with. Although it is always advised to have well documented transparent work policies and work training in advance. However, in this unprecedented time, this level of preparation may not be feasible.
Don't worry!
Some awesome management techniques let you know how to manage remote employees' work productivity and streamline all your processes.
So if you are a manager or employer and your mind is filled with the following questions.
How to better manage remote employees?
What are the software to manage remote employees?
How will I manage the performance of employees who work from home?
How to deal with remote employees?
Is there any software that manages attendance of work from home employees?
Then, you must need to read this blog and get the relevant solutions to your questions.
Let's get started!
Best Ways to Manage Remote Employees – Top 5
#1 Keep Eye On Employees' Work Activity
It is one of the biggest challenges of remote working that you do not know what your workforce is doing off-site. To prevent any kind of data exfiltration and intellectual property theft, it is best to deploy NetForChoice Employee Monitoring Software to track the online activities of your employee while they working remotely to manage them properly.
It is a very efficient approach that helps to prevent data leakage as well as improves work productivity as your employees know their activities are under the surveillance.
Many employees have issues with the deployment of a tracking tool in their system. So let me tell you it is not a matter of distrust. It is the employer's concern about their company prestige because we do not know who is the wolf in sheep clothing.
You can also go through this fantastic blog – How do Employers Monitor Employees Working From Home to Keep Efficiency Up?
This article will guide you on the importance of activities tracking of the workforce who is working remotely in the simplest manner.
#2 Proactively Check Signs of Distress in Your Employees
As an employer or manager, you have to constantly get an insight into employees' behavior while working remotely. You should have regular conversations to know about employees' challenges and concerns. This process can easily automate with the Employee Behavior Investigation software. It helps to monitor the team behavior and their work activities, and find out who is wasted most of their time.
After understanding the mental situation of the employees, it becomes easy for the managers on how to best deal with them. In the current pandemic situation, the regular conversation between managers and the workforce keeps them motivate towards their goal.
#3 Setup Time Tracking Device
A very common problem that many remote workforces face is the inability to track employee time. You need to deploy a system to manage your employees' time as you cannot use traditional methods of time tracking like biometric fingerprinting, scanners, and manual attendance records.

It can be easily done with the above-mentioned employee tracking software as it keeps track of employee check-in and out time. Setup this to easily manage your employees' work hours and keep them accountable. Afterward, the employer can easily view the attendance report.
#4 Always Have Great Set of Tools
While working remotely, you must have enough technologies that make your day-to-day operations facile. So, first of all, invest in a good quality of video conferencing applications that make it possible to collaborate with 'n' numbers of employees in real-time. For this, you can go with the Net4Meeting application. A great utility that gives admin the power of Mute & Unmute the rest of the employees.
To get this software, connect with the NetForChoice experts – +91-9887280808 / 0120-4164442 or fill the form with your requirements.
Afterward, you need to leverage cloud services in your organization to streamline your workflow in the pandemic or the regular days.
You can read this innovative blog that how cloud computing works as a boon in this harsh time – Cloud Computing: Empowering Businesses in COVID-19 Pandemic. So you will know its importance for the business.
#5 Stay Focused On Goals, Not Processes
It is super important to manage expectations and stay focused on your target while working from home. So being a manager or employer, it is important to look up to the output instead of focusing on the process to manage remote employees effectively.
If the team is meeting the goals, then excellent. Because flexibility empowers the employees to complete their tasks in their way. At last, it is all about accomplishment and not activity.
In the End!
No one is certain about how much and how long the impact of the pandemic will last on the globe. We will have to learn to live with this. No doubt, remote working will be going to be our future.
To get the best of work, you need to know how to manage remote employees effectively and how to handle work training while working from home. Our extensive guide will surely help you through it.