Informative
,
News
,
Security
,
Spam hunter
Learn All About Phishing Scam & Ways To Avoid It From The Expert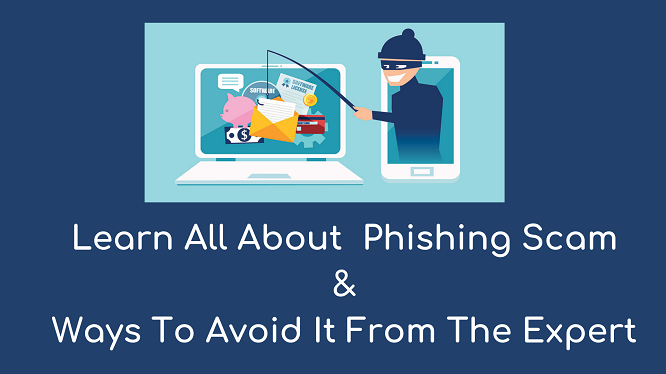 Sandeep Yadav
| Modified: September 14th, 2022 ~ 7 Minutes Reading
The expert panel of NetForChoice discusses the most common phishing scam and how can it be recognized. Also, describes all the possible ways to avoid phishing attacks and makes the inbox free from any suspicious email.
Phishing Email Scams have been increasing since the COVID-19 pandemic started.
People are using email scams to make money as so many people do not have any source of income. Now, it is obvious that no one wants to fall prey to a phishing scam. These scams are going to continue though as they are successful for the cybercriminals to make massive profits. Since the day of the inception of internet, phishing scams have also been around through the time. They are not going away any time soon.
Do not worry as there are ways to avoid getting into Phishing scams. We will be mentioning the ways and how to figure out if you are being scammed, in this article. But first, let's learn what phishing scams really are.
What Actually Is Phishing Scam?
Thieves use phishing as an identity to trick users into providing their sensitive information or financial information. This information can be asked by using official-looking emails. This is done so that users think they are trusted entities such as banks, online resources, and credit card companies. Users are lured out using these emails to a particular website where they are asked to enter their information.
Now, the comes into the mind – How to Recognize Phishing Scams?
Phishing emails always ask for financial or personal information. Legitimate emails never ask for personal information. Phishing emails or site may ask for the following information:
Usernames and passwords
Personal Identification Numbers (PINs)
Bank Account Numbers
Credit card numbers
Your birthday
Social security numbers
Your mother's maiden name
These emails may tell you a story and say the following:
some suspicious activity or log-in attempts have been noticed
say that your account or payment information has a problem
ask you to confirm some personal information
fake invoice may be included
tell you to make a payment by clicking on a link
ask you to register for a government refund saying you are eligible for it
a coupon may be offered for free stuff
5 Famous Phishing Scams That You Probably See In Your Day-to-Day Life
As phishing scams are especially designed to look like a reliable ad trusted email, it is smart to know the difference between the fake and real messages. You can also get some clues that a message may be a scam. Below is the list of 5 most common phishing scams.
Email phishing scams – Email phishing scams mean a fake email message that looks like it is from a known person or company. There may be a link to a fake website to mimic legitimate business. The recipient is asked to enter information that can be used to identify theft or online financial theft.
Vishing scams – It is the voice version of email phishing. This is a phone scam where recipients are scared or tricked into handling over financial or personal information.
Tech support cold call scams – These types of calls are made by scammers to a potential victim. The scammer claims that he is from a reputable security company. He offers a solution and asks the user to install a type of remote desktop software. Typically, these scammers ask for a fee to "fix" the issue. This gives the scammer access to the computer and he can install malware.
Fake search result scams – Companies that are fake usually have paid search ads as their "support services". Such paid ads appear at the top of the search results page. These results may offer support that seems too good to be true. Users are lurked in through these ads and as soon as they click on the ad, malware begins to download on their computer.
Pop-up warning scams – There may be pop-ups occurring when someone is browsing the internet. Pop-ups that are malicious can be terribly intrusive. It becomes difficult for the user to close the pop-window. Such pop-ups may show a message saying the computer has been infected with malware. It will also offer a phone number to help in removing the malware.
After getting enough knowledge about what is phishing scam and how can it be recognized, let's discuss Phishing Scam Prevention method.
How to Avoid Phishing Scam? 5 Tricks You Might Be Don't Know
Here are some of the solutions to keep users safe from the phishing scams:
Think Before Clicking – If you are on a trusted site, you can click on links. But if you are looking at random emails, clicking on links from those messages won't be so smart. Phishing emails may claim to be legitimate and as soon as you click on the links to the website, they'll ask you to enter some information. Usually, a lot of phishing emails start with "Dear Customer", so be alert when you come across such emails.
Install an Anti-spam Tool – In order to avoid getting into phishing scams over and over again, users can go with the Anti-spam software by NetForChoice – Spam Mail Hunter. This software can successfully combat scam emails and threats. It is accurate, powerful and cost effective with an accuracy rate up to 99.98%. The tool can be integrated with any email solution like Zimbra, Outlook, Microsoft Exchange, Gmail, Office 365 and more.
Beware of Pop-Ups – There are possibilities that pop-up windows may appear as legitimate components of a website. These are all phishing attempts. Many browsers may allow blocking pop-ups on the basis of case-by-case. If you see a pop-up. It may have slipped through the cracks. Do no click on "Cancel" button. Click on the small "x" on the upper corner.
Never Provide Personal Information – The genuine or legitimate emails that you get by any organization or real site will never ask for your personal information. If you receive an email that asks you to fill your personal or financial information for a prize or reward, that is a phishing mail. Always check the address of the website as a secure website always starts with "https".
Check Your Online Accounts Regularly – Make it a habit to change your passwords regularly. In case you haven't visited an account for some time, someone may be trying to hack it or have a field day with it. In order to avoid any bank phishing or credit card phishing scams, check your statements regularly. Check every entry carefully to make sure there are no fraudulent transactions.
Use Firewalls – Using high-quality firewalls are very useful as they act as buffers between your computer, you, and outside intruders. There are two types of firewalls that you can use: desktop firewall and network firewall. Desktop firewall is a type of software and network firewall is a type of hardware. The odds of hackers and phishers are drastically reduced when these two firewalls are used together.
Final Say
Phishing Scam often worries people who have no clue how to get over these scams and what kind of messages these are. The information to make sure if a mail or a message does not have malware program or any virus is mentioned here. In case users are tired of phishing scams, they can install the Spam Mail Hunter software by NetForChoice. The remarkable features of this software make sure that the users are not disturbed by such scam mails and boost employee efficiency.