Accounting Software
,
Google cloud
,
server
,
Tally
,
Tally On Cloud
The Pandemic Ushers in Next Enterprise Cloud Adoption – Tally on Google Cloud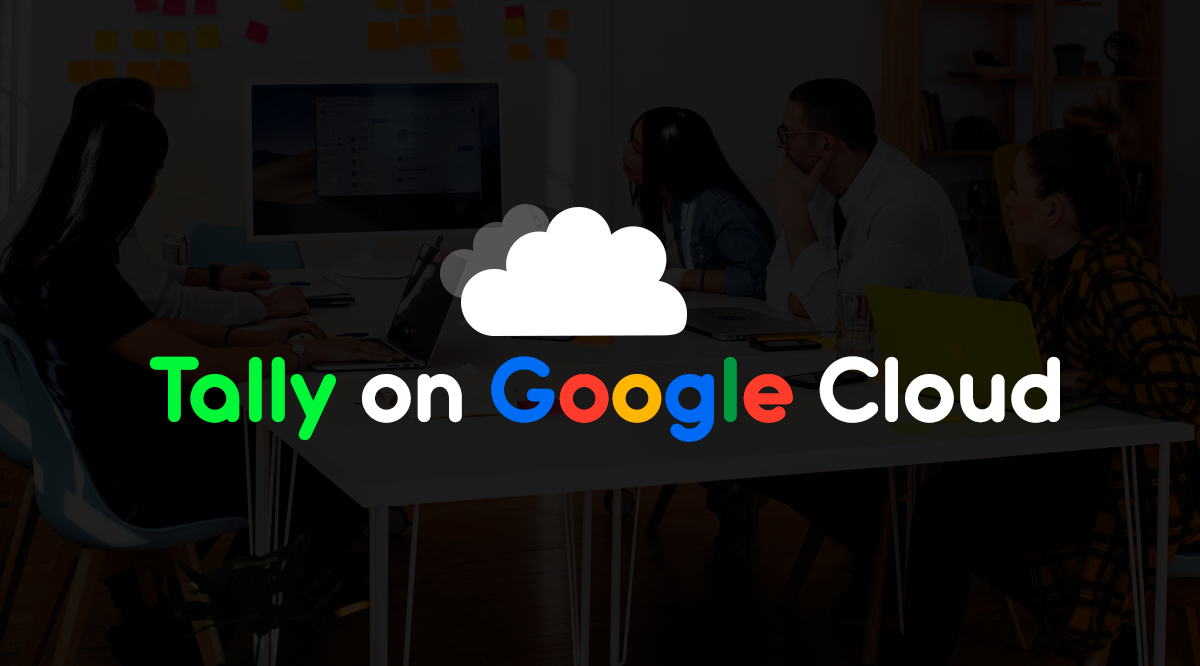 Sandeep Yadav
| Modified: September 14th, 2022 ~ 4 Minutes Reading
Everyone is moving to the cloud. So let's see how Tally on Google cloud can lower the cost and maximize efficiency.
Tally on Google Cloud computing changes the way companies or individuals can do accounting and financial work and enabled more and more workers to leave the office in the COVID-19 crisis and start working from home.
In times of uncertainty, where work flexibility is vital, those companies that have successfully implemented Tally on Google Cloud will benefit greatly.
Free Tally on Google Cloud Demo
Here we will show you how hosting of Tally accounting software on enterprise Google cloud benefits you.
Let's begin!
Top #5 Benefits of Tally on Google Cloud Hosting
#1 Work from Anywhere with an Internet connection
NetForChoice Tally on Cloud means you no longer need to worry about maintaining company transactions or installing a program on one machine. The cloud allows you to work on off-site location & with end-point devices with an active internet connection. Once you log in to Tally.ERP 9 / TallyPrime, you can get started right away. This feature works as a boon in the COVID-19 situation where people worldwide opt for work-from-home infrastructure. It is easy to use Tally on Mac OS or work on the Tally ERP using Android Mobile.
#2 Value for Money & Time-Effective Solution
The cloud environment reduces your IT costs and reducing the hardware & maintenance burdens on in-house IT. Adding to it, Tally hosting on Google Cloud saves your time by keeping you connected to the business. On the other hand, the traditional Tally ERP requires an investment in IT hardware and maintenance of that hardware – that can be an expensive overhead.
Moreover, rather than waiting until you are back at the office, you can immediately send out the invoice to customers that make your financial processes far more effective.
#3 Guaranteed Information Security
Security is another domain where Tally on Google Cloud computing outshines on-premise ERP systems. On the cloud, your data is no longer on a physical machine in the office, as all of your Tally accounting data is saved on a NetForChoice server that is housed in Tier-4 data center and is constantly backed up. So you don't need to worry about your Tally information being compromised or hacked. In such a situation, when your system crashes, every single bit of data is still secured as it is saved on the Google cloud ecosystem.
#4 Multiple Users Access & Permissions Setup
It is so facile to add multiple users to access Tally and tailor permissions so that people with specific job roles only receive the workload they need . You can effortlessly inspect and manage Users and Groups Permissions on folders and files. Besides, the End-point device protection & Working hour restriction are also there.
#5 Up-to-Date Data
Tally on the Google cloud allows you to keep track of your business's balance sheet in real-time. While walking on the road, you can easily view Tally reports that give the latest snapshot of your business finances. Tally cloud hosting over the Google cloud makes it easier to get closer to your finances as a whole.
Final Say
During the COVID-19 crisis, cloud infrastructure is a prominent enabler for remote data access, storage, and execute work regardless of geographic location, ensuring business continuity.
It is also seen that organizations with the hosting of Tally on Google Cloud performed excellent compared to the organizations with on-premise Tally ERP.
This accounting software on cloud offers all great features and reliability facilitated by desktop Tally ERP or TallyPrime, but with many additional advantages that the only cloud hosting technology can deliver.
If your business is heading for an advanced technique to manage its financial affairs, then this type of hosting solution would be an excellent more.
If you are the one who is still confused, then have a cup of tea with our experts. You can call us at 0120 – 4578842 / +91 – 9887280808, mail us at info@netforchoice.com or schedule a free meeting with our customer relationship manager.